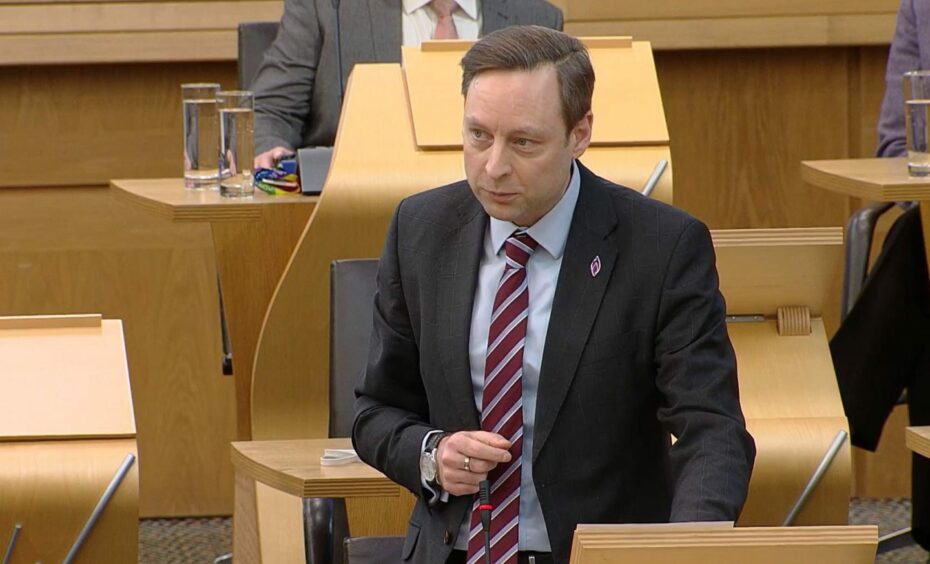 SNP and Tory politicians clashed in Holyrood on Thursday over bullish predictions of the number of jobs in renewables as part of Scotland's future energy workforce.
It comes in the wake of the government's draft energy strategy and just transition plan which sets out how Scotland could ensure a just transition from oil and gas to renewables – and how the existing workforce would be supported on that journey.
Yet Scottish Conservative shadow net zero, energy and transport secretary Liam Kerr said projections within the strategy contained "little to no detail" about how the renewables workforce will jump from 19,000 in 2019 to 77,000 in 2050.
In a written question, Mr Kerr asked energy minister Richard Lochhead for a breakdown of the 77,000 low-carbon jobs he said would be created by the strategy, and what their average salaries would be.
In reply Mr Lochhead defended the figures, which he said had been sourced in part from Aberdeen's Robert Gordon University, though noted the analysis did not include wage estimates which are not collected by the Office for National Statistics (ONS).
Mr Kerr later added: "The SNP government's projections hope there will be a huge leap in job numbers for the likes of wind and hydrogen. But having failed to deliver a promised 130,000 'green' jobs by 2020, our energy workers will take this with more than a pinch of salt.
"Worse, the analysis of wages, training, or even job titles is wafer thin to non-existent. And there is little to no detail about how the workforce will take shape.
"We need to retrain existing workers and train new ones right now, not in 2050, but without having done the basic data gathering or reassuring the workforce that wages will be comparable, it just isn't going to happen."
Speaking in the Scottish Parliament, Mr Lochhead said the government was not "trumpeting" figures as Mr Kerr suggested, and pointed him towards RGU's analysis.
"I suggest that he visit that esteemed university and discuss with it the research that we are quoting in our draft plan. That says that it is estimated that the number of jobs can go from 19,000 in 2019 to 77,000 by 2050 as a result of the just energy transition.
"In terms of the number of low-carbon jobs, that is a net gain in jobs for the member's region. He should be celebrating that and the measures that are being taken by this Government to make that a reality," he added.
Presenting the strategy on 10 January, net zero secretary Michael Matheson also cited RGU as the source of some figures, as well as data from Offshore Energies UK and skills body OPITO.
Lacking definition
Despite the bullish predictions, the draft strategy itself acknowledges that a survey of industry workers reported "low confidence" in the transition from oil and gas.
It found that the majority of respondents were not aware of the term "just transition", though most supported the government's definition and approach when it was explained.
It also found that a majority believed the transition would have "a big impact".
"Early analysis indicates that oil and gas workers tended to believe this impact would be negative, whilst those in renewables tended to believe it would be positive," the document notes.
The predictions also follow patchy performance on green job delivery so far.
The Scottish Government said last year that it was still working to "develop a working definition of green jobs" with input from skills groups and industry, despite promises made more than a decade ago to deliver 130,000 by 2020.
Under former First Minister Alex Salmond the Scottish Government pledged in 2010 to create 130,000 'green jobs' by 2020, though delivered just 20,500 according to ONS data.
"It's no surprise most employees support the transition but don't have much confidence in the SNP's ability to get it done," Mr Kerr added Thursday.
"Everything the SNP and their Green partners say and do about oil and gas points towards a desire to switch it off overnight and throw our experienced, valuable workforce on the scrap heap."