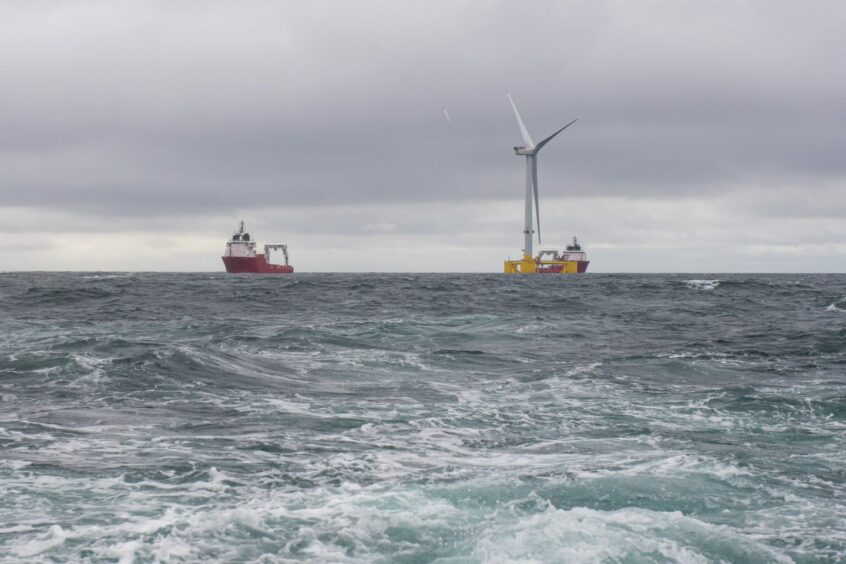 Crown Estate Scotland has announced the winners of its "world-first" innovation and targeted oil and gas leasing round, with 15 candidates being successful.
As the winners have been announced and £261,780,521 was raised in "Option Fees", the wider energy industry is voicing its opinion on the outcome of the leasing round.
Nicol Stephen, chief executive of Flotation Energy, which had two successful applications, said: "We are very pleased to have been offered seabed rights for both of our North Sea decarbonisation projects.
"These floating windfarms will make a huge contribution to the reduction of CO2 emissions from offshore oil and gas platforms by replacing industrial-scale gas turbines with renewable energy straight from our windfarms, while also becoming long-term infrastructure assets providing renewable electricity to millions of Scottish homes for decades ahead.
"The scale of these floating wind projects is huge. They will deliver billions of pounds of new infrastructure investment and help to create thousands of local jobs, giving a major boost to the Scottish supply chain.
"Today's announcement allows us to get ahead with delivering renewable electricity to offshore platforms well before the end of the decade. Our challenge now is to drive forward with the delivery of these exciting projects as quickly as possible."
'Looking forward'
Proposed projects were split into two categories, innovation and targeted oil and gas (TOG), applicants had to meet certain criteria when applying for either of the leasing round options.
TOG looked to help decarbonise the North Sea energy sector by supporting firms to build wind farm projects connected to oil and gas infrastructure.
The proposed wind projects will provide electricity to offshore installations, cutting carbon emissions associated.
Whereas innovation applications aim to support small offshore wind projects, capable of producing 100MW or less.
French energy major and INTOG license winner, TotalEnergies said it was "pleased" with the outcome.
Nicolas Payer, managing director of the firm, commented: "We're pleased that our floating offshore wind pilot project can continue its journey following Crown Estate Scotland's decision to invite us to enter into an exclusivity agreement.
"It has the potential to further reduce the emissions that are generated by operational sites and we're looking forward to taking it to the next stage of development."
Salamander
The firms behind another successful INTOG application, the salamander project, also shared opinions on today's announcement.
Huw Bell, Salamander Project Director, said: "This opportunity through INTOG will allow us to progress the project, which will play a significant role in how the industry delivers floating wind going forward and help the Scottish supply chain to ramp up activities for the local and international market.
"We expect our approach to support the floating wind industry in the same way that fixed offshore wind successfully reduced costs over the last ten years. De-risking floating wind technologies for future commercial projects will allow Scotland to maximise the financial benefit of its strong offshore wind resource and generate long-term jobs for local communities."
Gabriel Davies, Head of Floating Wind at Ørsted, said: "Salamander is a stepping-stone project designed to stimulate and support innovative, renewable supply chains in Scotland, maximising opportunities to support renewables around the world. With floating wind on the cusp of industrialisation, Salamander will play a crucial role in bringing down costs and accelerating the technology's full-scale commercial deployment."
Duncan Clark, Head of Ørsted UK and Ireland, said: "This award comes a year after we successfully secured the 1 GW Stromar floating lease in the Scotwind lease round and marks another major milestone in pursuit of our global floating wind strategy. Alongside our Stromar project, the pair form a complementary floating offshore development portfolio in Scotland."
Protecting 'critical skills and jobs'
The INTOG process goes some way in assisting the industry in the journey towards net zero, however, Offshore Energies UK chief executive, David Whitehouse, today's licensing award will also protect jobs.
He said: "By the mid-2030s oil and gas will still provide half our energy needs, so supplying as much of this demand as possible from domestic production will help to control import emissions while protecting the critical skills and jobs needed for the energy transition.
"It's therefore essential that the oil and gas we use during that time is produced as sustainably as possible, and electrification will be one of many solutions needed to make that happen.
"The projects selected in today's announcement will play a big part in the transformation of the North Sea – providing low carbon electricity to power oil and gas installations and helping decarbonise the sector.
"This is a particularly significant milestone as it will not only help the sector achieve the emissions reduction goals set out in the North Sea Transition Deal, but will also kickstart the floating wind market at scale – positioning the UK as a centre for excellence in low carbon solutions."
Industry has 'strong appetite' for offshore wind
The innovation and targeted oil and gas (INTOG) process has created 5.4GW of new offshore wind lease capacity.
The North Sea Transition Authority (NSTA) chimed in as chief executive, Stuart Payne, said: "Electrification of offshore platforms is essential if industry is to halve production emissions by 2030.
"Today's announcement from Crown Estate Scotland marks an important milestone on the way to getting projects up and running, supporting the faster growth of offshore windpower in Scottish waters.
"The NSTA will continue to push industry to deliver."
Scottish Offshore Wind Energy Council co-chair Brian McFarlane said: "The successful announcement of INTOG demonstrates strong appetite amongst industry for new project leases. It also demonstrates that our industry is innovating and helping Scotland manage its energy transition.
"To build these projects we will need to make use of Scottish deep-sea expertise built up over many years. That gives us the opportunity to show the world how to successfully build and operate floating offshore wind sites and commercialise innovation that will come from this early experience."
INTOG sets 'benchmark' for global wind sector
Neil Gordon, chief executive of Global Underwater Hub "welcomed" the announcement of the successful INTOG application.
For him, this process not only supports the Scottish wind industry but the global renewables space, he said: "Delivery of the INTOG projects will act as a benchmark, not only for future ScotWind projects, but also offshore wind developments around the world.
"Within offshore wind, some of the greatest opportunities exist in the underwater elements, a sector in which Scotland and the UK have been able to cultivate a world-class supply chain built on successful delivery of countless subsea projects.
"Many of these technologies, solutions and underlying expertise transfer well to offshore wind and we look forward to continuing our work with the supply chain to ensure that they are well positioned to be at the global forefront of offshore wind which INTOG offers."
Recommended for you

Rosebank approval still on OPRED's desk, confirms Ithaca