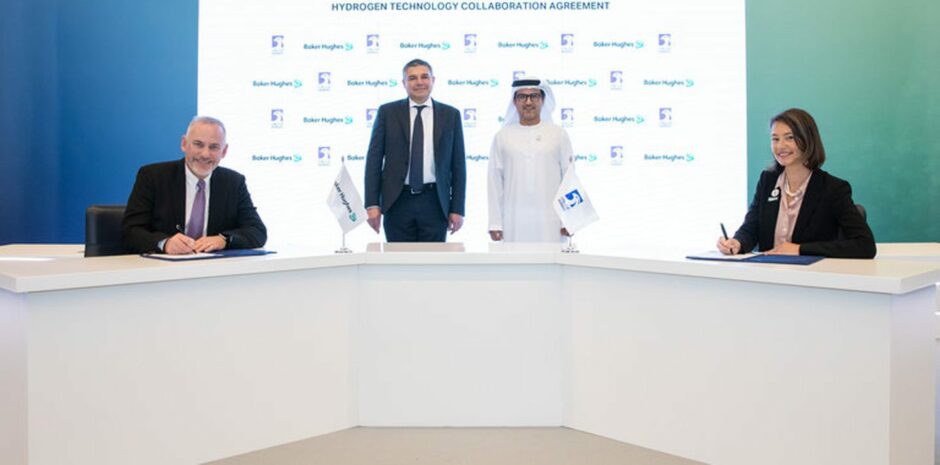 Hydrogen, carbon capture and tackling emissions was the focus of the recently concluded UAE Climate Tech conference, giving an indication of the upcoming COP28.
The conference took place this week in Abu Dhabi, with COP28 president delegate Sultan Al Jaber – also the CEO of Adnoc and chair of Masdar – calling for a focus on emissions. The world must cut emissions by 43% by 2030, he said, in order to keep the 1.5 degrees Celsius increase aim alive.
"We need to find a way to hold back emissions," he said. "The single most critical source of these solutions is technology."
The oil and gas industry should zero methane emissions by 2030, Al Jaber said, and set comprehensive net zero plans by 2050.
He went on to call for a "new economic model" that involved "putting an end to emissions" and breathing "new life into sustainable economic growth".
Global renewable energy must triple by 2030, he went on, and double again by 2040. However, "renewables are not and cannot be the only answer". The COP28 head noted the challenge of cement, steel and aluminium, which cannot run on renewable power.
Hydrogen, though, could make a difference here, as could carbon capture and storage (CCS).
Amongst this change, Al Jaber said it was crucial that less developed countries not be forgotten.
"Last year, developing economies received only 20% of clean tech investments. These economies represent 70% of the world's population – that's over 5 billion people," he said. "Technology is essential to helping the most vulnerable communities build capacities and leapfrog into a low-carbon economic development model."
The goal is to "hold back emissions, not progress".
Regional specifics
As part of the drive to renewable energy, Masdar struck a deal with locally based IRENA to outline global targets for 2030. Al Jaber witnessed the signing of the deal, saying Masdar had committed to 100 GW of renewable energy by the end of the decade.
"This joint research project with IRENA will emphasise the vital role of renewable energy in limiting global warming when the world comes together at COP28," he said.
IRENA director-general Francesco La Camera said the world was not on track for the energy transition. The agency has called for 1,000 GW per year of renewable energy to be installed.
The Masdar-IRENA project aims to establish a global baseline. It will have a focus on "solar, wind, hydropower, geothermal, and other technologies including battery storage, complemented by region-specific data".
The work aims to highlight the different challenges that different regions must face – and then provide recommendations for next steps.
COP28 in November will focus on "the how" of achieving the goals set out by the Paris Agreement, in 2015, Al Jaber said.
Masdar gave some indication of how it intended to tackle the challenge through the signature of a licensing deal with Octopus Energy for its Kraken platform. Masdar will use Kraken to manage its battery storage portfolio in the UK, it said.
The Abu Dhabi-based company said it would use the platform to optimise its battery assets for "maximum returns" and storing power in the greenest way possible.
The how
Adnoc gave some direction in how it saw its role in the future energy system. The company plans to reach 5 million barrels per day of oil production capacity by 2027.
Technology will play a crucial role, Al Jaber said, and Adnoc is seeking innovation in this area. The company announced a $1 million challenge at the event this week. The plan is to attract innovations to "reshape the global energy landscape", with support from Amazon Web Services, BP and the Net Zero Technology Center.
Applicants must submit their proposals by August 11. Then, 10 finalists will pitch innovations to a panel in December this year. The winner will receive the $1mn prize and access to research facilities in Abu Dhabi.
Adnoc executive director for low carbon Musabbeh Al Kaabi said it aimed to nurture "companies with the most promising innovations that can help transform, decarbonise, and future proof the global energy sector".
The company set out various technologies it was interested in, including CCS, new energies, emissions reduction and advanced materials.
One indication of a technology use came with the signing of a deal between Adnoc Logistics & Services and SeaOwl. The two companies agreed to work together on unmanned remotely operated vessels (ROVs).
Adnoc L&S said the design would reduce carbon emissions by up to 30%, with the vessel lighter and smaller than it would be if it needed to carry a crew. The 55-metre long ROV will be operated from an onshore control room, using a satellite link.
SeaOwl will design, oversee construction and handle navigation permits. The company CEO Xavier Génin said the project "will create strong ties with the UAE industrial landscape, as we plan to engage many other UAE players in this exciting journey".
Capturing carbon
Shortly before the Climate Tech event, Adnoc announced it had begun work on injecting CO2 into a carbonate saline aquifer. The company said this was a world first and would scale up in the second half of the year.
It set out the plans in January, at Abu Dhabi Sustainability Week (ADSW). The project will scale up to capture 18,000 tonnes per year of CO2 from Fertiglobe's local operations.
Adnoc currently has capacity to capture 800,000 tonnes of emissions from steel production at the Al-Reyadah facility. By 2030, it aims to reach 5 million tonnes per year.
The company also announced a strategic partnership with LanzaTech this week. The aim is to transform waste gases from Adnoc's work into something useful, using "carbon-consuming biotech".
It will produce chemicals such as ethanol, which can go into a range of products – including sustainable aviation fuel (SAF).
Hydrogen hopes
UAE Minister of State for Public Education and Advanced Technology Sarah Al Amiri endorsed hydrogen as a "key fuel" for the energy transition.
She noted the importance of investing in new technology for hydrogen. The UAE is targeting a 25% share of the global market by 2030. Talks at the Climate Tech event covered green and blue hydrogen. There was also some talk of using nuclear power to produce the resource – sometimes called red or pink hydrogen.
Demonstrating the eagerness to make progress, Adnoc signed an agreement with Baker Hughes on innovation in this area. The agreement noted three technologies in which Baker Hughes had invested. These are with next generation electrolyser technology company Nemesys, methane plasma company Levidian and methane pyrolysis company Ekona Power.
Levidian said it would deploy one of its Loop20 systems at an Adnoc Gas facility. This would see it field testing carbon capture, with graphene and hydrogen production.
From the tone of the meeting this week in Abu Dhabi, it is clear that Adnoc has no plans to abandon its oil and gas projects.
It is also clear that the company – and the UAE – is working on the evolution of energy, rather than revolution.
Given the inevitable cycle of hope-and-despair that COP generally consists of, this may be a step forward.
Recommended for you

Land deal signed for largest African wind farm project