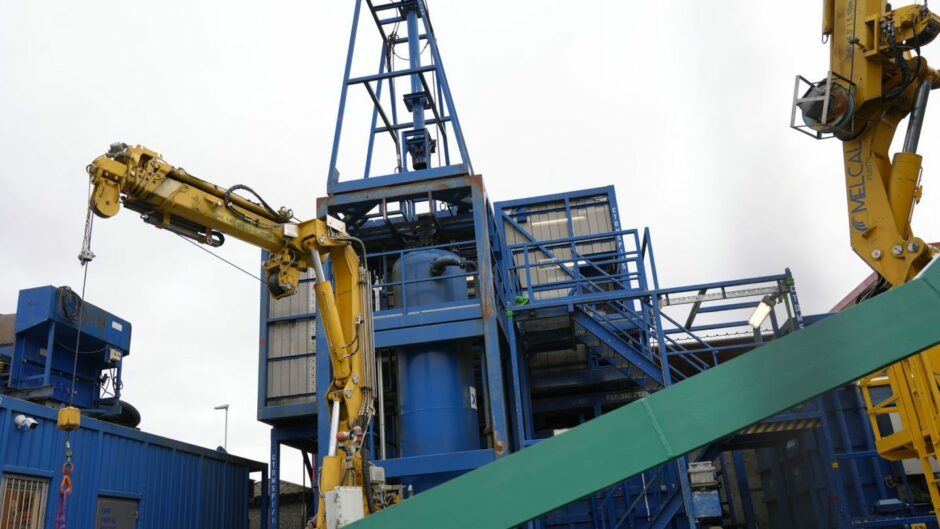 Odfjell Technology has successfully deployed a rigless plug and abandonment (P&A) unit for work at an onshore geothermal pilot project in Tromsø, Norway.
Deployed by Aberdeen-headquartered services group Odfjell Technology, the unit helped work on a "groundbreaking underground heat storage concept" using equipment and operational nouse from the offshore oil and gas industry.
The firm worked with Xrig and Halliburton to help execute the project for Kvitebjørn Varme, operator of a district heating facility in the city of Tromsø.
The overall aim for the project was to progress an underground heat storage concept developed by Ruden, which won the innovation prize at last year's ONS conference.
The group's HEAT system -High Enthalpy Aquifer Technology – provides energy storage options for industrial plants, helping them to turn waste heat into a productive resource.
The system uses the rocks as a vector for heat storage, in this case sending hot water down wells to 300 meters of depth when the district heating operator has a production surplus.
During cold periods, the water flow through the wells is then reversed and used to supply heat to the local network.
Drillers helped create a network of subsurface fractures between a centre injector well, along with surrounding production wells placed in a circle around the injector.
Odfjell Technology's (OSE:OTL) rigless P&A unit was then used to deploy a hydraulic stimulation assembly, sand jetting and fracturing the formation every five to seven metres from 270 to 70 metres in depth.
Following the fracture process, an injection test confirmed sufficient flows were present, providing evidence for further testing of the heat storage concept is set to continue.
With the fracture system in place, Kvitebjørn Varme can now use the excess heat produced from its plant during summer to warm up water, continuously circulating hot water down the injector well, into the fracture network and up through the producer wells. Heat is then transferred from the hot water to the formation, heating up the rock over time.
Odfjell said its rigless P&A unit can save up to one-third of the rig time required for new wells from slot recovery operations or reduce the required rig time to half for permanent P&A campaigns due to its efficient use of rig drilling towers and resources.
It comes a mid growing demand both for geothermal resources and oil and gas equipment and expertise to assist developments.
Odfjell Technology executive VP Elisabeth Haram said: "Odfjell Technology uses its heritage of 50 years in the oil and gas industry to play a leading role in the energy transition.
"This very exciting and strategically important pilot geothermal project clearly shows how our technology and experience can be applied across the energy mix, and what collaboration and competence sharing between the oil and gas industry leaders and new industry partners in the energy sector can achieve.
"Our full rigless P&A unit offering for offshore SR and P&A operations will launch in the next four to six months – we look forward to working with customers and partners to implement this at scale across the world."
Recommended for you

Infinite geothermal energy puts Iceland in vanguard of drive to net zero