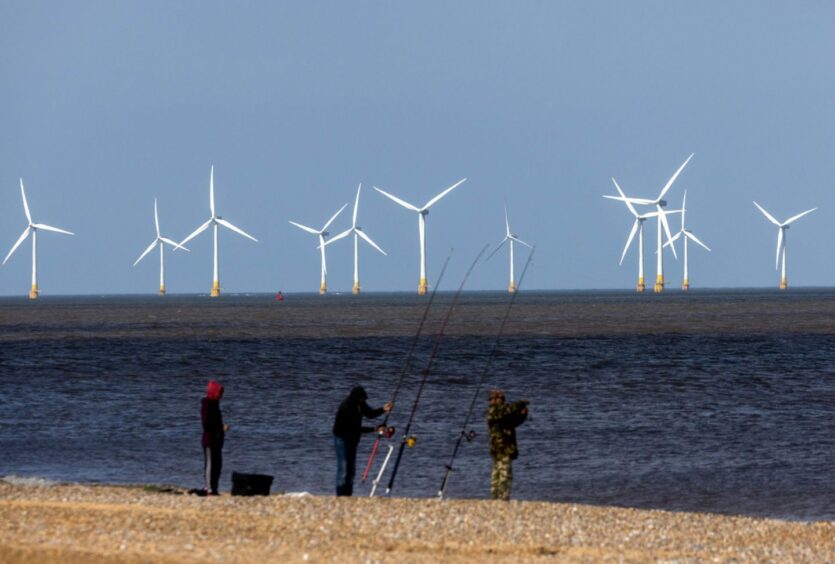 The UK's annual renewable energy auction may not include offshore wind for the first time since the system for awarding subsidies began almost a decade ago, posing another potential setback to the government's net zero targets.
Offshore wind has flourished under the auctions that have channeled state financing into vast wind farms along the UK coastline. But the process has encouraged companies to submit increasingly lower bids in order to compete, pushing down the maximum price they can offer. With supply bottlenecks and inflation increasing the cost of materials, the funding on offer this year may be too little to attract any bidders. The results will be announced next month.
An auction flop would pose a major setback for the government's climate targets and slow progress on a plan to increase offshore wind capacity more than three-fold to 50 gigawatts by 2030. Prime Minister Rishi Sunak has already faced criticism in recent weeks for backtracking on green policies to appease voters concerned that net zero targets will add to rising living costs.
"If we see a situation with no offshore wind clearing this year, that's a very serious signal for the government to act and redesign the auction for next year," said Faisal Wahid, a senior consultant at LCP Delta, a clean energy consultancy. "If the government doesn't change it, that's a signal of a shift in green policies."
The last five prime ministers have thrown their weight behind the industry, allowing the island nation's long coastlines to be used as a testing ground for turbines at sea and turning Britain into the biggest market for the technology in Europe and the second in the world after China.
A spokesperson for the UK's Department for Energy Security and Net Zero said that the auction process is designed to protect generators against price fluctuations, and compares favorably to other international schemes. "However, we understand there are supply chain pressures for the sector globally, not just in the UK, and we are listening to the sector's concerns," the person said, without specifying any concrete actions.
Vattenfall AB, the winner of last year's auction, last month shelved a 1.4-gigawatt UK wind farm, which would have provided power for 1.5 million UK homes, saying the development is no longer viable after costs for the technology soared 40%. "Conditions are extremely challenging across the whole industry right now," said Rob Anderson, project director of Vattenfall's Norfolk Zone, adding that "it's vital" that auctions reflect current market realities.
SSE said in May that it won't bid in this year's auction for its 500 megawatt Seagreen 1A wind farm, because the price cap set by the government is too low. Orsted AS CEO Mads Nipper warned during the Danish company's earnings call earlier this month that inflation remains a challenge for the industry.
In total, about 4 gigawatts of offshore wind power projects pre-qualified to bid in the auction. Scottish Power Renewables qualified to enter for phases one and two of its East Anglia project and Vatenfall's Norfolk Vanguard was also eligible. Ana Musat, head of policy at the trade group RenewableUK, said there's "no chance" that all of that would clear. "It could happen that there's no offshore wind in this auction," she said.
Earlier this month the government increased its budget for offshore wind contracts by £22 million to a total of £227 million to try to offset some of the rising costs faced by developers. But firms say that won't be enough to compensate them if the maximum price they can bid at during the auction is too low. The maximum price for the upcoming allocation round currently stands at £44 ($55) per megawatt-hour, which is lower in real terms than the £37.35 per megawatt-hour offered at the previous round.
Offshore wind generates power more cheaply than the wholesale price of energy, so consumers will pay more if fewer projects receive funding, according to analysis from the Energy and Climate Intelligence Unit.
Some investors say it would be a good thing if no offshore wind clears because it would break the cycle of developers bidding the price limit lower and lower. Alistair Philips-Davies, CEO of the utility company SSE PLC has called on the government to raise the price limit at next year's auction.
Some offshore developers, such as BP Plc, are considering plowing ahead without government subsidies, which could potentially create a major turning point for the sector. But few other developers have enough money to go it alone and there's a risk that the government could use BP's success as a reason not to resolve the problems with the auction, according to RenewableUK's Musat.
For the first time offshore wind will be fighting for the same pot of funding as onshore wind and solar at this year's auction. That means those industries may receive more money, but that's not necessarily good news for the UK's net zero targets because projects tend to be smaller and the energy produced is more dependent on weather conditions.
"For offshore wind it's truly horrendous and our view is that no offshore project should win in this round," said Eirik Hogner, partner and deputy portfolio manager at hedge fund Clean Energy Transition LLP. "From an energy security and a 2030 climate target perspective, if offshore is zero, you have a huge problem."
Recommended for you

Aberdeen University to research colocation of CCS and offshore wind