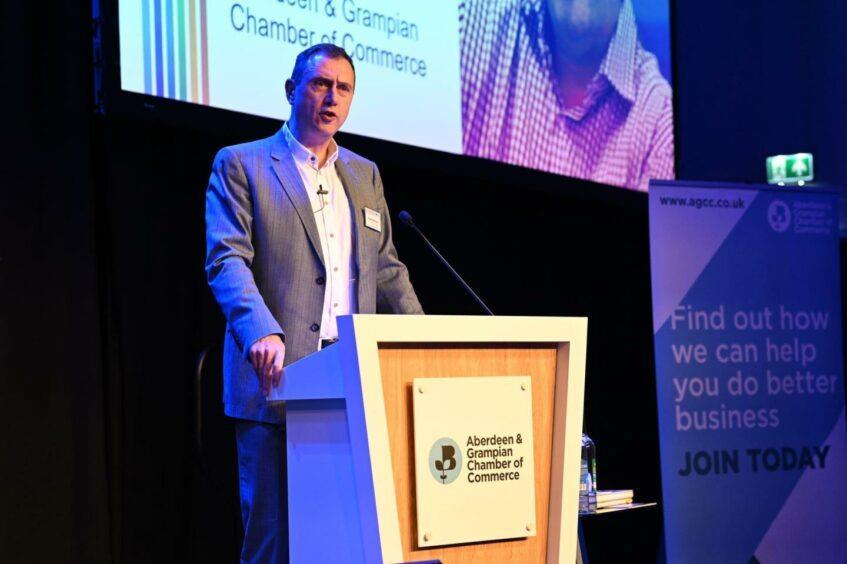 Aberdeen and Grampian Chamber of Commerce has called for a new body independent of government to be set up to oversee UK energy security and the transition to net zero.
The chamber outlines its findings in the 38th Energy Transition Survey, complaining that the energy industry is being used as a "political football."
Aberdeen and Grampian Chamber of Commerce (AGCC) says this new body should be like the Bank of England, which has maintaining monetary and fiscal stability as its central mission.
The governing body would be charged with developing recommendations which could command cross-party consensus and insulate the sector from political policy shocks in the future, AGCC explains.
A spokesperson for the UK regulator, the North Sea Transition Authority, said: "We are proud of the work we have done and continue to do to help drive down emissions, deliver additional security and help accelerate the UK's energy transition."
Russell Borthwick, chief executive of AGCC, said: "Adverse government policy, political narrative and the perception of a worsening regulatory environment, is resulting in a sustained lack of confidence in the future viability of doing business in the UKCS.
"That degree of uncertainty in the future, which has had a significant knock-on impact on investment decisions and is already costing jobs, is unlikely to dissipate in the months leading up to a UK General Election or in the early months of a new government being formed. And time is of the essence."
The report, which is sponsored by KPMG and ETZ Ltd, shows that government policy remains the biggest factor determining future activity in the UK energy sector.
Of the 105 businesses that completed the survey, 10 were operators and 95 were contractors or service companies. The respondents collectively employ over 58,000 people in the UK.
Over half of respondents also expressed the belief that no party currently has the right policies to support a successful energy transition.
The 38th survey has found optimism is increasing about the Aberdeen region becoming a globally recognised renewable energy hub.
As of October, 22% of respondents were "Extremely/very optimistic" about Aberdeen's chances, while 59% were "Moderately/slightly optimistic."
In addition to this, 66% of respondents agreed that energy transition credentials are critical to long-term success, however, this is down compared to April's findings when 71% of businesses said that this was necessary.
This is reflected in the fact that 42% of businesses responded "no" when asked "Has your business developed a specific net-zero strategy?", a considerable drop off from April's 33%.
Maggie McGinlay, chief executive of ETZ Ltd, said: "Our reputation as an innovative and productive region is both hard won and well deserved, and with continued resilience and optimism, we will secure our position as one of most attractive locations anywhere in the UK, and indeed across the world, for investment in low carbon technologies."
'We urgently need to see the EPL super tax ended'
AGCC's chief executive took aim at the controversial Energy Profits Levy (EPL), or windfall tax, saying the policy needs to be scrapped or "meaningfully changed" before the UK can be an attractive place for firms to invest in oil and gas production in the country.
Mr Borthwick commented: "The recent King's Speech announcement of annual licencing rounds provides a vital confidence boost for the sector and the firms supporting it but with the caveat that if activity in the North Sea remains financially unattractive, it will be an empty gesture.
"So, we urgently need to see the EPL super tax ended- or meaningfully changed- to incentivise the necessary investment."
The windfall tax has been heavily criticised by industry since its implementation with trade body Offrore Energies UK reporting in March that 500 barrels of oil and gas could be left in the ground as North Sea firms were tailoring plans to the UK's "uncertain" tax regime.
Earlier this year the government announced that the EPL will fall away if both average oil and gas prices fall to, or below, $71.40 per barrel for oil and £0.54 per therm for gas, for two consecutive quarters.
However, industry analysts questioned if these criteria will ever be met at the time of the news.
However, it is worth noting that of the firms questioned, only 43% said that "Political environment" or "New regulation /tax legislation" were listed among their top three concerns.
"Oil price/market stability" was on the list of most concerning factors for 79% of respondents, with 43% saying it was their top priority.
The price of oil is determined internationally and therefore, more stability in UK policy to incentivise investment in the country's hydrocarbon industry would do little to change this.
Russel Borthwick continued: "To be truly effective these matters should be administered by an independent body, developing recommendations which could command cross-party consensus and insulate the sector from the upset and uncertainty of major policy switches according to short-term political cycles."
Rob Aitken, director of KPMG Transaction Services, Aberdeen, added: "The North-east has huge potential to be a driving force in the transition to a lower-carbon economy and a Net Zero future.
"However, with lots of questions over the political situation in the short term, and recent policy announcements favouring North Sea exploration, it would be worrying to see businesses moving their focus away from the transition. Because ultimately, Net Zero is the only destination and it is where new opportunities will come from."
Recommended for you

UK Government to move 200 energy department civil servants to Aberdeen