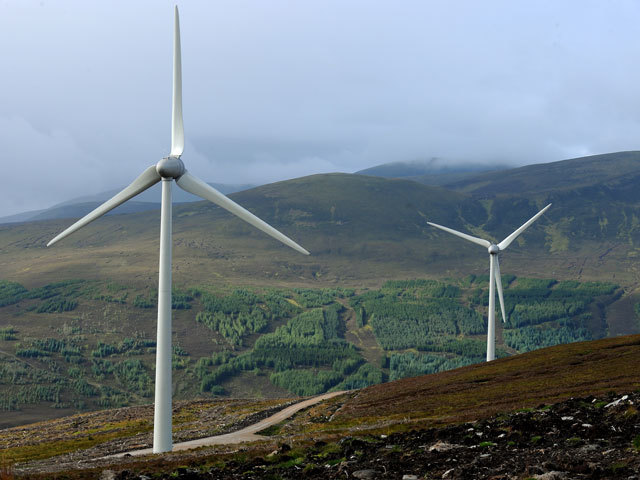 An emergency summit convened in the wake of Westminster's decision to scrap a subsidy scheme for onshore wind farms was attended by more than 200 people, the Scottish Government said.
Energy Minister Fergus Ewing organised the talks after the Department of Energy and Climate Change (DECC) announced it would end payments under the Renewables Obligation a year early.
First Minister Nicola Sturgeon and others in the Scottish Government have already spoken out against the decision, which industry leaders Scottish Renewables fears could put up to £3 billion of investment in Scotland at risk.
Campaigners complainedl earlier the SNP Government was "obsessed with lining the pockets" of foreign renewable investors.
Mr Ewing met businesses and other affected organisations at the summit in Glasgow this morning.
Afterwards he warned the "anti-business" decision could have an impact "right across Scotland and the wider supply chain".
He said: "This morning's event was attended by over 200 people from a wide range of businesses and organisations who are affected, which shows the strength of feeling throughout the industry.
"All of this will come at great personal and economic cost to our businesses and people. I've heard from many successful businesses who are at the forefront of renewables technology who are now being forced to look at making redundancies as a result of these changes.
"I also heard from investors both in Scotland and abroad who are wanting to invest in this industry but these are currently being stalled because of the uncertainty this is causing.
"Delegates this morning spoke about the damage this will cause the rural economy – many of the shops and business that are vital to these communities.
"Over the next few weeks DECC will be seeking the views of those affected and I strongly encourage anyone with an interest to respond on this to ensure our concerns are heard.
"We will continue to make representations to both the UK Government's Energy Department and to the Scotland Office, feeding back from what I heard at the summit and the many meetings I have had with representatives from the industry."
Jenny Hogan, policy director at Scottish Renewables, said: "The renewables industry is urging the UK Government not to abandon the onshore wind sector in Scotland by pulling the rug from under it a year earlier than planned.
"Ending the Renewables Obligation one year early could have a devastating impact on onshore wind developers and supply chain across the country with around £3 billion of investment in Scotland being put at risk. We need UK ministers to urgently reconsider their position.
"The impact of this decision will be felt more harshly in Scotland because the biggest proportion of projects being developed in the UK is here."
Recommended for you

ETZ plans leave locals feeling 'angry and disappointed'