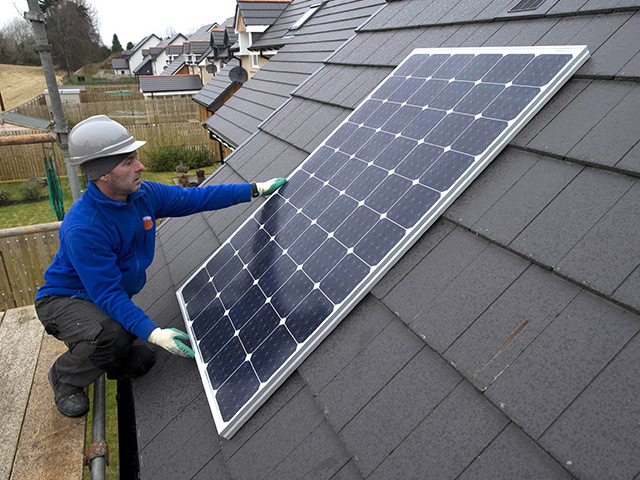 Home insulation firm the Mark Group and energy efficiency firm Climate Energy have gone into administration within hours of each other with the loss of at least 1,000 jobs.
More than 900 jobs will be lost at Leicester-based Mark Group, which has cancelled all surveys and installations. A skeleton staff has been retained by administrators Deloitte.
Mark Group unveiled plans for a new depot in Aberdeen in 2012. It also had a depot in Glasgow. It is understood a small number of jobs may have been lost in Aberdeen.
All residential solar panel and insulation installations have been cancelled and customers will be written to shortly.
The new build (insulation) business will continue to trade for a short period of time whilst a sale of the business and assets is pursued.
Suppliers will be contacted directly in relation to future orders.
Joint Administrator, Chris Farrington, commented: "Unfortunately, the company has sustained heavy losses due to structural changes in its core markets, which it has been unable to survive, despite some significant recent investment.
"With regret, the administrators are having to make a significant number of redundancies, but are working with remaining employees to secure an urgent sale of the ongoing business. Prospective purchasers are encouraged to contact the Administrators as soon as possible."
Greenpeace said today that the UK Government policies were killing jobs.
Its UK chief scientist Dr Doug Parr said: "For all his rhetoric about building, it's not scaffolding George Osborne is bringing to Britain's clean energy sector but a wrecking ball.
"Evidence is growing that the Chancellor's policies are putting people out of jobs, damaging investment, and harming one of the country's most promising industries.
"This should be a wake-up call for David Cameron, who faces international embarrassment ahead of crucial climate talks. As Prime Minister, he has a duty to leave internal party politics aside and rein back a rogue Chancellor who's putting investment, jobs, and growth at risk."
Friends of the Earth energy campaigner Alasdair Cameron said: "These huge job losses are likely to be the first of many as Government attacks on efforts to build a low-carbon economy begin to bite.
"Government policy threatens over 20,000 UK solar jobs – with many more at risk in other green sectors.
"It seems the Treasury is happier to give sky-high subsidies to Chinese nuclear power than support British solar.
"The renewable energy industry around the world is booming and costs are falling rapidly but the UK government seems to be stuck in the wrong century."
Climate Energy, a provider of "energy efficiency solutions", posted a notice on its website saying it has gone into administration.
Lisa Nandy, shadow energy and climate change secretary, said: "Mark Group and Climate Energy going into administration with the loss of nearly 1,000 jobs is a devastating cut for our clean energy industry in the UK.
"This government's recent raft of decisions to roll back solar and wind programmes and to instead direct subsidies towards more expensive energy technologies shows the hypocrisy of their claims to be protecting bill payers.
"Not only could these decisions put up household fuel bills, they are already causing job losses in an industry with the potential to be a new powerhouse for Britain.
"The Chancellor should heed the warnings from the CBI and others about the damage he is doing to investment confidence at a time when we face the prospect of an energy security crisis."