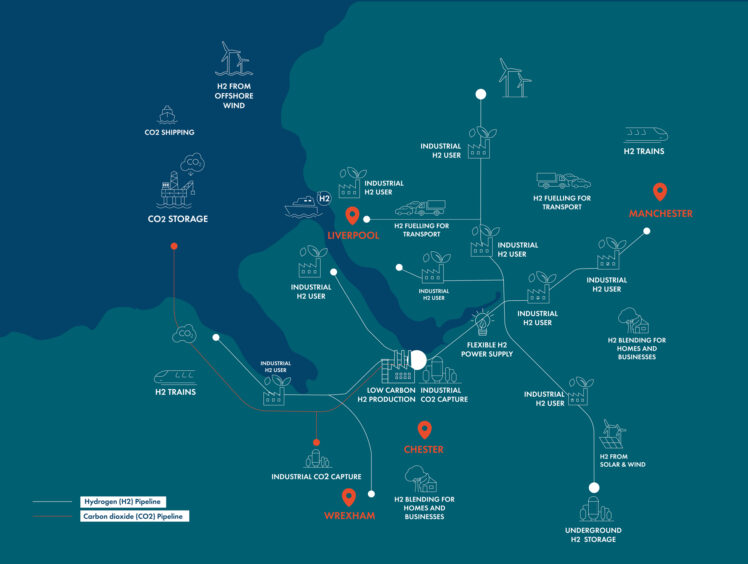 Eni's UK subsidiary has signed 19 memoranda of understanding (MoUs) related to carbon capture and storage as part of the HyNet North West project, which won government backing last year.
Eni UK said it had so far reached a total of 19 MoUs signed, with as many companies interested in the opportunity to have their emissions captured, transported and stored in depleted hydrocarbon reservoirs as part of the HyNet scheme.
January saw six such agreements formalised, which Eni said demonstrated the "outstanding interest" that UK industry has shown for the decarbonisation potential offered by the project.
HyNet aims to remove industrial emissions from north-west England and north Wales, and secured a share of £1 billion in 'Track 1' government funding last year, alongside the East Coast Cluster project.
Directors behind the project say it has the potential to reduce CO2 emissions by 10 million tonnes every year by 2030, as well as up to 80% of the government's 5GW low carbon hydrogen targets set for the same date.
The agreements signed to date include hard-to-abate sectors and will play a crucial role enabling decarbonisation initiatives in the North West of England and North Wales industrial cluster, the company added.
Eni said it had recently signed further agreements with Cory, Uniper and the Cavendish Project to evaluate further solutions in terms of storage for the decarbonisation of the UK's industrial clusters.
The Italian energy major currently operates Liverpool Bay facilities in the East Irish Sea and the depleted Hewett gas field, located 19 miles off the Norfolk coast, which is currently in its decommissioning phase.
It has also acquired minority stakes in all three phases of the Dogger Bank offshore wind farm being developed by partners SSE and Equinor.