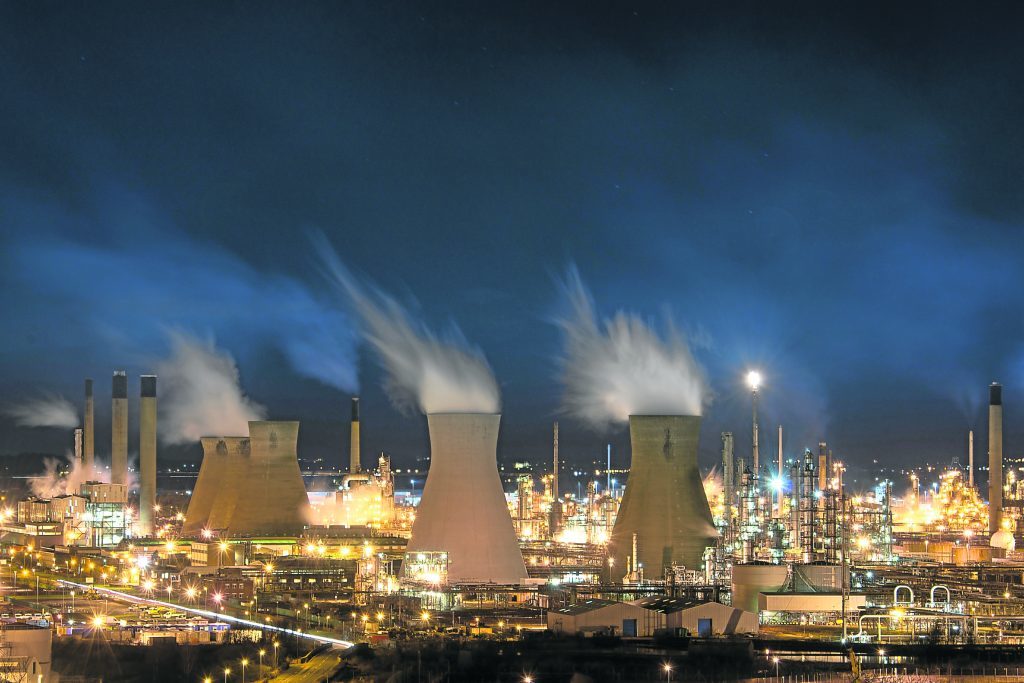 Jeremy Hunt has failed to give an update on long-awaited plans for the second part of the government's carbon capture and storage (CCS) competition.
That is despite the Chancellor backing a "major acceleration" of the technology – alongside other "home grown" energy sources – during his autumn statement on Thursday.
And there was not a single mention of CCS in the published version of Mr Hunt's economic update.
Addressing the Commons, he said: "Last year, nearly 40% of our electricity came from offshore wind, solar and other renewables. Since 2010 our renewable energy production has grown faster than any other large country in Europe.
"We need to go even further, with a major acceleration of home grown technologies like offshore wind, carbon capture and storage and, above all, nuclear. This will deliver new jobs, industries and export opportunities, and secure the clean affordable energy we need to power our future economy and reach net zero."
He went on to announce the government would be backing the development of a new nuclear power plant.
A lack of movement on Track 2 of Westminster's cluster sequencing process will have drawn exasperated sigh from many, particularly the Scottish Cluster.
Nothing but 'warm words'
It is the latest in a series of delays to government support for CCS, with some low carbon projects unable to move ahead until clarity is given.
Stephen Flynn, SNP MP for Aberdeen South, said: "Yet again we hear warm words from UK Government, but the reality is the Scottish Cluster received plenty of those in the Track 1 process and was inexplicably snubbed – the continued silence on Track 2 is deafening.
"The Scottish Cluster was the clear choice for CCUS funding first time round and the sooner it can get moving the better it will be for industry, net zero ambitions and jobs in our corner of the world – it's time the UK Government gave a clear timeline on the process and a cast iron commitment to Acorn."
The Scottish Cluster is aiming to decarbonise large swathes of the economy north of the border, with backing from the likes of Shell, ETZ Ltd, Wood and Ineos.
At its heart is Aberdeenshire's Acorn project, driven by chief developer Storegga and based at the St Fergus gas plant.
Despite support from companies, local politicians and energy groups, the Scottish Cluster missed out on Track 1 status, and was instead picked as the reserve.
It is widely expected the bid will successful in Track 2, but there is still no timetable in place, despite numerous pleas from industry.
Steve Murphy, founder of Storegga, said: "While clean energy generation attracts more column inches, we know decarbonisation is also critical to the UK's commitment to the Paris Agreement. The Chancellor today reaffirmed the UK's COP 26 commitment and gave a nod to CCS, but there were no further measures to support wider roll out of this important technology. Given the Chancellor's focus on plugging the deficit with a new windfall tax on electricity generation and increased personal taxes, amongst others, the decarbonisation industry won't be surprised by the absence of relevant measures. It's important that an understandable short term absence does not turn into a permanent omission though.
"The UK and Scottish Governments, as well as the European Commission, have provided important funding to the decarbonisation industry to date and we look forward to working with the new government teams to deliver essential decarbonisation elements of a greener national and global energy system."
Recommended for you

Tories told to finally end the north-east's long wait for carbon capture cash