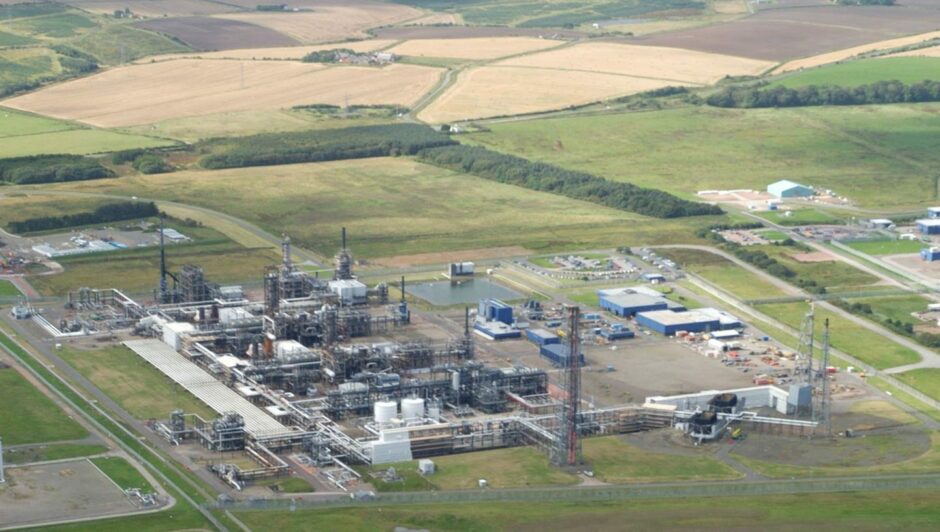 Rail campaigners say a major energy scheme getting the go ahead near Peterhead boosts the case for new north-east rail links.
Rishi Sunak gave his formal backing for a carbon capture and storage project in Aberdeenshire last week.
The Acorn project at the St Fergus Gas Terminal near Peterhead is estimated to create more than 20,000 jobs.
Jordan Jack, general secretary of the Campaign for North East Rail, says the announcement is a "significant boost" to their plans.
The campaign group's ambition is to bring back train links to long-cut-off communities like Ellon, Peterhead and Fraserburgh.
In October, the Scottish Government awarded the group up to £250,000 for a feasibility study into reopening links.
Benefits of rail
Mr Jack, who is a train driver, said the Acorn project will bring new jobs to the area, increasing the volume of people commuting to and from St Fergus.
He told the Press and Journal: "These people will need access to reliable, low carbon public transport, which is sorely lacking in the area.
"It's not just commuters though, once Acorn is up and running, hundreds of tonnes of carbon dioxide will transport to St Fergus from all over the UK.
"Some of this will come via pipeline, but much of it won't. Rail is by far the most efficient and eco friendly way to ship goods."
The rail campaigner says a rail freight terminal at St Fergus will enable the transportation of carbon dioxide from all across the UK rail network to St Fergus, without adding more carbon to the atmosphere.
He said: "Further, if hydrogen, or sustainable aviation fuel is produced at St Fergus as a result of the Acorn project, as has been suggested, then we could see a future where trains haul CO2 north, and these new greener fuels south.
"CNER's rail plans supercharge the carbon savings of the Acorn project, and both schemes complement each other in helping us reach net zero faster."
The infamous Beeching cuts put an end to passenger transport in Peterhead and Fraserburgh during the 1960s.
Freight was controversially withdrawn as late as 1979 in Fraserburgh despite the increase in heavy industry and the beginning of the oil boom.
Mr Sunak revealed last week that up to £20 billion will be poured into four separate carbon capture schemes across the UK, including in the north-east.
The plan is to use carbon capture and storage technology to trap harmful emissions and transport them, either by pipeline or shipping, for permanent storage underground.
Transport study
A Scottish Government spokeswoman said: "Campaign for North East Rail has been awarded £250,000 from the Scottish Government Just Transition Fund to conduct a multimodal study into transport options in the North East of Scotland.
"They will conduct an appraisal in line with Scottish Transport Appraisal Guidance (STAG), which will examine all transport modes to determine whether there is a case for investment in the most appropriate transport interventions in the region, including consideration of a rail based solution.
"We expect that the appraisal will take due consideration of any future development in the corridor, including potentially at St Fergus and we look forward to receiving the output of this work in due course."
Recommended for you

Bank of England governor visits Peterhead for Acorn CCS brief