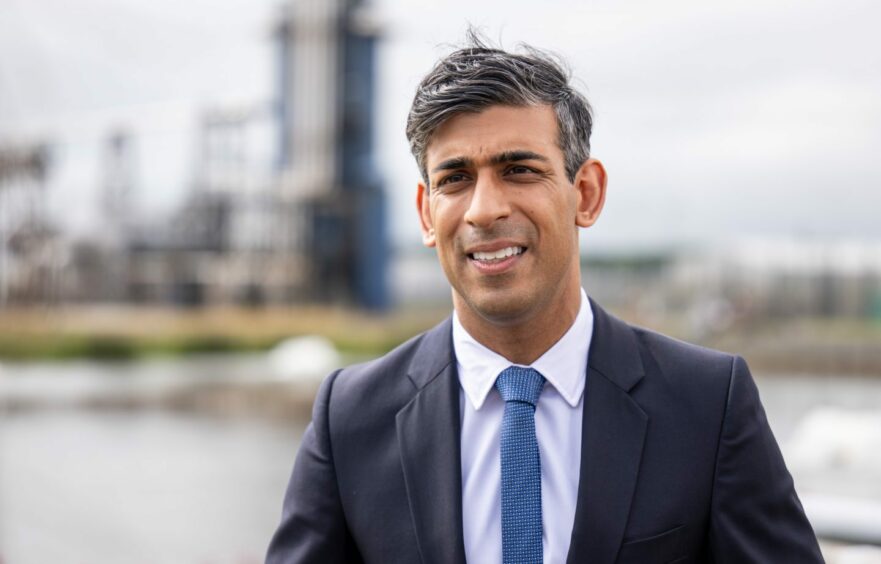 The Acorn CCS project in Aberdeenshire has been officially selected as one of the first four carbon capture clusters in the UK, ending years of wait.
Funding is being awarded as part of "Track 2" of a £1bn UK Government competition, announced as Prime Minister Rishi Sunak makes a trip to Aberdeenshire as part of the UK Government's "Energy Week".
It comes after Acorn, at the St Fergus gas terminal, lost out on the contest's first "track" of funding in 2021, with projects in Wales and Teesside selected instead, and earlier projects in Peterhead being cancelled.
Acorn is the backbone of the "Scottish Cluster" and seen as vital for Scotland and the wider UK to reach net zero targets.
Around 21,000 jobs are expected to be created at peak, say developer Storegga, which is partnered with Shell, Harbour Energy and North Sea Midstream Partners on the carbon capture scheme.
Viking CCS in the Humber, backed by Harbour Energy and BP, has also been selected, making up the first four CCS clusters in the UK.
It  will use infrastructure at the St Fergus terminal – which lands about 25% of the UK's supply – to send CO2 underground into depleted gas reservoirs in the North Sea..
For the Peterhead region, it follows a decades-long wait to get local CCS projects running following cancelled projects in 2007 and 2015.
UK has 'real opportunity'
Speaking to the BBC's Good Morning Scotland Programme, Rishi Sunak said: "This is a good story for the UK overall, it's not about political seats, it's just about doing the right thing for the country.
"We've got four clusters now across the country that will help us transition to net zero in a new industry, and we're strengthening our energy security by investing in the North Sea and getting oil and gas rounds there."
The split of the share of the £1bn funding has not been made clear yet, but Mr Sunak said there is "funding available over the next several years to bring this technology to life".
SNP MP for Aberdeen South Stephen Flynn said highlighted the delays linked to CCS in Peterhead, with projects being cancelled in 2007 and 2015.
"Whilst I do welcome the fact that we are now in this position – and it is excellent news for the North-east of Scotland in particular – I'm very frustrated that it has taken 18 years to get to this point."
He cautioned that the "devil is in the detail" but described it as a positive step following delay.
Storegga: 'Defining milestone'
Acorn is being developed by Storegga, which owns 30% of the project. Partners Shell and Harbour Energy each hold another 30%, with the remaining 10% held by North Sea Midstream Partners.
Dr Nick Cooper, CEO of Acorn lead developer Storegga, said: "We are thrilled that the Acorn Project has advanced directly into Track-2. Acorn has been progressed by the development partners as the Track-1 reserve since late 2021, and is ready to move promptly to support the decarbonisation of Scotland and the wider UK.
"Today's news is a defining milestone for us, and the Scottish Cluster. Acorn will be a major contributor towards meeting the UK and Scotland's carbon reduction targets, able to serve emitters connected by pipeline and ship."
Harbour Energy is involved in Acorn and the Viking CCS project, both selected for Track 2.
CEO Linda Cook said: "Today's announcement is an important step forward for Harbour's Viking and Acorn CCS projects and the development of the carbon capture and storage industry in the UK. It is also a further demonstration of the key role that the oil and gas sector is playing by using our existing infrastructure, skills and experience to build this new industry and help deliver the energy transition.
"Viking has the potential to be transformational for the Humber, the UK's most carbon intensive industrial region, creating thousands of jobs in the area and playing a vital role in supporting the UK to meet its target to capture 30 million tonnes of CO2 annually by 2030."
Acorn CCS
Entering the Track-2 process will allow Acorn to start detailed negotiations with Government and to continue working to provide the infrastructure to support the decarbonisation of emitters across Scotland, protecting and creating jobs and helping to ensure tangible progress towards achieving the UK's climate change targets.
Acorn is a piece of the puzzle for CCS in the UK to hit net zero goals.
It is expected to store around 5 million tonnes of CO2 annually in its first stage – the UK estimates some 50 million tonnes is required by 2035 to hit net zero .
Stuart Haszeldine, Professor of Carbon Capture and Storage at Edinburgh University, said this is a "game changer" for the industry.
He added: "This will be transformative for the decarbonisation of industry and economy in Scotland and the northern UK.
"For many years this project has been ready to start and offers a low risk to business by incremental development gradually adding in additional sources of CO2, and by large cost savings from re-use of existing pipelines and engineering facilities.  The proposed geological storage site 100km offshore is geologically exceptionally secure and is one of the most intensively investigated in the world."
New industries can also develop – such as chemically splitting up to one third of UK methane natural gas supply at St Fergus to remove CO2 and produce clean blue hydrogen –  to power industry, heavy road and rail transport, and potentially convert many homes to cleaner heating
Acorn approval 'hugely welcome'
Chairman of ETZ Ltd, Sir Ian Wood said that the decision to approve the long-awaited Acorn CCS project is "hugely welcome".
The Aberdeen businessman said: "The decision to support the Acorn Project is hugely welcome and marks a significant step in ensuring the North East of Scotland retains its status as a globally recognised energy hub.
"Today's announcement follows extensive efforts from the wider business community to encourage the UK Government to accelerate plans for the Scottish cluster which remain one of the most cost-effective locations to advance CCUS in the UK given the capacity for CO2 storage in the North Sea and the existing oil and gas infrastructure available to repurpose for CO2 transport and storage."
Sir Wood also outlined the benefits the project's approval will bring local businesses in the north-east of Scotland.
He said: "Vitally, there is also a huge opportunity for Scottish oil and gas firms, domestic supply chain companies and our wider economy to harness the skills and expertise of our current workforce in the coming years and contribute significantly to meeting net zero targets."
CCS
Opponents, like the Scottish Greens, argue the technology is untested and that it will simply extend the life of the fossil fuels industry.
Professor Haszeldine highlighted that CCS needs to be carried out in tandem with other climate-saving measures.
Haszeldine added: "But it's also essential to ensure that this carbon storage with Acorn is a genuine decrease of emissions. Storage of 2 or 5 million tonnes CO2 per year should not become a policy excuse to release many tens million tonnes per year from development of new oil and gas extraction. Energy security will come from insulation, efficiency, and renewables.
"Lower consumer prices will not be delivered by repackaging the high carbon  past as a popular avoidance of bigger decisions."
Last year, Storegga CEO Nick Cooper told Energy Voice that the project will have "positive shockwaves" for the region, with tens of thousands of jobs directly and through the supply chain.
Storegga had planned first injection in 2026, though Mr Cooper did discuss the risks of delays: "The longer the government leaves us in this ambiguous situation, the later we can start."
The first phase of Acorn – a multi-billion pound project – will see 5-6 million tonnes of CO2 stored, but there's geological potential to "easily" ramp that up to 20 million tonnes per year and even double that again to 40 million tonnes, matching the current global total.
'critical piece of the jigsaw'
Aberdeen and Grampian Chamber of Commerce chief executive Russell Borthwick said: "Carbon capture is a critical piece of the jigsaw in reaching net zero.
"While it was disappointing for the North East to miss out on Track 1 status in 2021, a concerted effort by industry has kept this project very much alive and uppermost in the thoughts of government decision makers.
"That it can now proceed without further delay is great news, keeping Aberdeen and Grampian at the forefront of emerging technology and creating high-value jobs in the process."
Recommended for you

Bank of England governor visits Peterhead for Acorn CCS brief