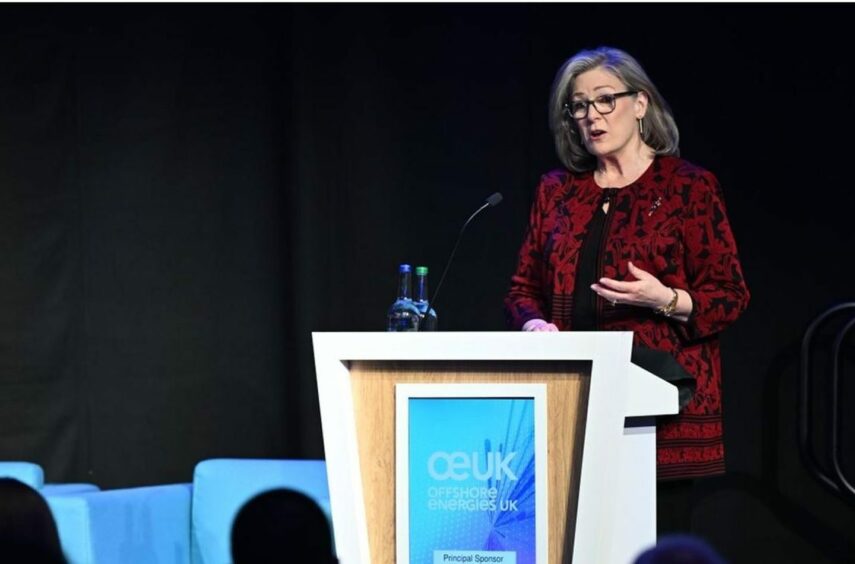 Harbour Energy's chief executive Linda Cook said carbon capture and storage (CCS) offers greater impact for reaching net zero goals, as the regulator announces plans for its first carbon storage licensing round.
Addressing delegates at the Offshore Energies UK conference in Aberdeen on Tuesday, Ms Cook said that while electrification was an "exciting" prospect, in many cases it may be expensive and slow to deploy.
"I actually believe that, in general, carbon capture and storage has much more potential bang for the buck when it comes to our sector supporting the UK's net zero goal," she said.
"By leading the way on CCS we can invest in projects that will enable large scale and long term emissions capture and be the source of revenue for decades to come."
Harbour – the UK's largest producer of oil and gas – has made the technology a key part of its investment portfolio, leading the V Net Zero project in the Humber region and supporting the Acorn CCS project, as part of the Scottish Cluster.
It holds a CO2 storage appraisal licence for the Rotliegend gas fields, Viking and Victor, in the southern North Sea around 140 kilometres off the Lincolnshire coast – a key piece of infrastructure which will help support decarbonisation around the Humber.
Initial injection rates for the project are planned to reach some 3.6 million tonnes per year, rising to 11 million tonnes by 2030.
First carbon storage round
For those keen to follow Harbour, the same session saw North Sea Transition Authority (NSTA) chief executive Andy Samuel confirm the regulator would hold its first ever carbon storage licensing round on 14 June.
Mr Samuel said 41 nominations had already been received after it put out a call for interest – a response he called "amazing."
"This was a lot more than we were expecting, it's a real sign of the investor appetite, and many of these are going to be very good," he told delegates.
He did not confirm which areas or projects would be put forward, but said the NSTA would be working with Crown Estate and Crown Estate Scotland and other agencies to ready the round by mid-June.
"I think this is going to really kickstart the next phase of this great industry," he added.
Electrification and emissions
Despite the company's bullish stance on CCS, Ms Cook said electrification remains an option to be explored by Harbour, noting that it is also leading an industry study to evaluate its potential in the central North Sea.
"While it may be practical for new developments, whether it's viable to retrofit existing fields -most of which will only produce for another few years – it's still too early to say, but we'll give it careful consideration along with [Andy Samuel] and his staff, and we'll compare its potential and the cost and the benefit compared with other opportunities to invest to reduce emissions," she told the conference.
Mr Samuel, meanwhile, complimented emissions reduction efforts made across the sector so far, but warned that further action still would be needed to meet and exceed targets towards the end of the decade.
Under the North Sea Transition Deal, the sector has committed to reducing its Scope 1 and 2 emissions to 50% of a 2018 baseline by 2030, ahead of a net-zero mandate by 2050.
He said he was "very confident" that the 2025 and 2027 targets would be achievable, but that he was "concerned" about 2030.
"We won't meet that without a further step change. The difference, I think, is that electrification could be a large part of that," he added.
Mr Samuel pressed of the importance of exceeding these targets, particularly as groups such as the Climate Change Committee have criticised the industry for what it called a "lack of ambition", and calling instead for a 68% reduction by the same deadline.
Refencing the CCC's proposed target, he concluded: "Well let's aim for that, I think it's possible. But that really would require electrification, there's no doubt about that."
Recommended for you

NSTA CCS boss talks about making the Track process 'sustainable'