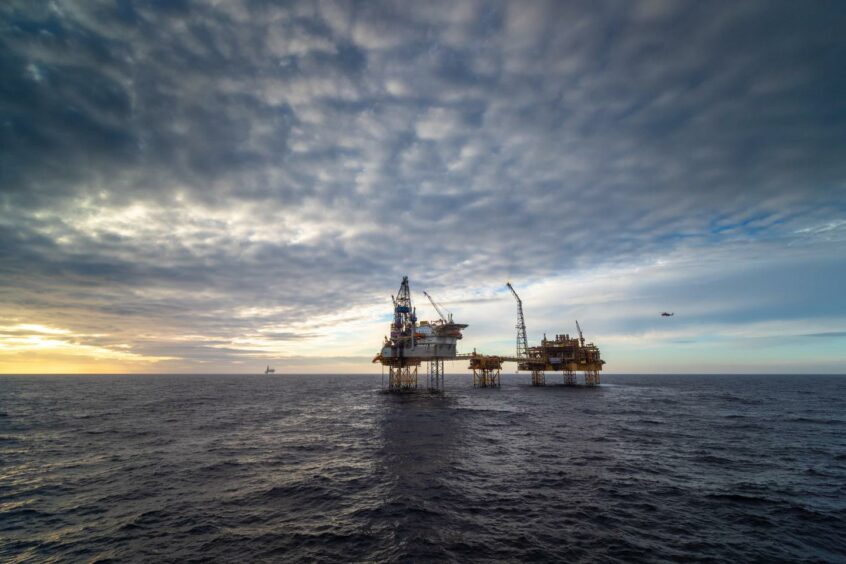 Climate Change Committee chief executive Chris Stark said the industry and regulator the Oil and Gas Authority (OGA) could do more, sooner to reduce emissions if North Sea production is to continue.
The Climate Change Committee (CCC) today published its advice on government proposals for so-called "climate compatibility checkpoints", aimed at ensuring any new permits for offshore oil and gas development are in-keeping with the UK's climate change commitments.
In it, the group said it supported tighter limits on oil and gas production, with stringent tests and a "presumption against exploration", but could not determine the precise impact of North Sea production on global emissions.
The letter noted that ending exploration would send a strong signal on the country's climate ambitions, but acknowledged that the UK could develop new fields and meet its carbon budgets.
However, during a presentation of the committee's findings on Wednesday, Mr Stark also voiced the group's "ongoing disappointment" regarding what he called a "lack of ambition" from the sector to reduce its production emissions.
"We feel the North Sea sector and its regulator the OGA is missing the opportunity to cut production emissions even further and that, I'm afraid, undermines the case for more UK production," he said.
So, @theCCCuk are keen to stop new oil and gas production on the UKCS, and they think that the @OGAuthority aren't being ambitious enough.https://t.co/QwtaNCPiO2

— Orcadian Energy (@Orcadian_Energy) February 25, 2022
As part of the North Sea Transition Deal (NSTD) agreed with government last year, the sector has committed to a 50% reduction in emissions by 2030, and 90% by 2040, ahead of reaching net zero in 2050.
Mr Stark added: "Strategies…like electrifying platforms, reducing methane, venting and flaring – we think those kind of measures could reduce emissions by 68% by 2030, and what the industry have committed to is something much less ambitious."
He also made the case for additional tests that could be applied by government and the regulator during the licensing and consenting process, which would help ensure compliance with the UK's climate goals.
"If we're going to permit new production, if we're going to see continuing production, then the role of ministers here is to make sure that that has the absolute minimum in terms of its greenhouse gas footprint," he said.
"And there is a lot more that could be done here."
The OGA had no comment on the CCC letter.
A spokesperson for UK's Department for Business, Energy and Industrial Strategy (BEIS) said:
"There will continue to be ongoing demand for oil and gas over the coming decades as we transition to cleaner and cheaper forms of energy generated in this country.
"As the Business ​and Energy Secretary has said, turning off North Sea gas overnight would put energy security, British jobs and industries at risk, and we would be more dependent on foreign imports.
"We welcome the Committee's acknowledgement that carbon budgets can still be met if new oil and gas fields are developed in the UK."
The OGA is not an environmental regulator, but says it has placed net zero within its core strategy alongside "Maximising Economic Recovery" (MER) and will be responsible for enforcing the emissions targets set out in the NSTD.
It published its inaugural emissions monitoring report last year, which stated that the North Sea "must go much further and faster in its drive to cut emissions".
It has also said that the NSTD targets, agreed by industry and government, are the minimum expected and that industry should strive to reduce emissions by 68% by 2030.
The sector's flaring also fell by around one-fifth in 2020, and the regulator expects cuts of a similar magnitude to have been made in 2021.
In response to the CCC's advice, the sector's trade body Offshore Energies UK said it was committed to continuing to work with the Committee and OGA to rapidly reduce the sector's emissions.
OEUK sustainability director Mike Tholen said: "The Committee on Climate Change recognises that there is a continued role for domestic production if we can accelerate our climate ambitions and we hear that challenge today.
"We are demonstrating by our actions that we are capable of delivering our climate commitments and will continue to do so while providing energy security for the UK."
Recommended for you

Brian Wilson: Setting climate targets is one thing, meeting them is another