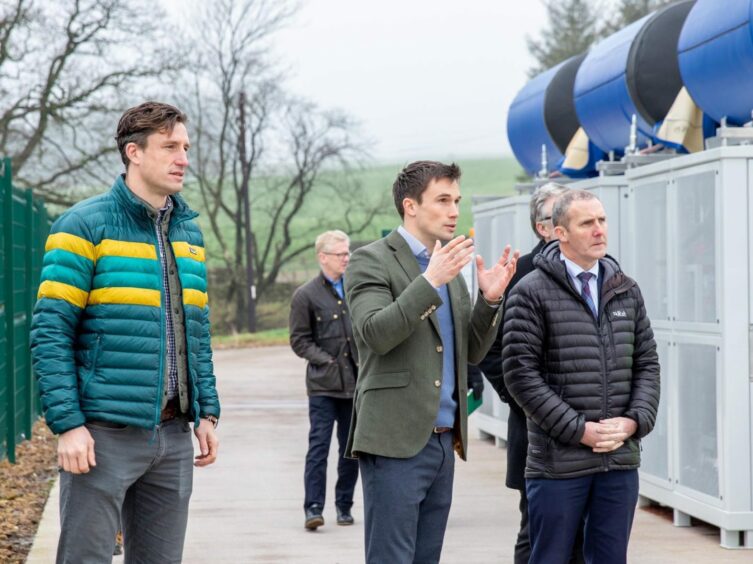 Carbon dioxide specialist Carbon Capture Scotland (CCS) has announced a new initiative which it says could help remove up to 1 million tonnes of CO2 from the atmosphere per year by 2030.
Dubbed Project Nexus, the carbon removal drive would generate as much as 500 jobs across rural Scotland by deploying technology to capture biogenic CO2 emissions from processes such as whisky fermentation, anaerobic digestion and biomass incineration and transporting it to sequestration sites.
Overseen by brothers Richard and Ed Nimmons, CCS – formerly known as Dry Ice Scotland – has already piloted a variety of CO2 capture and processing technologies at its current headquarters in Dumfries & Galloway. The site uses over 10,000 tonnes of CO2 per year to produce the solid material used for refrigeration.
Cabinet Secretary Michael Matheson MSP met with the brothers at the facility in Crocketford this week.
Constructed in 2021, the £4m project was a world first and has been a key component in maintaining dry ice supplies during the recent COVID vaccination rollout and CO2 shortages.
The company's latest £120m investment will consist of a series of similar infrastructure and supply chain projects to support "sustainable and commercial means" of CO2 removal. Beginning in 2023, projects will be deployed throughout central and northern Scotland.
The Nimmons brothers jointly commented: "We all need carbon capture and removal to be achieved at scale. At CCS we focus on simple, practical means of capturing, processing, transporting and removing CO2 and we look forward to leading the global path to net zero.
"Removing 1,000,000 tonnes of CO2 per year is the equivalent of decarbonising the gas and electricity of over 175,000 average UK homes. Project Nexus will achieve that, and we can start right now."
Net Zero & Energy Secretary Michael Matheson said CCUS would be "a vital part" of the country's net zero energy transition.
"Indeed, advice from the Climate Change Committee describes it as a "necessity, not an option" to achieve net zero emissions," he continued. "The Scottish Government is fully supportive of the technology and has made £80 million available to its continued growth and development – together with a dedicated £5 million fund to support carbon utilisation.
"Carbon Capture Scotland has been at the forefront of making CCUS technology a reality in Scotland, and I welcome its ambitious plans to scale-up its carbon capture operations, opening up further economic opportunities and green jobs for the region and across Scotland."
Professor Russel Griggs, chairman of South of Scotland Enterprise, said the scheme could be "game-changing" not just for the company but for businesses throughout the region and in other rural areas of the country.
"This project once again highlights the entrepreneurial talent we have in the South of Scotland, as well as the significant economic opportunities which our journey to Net Zero presents us with."
The announcement follows close on the heels of an Aberdeen start-up CCUS International, which will shortly open a £10m fundraising round to commercialise its own patented carbon capture and utilisation technology.