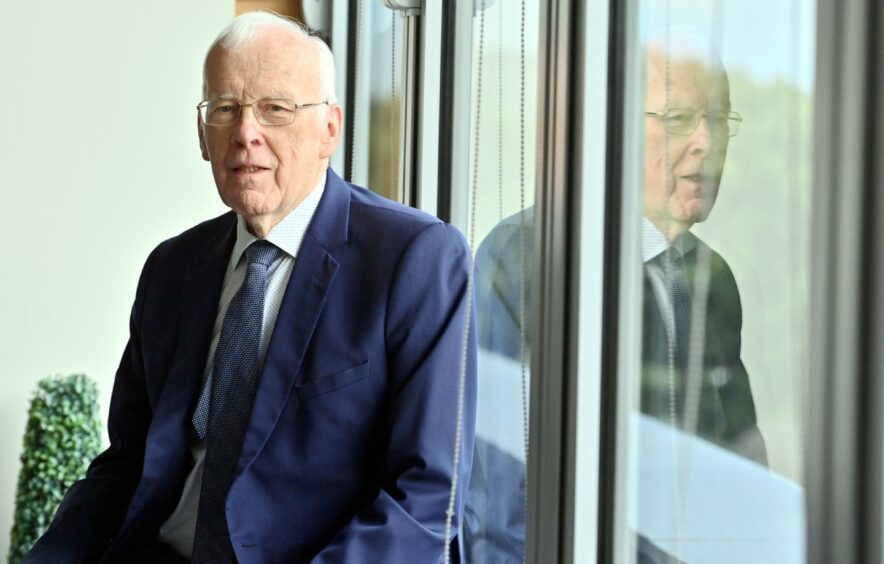 Westminster is being pressed to confirm a portion of its carbon capture and storage (CCS) cash will go to Aberdeenshire's Acorn project.
North-east oil and gas tycoon Sir Ian Wood says the announcement of £20 billion for the decarbonisation technology in the UK Government budget was welcome.
But he is urging ministers, "as a priority", to set out how the cash will specifically help Acorn, located at the St Fergus gas terminal near Peterhead.
As it stands, the scheme, which is the backbone of the wider Scottish Cluster, is the government's reserve project, after it missed out on 'Track 1' status.
Details on Track 2 of the funding competition are expected imminently, after numerous delays, and it's widely thought Acorn will make the cut this time around.
Storegga is spearheading the project, with backing from Shell (LON: SHEL), Harbour Energy (LON: HBR) and North Sea Midstream Partners, which aims to store carbon emissions in empty oil and gas fields.
As part of his spring budget, Chancellor Jeremy Hunt announced a £20bn government support package for CCS.
It is currently unclear though whether Acorn will be amongst those to receive backing, with only the "East Coast to Merseyside to North Wales" specifically namechecked.
Mr Hunt did say the money would pave the way for CCS schemes "everywhere across the country", as the UK approaches its net zero by 2050 goal.
Responding to the budget, Sir Ian said: "We welcome the Chancellor's commitment to support Carbon Capture with up to £20 billion over the next two decades but urge the UK Government to confirm, as a priority, the Acorn project will benefit from this funding.
"Removing its reserve status and allowing it to move forward will unlock billions of pounds of private sector investment, support significant new job creation across the North East of Scotland and help ensure the UK accelerates toward meeting net zero targets."
Aside from the cash for CCS, there was little in the Chancellor's budget for the energy industry, despite a degree of optimism in the run up.
Specifically, oil and gas companies were hoping for amendments to the current North Sea windfall tax, first rolled out in May.
Firms and industry representatives have repeatedly flagged the damage the energy profits levy (EPL) is doing to investor confidence at a time when the UK is seeking to boost its energy security.
Despite a lack of announcement on Wednesday, it is thought Mr Hunt is considering adding a floor to the EPL, which would cause it to dissolve if oil and gas prices dropped below a certain level.
Sir Ian said: "The failure to apply a price floor for the Energy Profits Levy is disappointing as this policy is creating an adverse environment for investment and jobs precisely at the time we need to be maximising domestic energy security. We must have a more stable fiscal regime to incentivise this which will in turn allow us to accelerate our energy transition ambition."
Recommended for you

UK government returning to "snail-like habits" in "underwhelming" budget