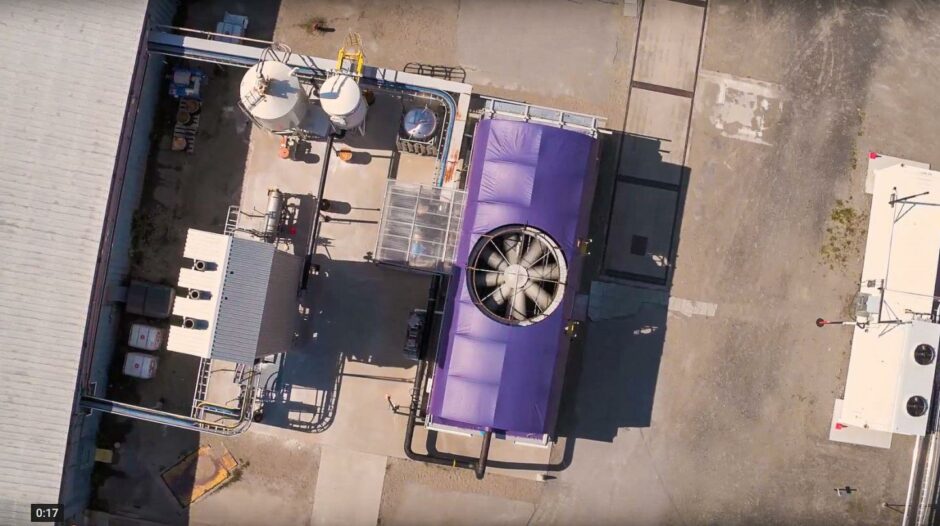 New reforms proposed for the UK's emissions trading scheme (ETS) would see carbon-removing technologies added to the market, in a move aimed at boosting investment in the sector.
A package of reforms unveiled by the Department for Energy Security and Net Zero (DESNZ) on Monday would see "greenhouse gas removal" (GGR) technologies included within the mechanism for managing carbon emissions across the UK's largest industries.
It's a major milestone for the sector, which includes solutions like direct air capture (DAC) and carbon capture and storage (CCS) more widely, as it looks to garner investment and scale up in the coming years.
The government's current ambition is to capture and store 20-30 million tonnes of carbon emissions per year by 2030, much of which will come via the Track 1 and 2 cluster process.
The UK ETS was launched in 2021 to replace the UK's participation in the EU's equivalent system and places a limit on the total amount of greenhouse gases aviation, power and other energy-intensive industries can emit.
The market enables the buying and selling of emissions allowances, which companies must obtain for every tonne of emissions they produce each year. Companies that are successful in reducing their emissions can sell unused allowances to other firms.
Its goal is to encourage companies to invest in renewable and low-carbon resources and technologies.
Alongside adding the maritime transport and waste sectors into the scheme – and removing free allocations for aviation by 2026 – the government has now ruled that the UK ETS is "an appropriate long-term market" for GGR technologies, paving the way for their addition to the scheme.
DEZNZ says this will "drive early investment in new technologies" like direct air capture. In future it said the ETS could also offer a long-term market for nature-based carbon removal, though this remains subject to further consideration.
'Significant step forward'
Low-carbon solutions developer Storegga, which also leads the north east's Acorn CCS project, said the news was a "significant step forward" for the sector.
CEO Nick Cooper added: "We welcome the direction of travel outlined in the package of reforms announced today by the UK Emissions Trading Scheme Authority (UK ETS), which recognises the value of GGR technologies.
"These reforms mark a significant step forward in our shared pursuit of a lower carbon economy and a sustainable future.
"Enabling the UK ETS as an appropriate long-term market for GGR technologies demonstrates commitment to promoting investment in solutions that will be a pivotal part of realising our ambitious net-zero targets and also can enable a valuable new GGR industry in the UK."
Mr Cooper also said robust monitoring, reporting and verification systems would be equally vital in ensuring trust and accountability in the ETS market.
"By prioritising these measures, the reforms have the potential to position the UK as a global leader, setting a benchmark for other nations.
"The reforms also highlight the urgent need to advance CO2 storage capabilities in the UK, as carbon removal is only effective if we have reliable and scalable means to store the captured CO2.
"Storegga has always believed that creating a climate repair industry in the UK holds immense potential, not only in terms of addressing environmental challenges, but also in generating thousands of quality jobs through progressing the energy transition."
Cap lowered in 2024
Under the reforms proposed the cap on emissions will be tightened from next year, though it will still be set at the highest level of the range expected in recent consultations – and in line with net zero.
Extra allowances will be made available to the market between 2024-27, while the current levels of free allocation of allowances has also been guaranteed until 2026 – a move which the department says will "give industries certainty over the level of support available in the medium term."
In a joint statement, UK ETS Authority Ministers, including Lord Callanan, Julie James MS, Màiri McAllan MSP and Gareth Davies MP said: "With the recent rises in energy prices, it is more important than ever that we accelerate the transition away from costly fossil fuels, towards greener and more secure energy.
"Our UK Emissions Trading Scheme, along with other interventions, forms part of a wider strategy to provide a long-term framework to incentivise UK industries to decarbonise – seizing the huge opportunities that are arising from a rapidly expanding clean energy sector, and providing the certainty that industries need to invest in new green technologies.
"The decisions taken here will not only put us on the path to net zero, but will also support crucial industries on their path to long term sustainability.
Recommended for you

Businesses lambast 'historic mistake' as Sunak confirms net-zero policy slide