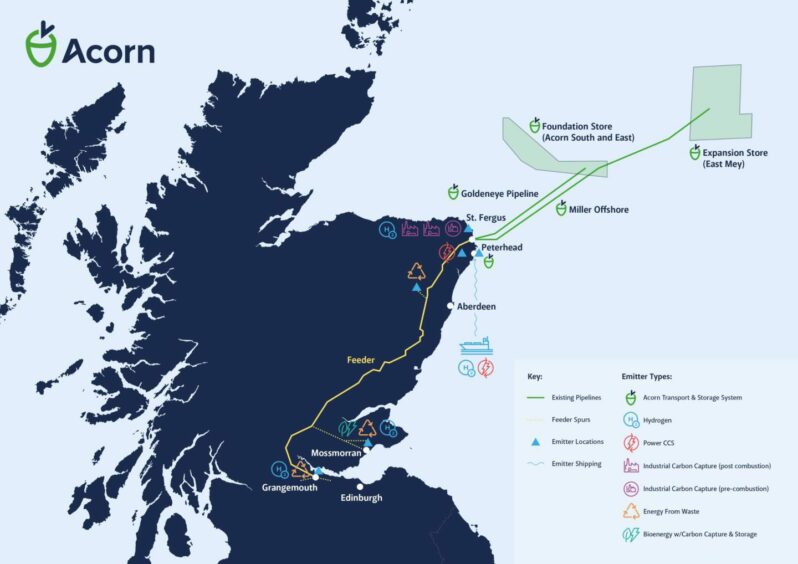 The Acorn CCS project in Aberdeenshire is to expand after being awarded fresh carbon storage licences in the North Sea.
Initially planned to store carbon in the former Goldeneye gas field operated by Shell, the development will now also include with two new CO2 stores: Acorn East and East Mey.
That's after the North Sea Transition Authority (NSTA) announced the 14 winning companies of 21 CCS licences today.
For Acorn, it means the system's capacity will ramp up to store a huge around 240 million tonnes of CO2 in total.
To put that into perspective, the UK estimates some 20-30 million tonnes of CO2 storage per year will be needed by 2030 to meet net zero targets, and more than 50 million tonnes per year by 2035.
Acorn is the backbone of the "Scottish Cluster" and developers say it could store emissions from nine sources by 2030, including St Fergus, SSE and Equinor's Peterhead Carbon Capture Power Station, Ineos Grangemouth and ExxonMobil's petrochemical facilities at Mossmorran.
Following Track 2 funding earlier this year – a share of a £1bn government pot – Acorn is expected to store around five million tonnes of CO2 annually in its first stage by 2030.
It will eventually be used to ship carbon in from other parts of the UK, and even parts of Europe, expected to create tens of thousands of jobs at its peak.
Acorn's CO2 stores sit around 60 miles off the Aberdeenshire coast, in geological formations 1.5 miles below the seabed.
A spokesperson for Acorn said: "These extensive areas of subsea acreage are key elements in Acorn's long-term strategy. The North Sea Transition Authority's award of these carbon storage licenses is welcome news, as we continue to respond to Government's Track-2 process.
"Acorn's stores, 2.5km below the seabed some 100km north-east of Peterhead on the Aberdeenshire coastline, have the potential to store c.240 million tonnes of CO2."
Acorn is being developed by Storegga, which owns 30% of the project. Partners Shell and Harbour Energy each hold another 30%, with the remaining 10% held by North Sea Midstream Partners.
Recommended for you

Spirit Energy CCS cluster in team-up with cement industry