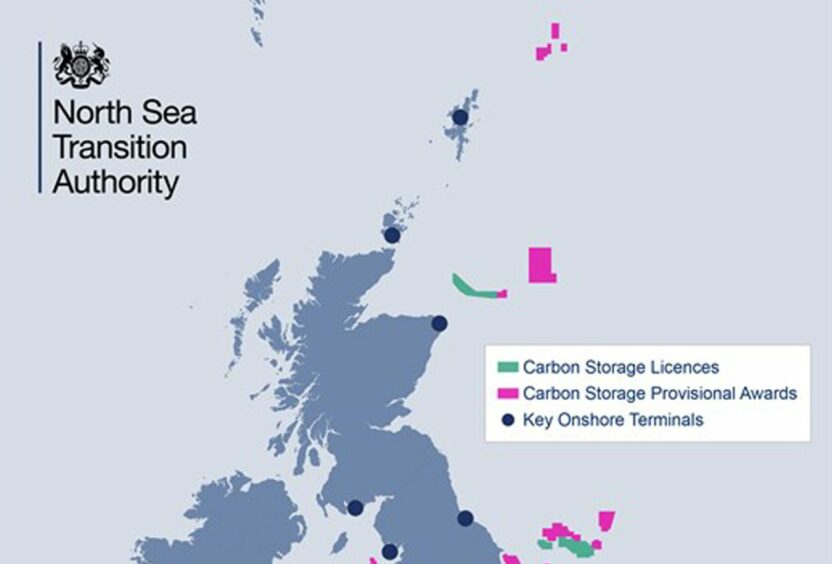 The North Sea Transition Authority (NSTA) has confirmed the final list of companies which have accepted licences following the UK's first ever carbon storage licensing round.
A total of 14 companies have now been awarded 21 carbon storage licences, following the addition of one new licence and two firms since the initial results in May.
Opened last year, the round saw 19 companies submit a total of 26 bids.
Thirteen areas were offered off the coast of Aberdeen, Teesside, Liverpool and Lincolnshire in the southern North Sea, central North Sea, northern North Sea, and East Irish Sea as part of the process, which kicked off last summer.
Covering more than 4,600 square miles of offshore acreage, these depleted reservoirs could store up to 30 million tonnes of CO2 per year by 2030 – enough to hold the equivalent of around 10% of UK annual emissions, which stood at 342 million tonnes in 2021.
Several companies have already confirmed their awards, however the full list of recipients has been kept largely under wraps until now.
Who won offers in the UK CCS licensing round? What we know so far
North Sea operators win big
Major North Sea names dominate the list of recipients, with successes for the likes of EnQuest, Neptune Energy, Shell, BP and Harbour Energy.
View the full list here.
Storegga Shell and Harbour Energy – backers of the north-east's Acorn project – have accepted awards for the Acorn East and East Mey CO2 stores, granting the carbon capture and storage cluster room to store up 240 million tonnes of CO2.
Shell, Perenco and ENI have all been awarded licences off the coast of Norfolk in sites which could form part of the Bacton Energy Hub – a carbon storage, hydrogen and offshore wind project which the regulator has thrown its weight behind.
EnQuest has already confirmed the securing of four licences within application areas known as Northern North Sea 1 and Northern North Sea 2, which lie around 100 miles northeast of Shetland and its Magnus and Thistle fields.
Harbour, together with partner BP, was also awarded two licences located adjacent and to the west of its existing two Viking CCS licences in the Southern North Sea – with early suggesting the additional licences have the potential to increase the total storage capacity of Viking by over 50%.
'Substantial milestone'
The NSTA noted that as many as 100 storage licences could be needed to meet the requirements for reaching net zero and that the volume of applications received for the first round demonstrated the industry's desire for further opportunities.
The regulator intends to assess the response and the quality of opportunities in further locations across the UK before deciding when to run a second round.
NSTA chief executive Stuart Payne said: "It is exciting to award these licences and our teams will support the licensees to bring about first injection of carbon dioxide as soon as possible. We will also continue to work with industry and government to enable further licensing activity and back the UK's drive to net zero emissions."
Ruth Herbert, chief executive of the Carbon Capture and Storage Association also welcome thed the plans, which she described as a "significant step towards achieving net zero"
"These licences mark a substantial milestone towards widespread deployment of CCS.
"With the potential to store almost 10% of the UK's greenhouse gas emissions in these new locations, starting to develop these sites paves the way for a cleaner and more sustainable future. The next step is a carbon capture deployment plan to enable us to fully exploit our future CO2 storage capacity."
Offshore Energies UK sustainability and policy director Mike Tholen added:  "We have an oil and gas industry with the right expertise, skills, and people needed to make this a British success story, and these licences are another step towards achieving that goal.
"We will need 100 such sites or more to reach net zero, so we mustn't stop here.
"The companies investing in nascent opportunities like carbon storage will require the cash flow from a stable and predictable oil and gas business to fund these technologies.
"That is why we need continued support from government across the whole energy landscape, and long-term, competitive energy policies that attract the investment and innovation we will need to make sure these solutions are being built in the UK, for the UK."
Recommended for you

North Sea operator IOG to enter administration