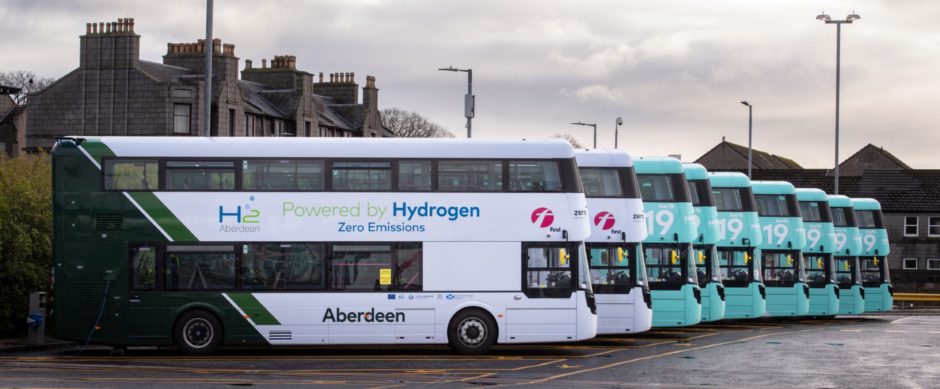 An Aberdeen man is on the hunt for hydrogen start-ups needing funding as part of efforts to help the city deliver on its low carbon potential.
Colin Rawlinson spent about five decades working as a headhunter in the oil and gas industry, identifying talent in the Granite City, as well as overseas.
When the industry downturn hit in 2014, he decided to switch his focus and, with funding from Skills Development Scotland (SDS), helped displaced oil and gas workers to retrain.
Crucially though, the support from SDS didn't extend to reskilling for the hydrogen sector as there "weren't enough jobs" to justify it.
In response, Mr Rawlinson decided to "go out there and create them."
He set up Hydrogen Enterprise, a company that finds investors and coaches and pairs them up with hydrogen and carbon capture start-ups.
As a partner to this, Mr Rawlinson also created H2Startup, a "Tik Tok like" video sharing app that allows people to post "filmed CVs" and make "elevator pitches" to try and secure funding.
Mr Rawlinson says he has been met with a "significant response" from large enterprises, mostly in the US, that are looking for start-ups needing investment.
"I've had enquiries from large companies such as Mitsubishi, as well as from Wall Street investment banks, looking to transition into hydrogen or add unique technology onto what they do already," he said.
"After that, I was approached by about 40 start-ups that were looking for seed funding of about £500,000, as well as a small number that were looking for more than £6 million.
"From that, I was able to shortlist 27 that were interested in looking at joint ventures in Scotland, and particularly Aberdeen."
Ultimately, Mr Rawlinson is hoping that his app will match start-ups, looking to access funding and advice, with the large investors, capable of helping them to mature.
Since launching Hydrogen Enterprise, which has an office in Marischal Square, Aberdeen, he says he's been contacted by "a lot of companies" looking to set up shop in the north-east.
He said: "I honestly believe that Aberdeen could be the hydrogen capital of the world, certainly with all that offshore wind that's going in nearby.
"There's been a lot of companies coming to me saying they want to set up in the Granite City because of the volumes of hydrogen that will be produced in the future."
He added: "We don't just need an energy transition centre in Aberdeen, we need a hydrogen transition centre. That's what I want to do and I'm looking for collaborators to do it."
As part of efforts to help the low carbon fuel flourish in the north-east, Hydrogen Enterprise has formed a joint venture with US firm H2 Energy Group.
The Tennessee-based company, which is exploring opening an office in the north-east, produces the "world's lowest cost hydrogen", Mr Rawlinson said.
Together, the two partners are looking to secure the "appropriate permissions" to build a "biomass to hydrogen" facility in Scotland, with Huntly namechecked as a potential site.
Moreover, they're also exploring opportunities for hydrogen production in Aberdeen – the local authority is currently in the process of developing a flagship hydrogen hub.
And Mr Rawlinson is hoping the increasing focus on the fuel in the north-east will give start-ups in the region the emphasis to grow.
He said: "When it comes to £7m funding, I've got more investors than start-ups. The question is how do we get companies in Aberdeen to a stage where they can access that. That's what I'm trying to do.
He added: "I want to crowdsource information to enable oil and gas workers to use their transferrable skills to launch exciting companies that benefit the region and the energy industry."