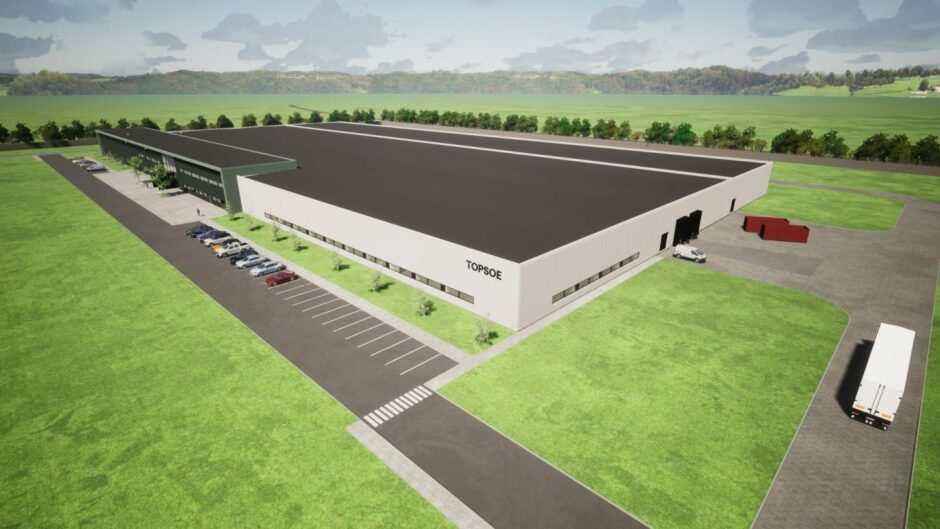 Denmark's Topsoe is expanding its clean energy offerings, but incentives from the US make North America a more likely beneficiary than Europe.
The US' Inflation Reduction Act (IRA) sets out financial incentives to support the energy transition – offering companies rewards for building plans domestically.
The US incentives "are clearly a better mousetrap", Topsoe CEO Roeland Baan said.
Europe has had a historic early mover advantage in developing energy transition technologies, he said. "But the reality is that if you want to start a new project with new technology, there are cumbersome requirements in winning approval from the European Commission. You probably wouldn't hear a response for 18-24 months."
There have been similar challenges even for known technologies, such as onshore wind.
"Then the IRA steps in with total transparency and clarity," Baan explained. "It's not dogmatic, it works on carbon intensity – it's extremely simple and with quick permitting."
Topsoe has already seen a dramatic increase in interest from the US since the act became law, in August 2022. Before this, only 10-15% of companies ordering Topsoe technology were based in the US. "Now it's 80%," Baan said.
One piece of evidence of this new demand came in February. Denmark-based Copenhagen Infrastructure Partners signed a contract with Topsoe to deliver blue ammonia technology – on the US Gulf Coast. The two-train facility should be ready in 2027.
There is certainly a case to be made that the US needs to make progress in decarbonisation, particularly given the high level of emissions per capita.
"But Europe can't lose the battle. The commission is coming up with some good ideas – but it's not going far enough."
Baan was eager to highlight the importance of R&D for Topsoe, with 80% of this going into decarbonisation.
Take to the skies
Topsoe recently announced a partnership with Sasol, focused on sustainable aviation fuel (SAF). Primarily, the plan will involve the construction of new facilities capable of transforming blue and green hydrogen into SAF, through the combination with CO2.
South Africa, with its challenging regulatory and power provision, does not appear on Topsoe's plans for the new investments.
"We have to be realistic and look globally, at where we have the infrastructure and supply and incentives," Baan said. "In Europe there are a number of incentive schemes and the US has the IRA." Given the cost of SAF, the fuels will carry a premium.
The challenge over the next 10 years will be in scaling up SAF production. Green hydrogen production is relatively niche, as yet. "A lack of green power and electrolysis capacity, this will not make a dent" in the projected SAF demand. As such, in the near term, the "bio method" of using oils and fats is likely to be the quickest start.
Topsoe and Sasol have been working on synthetic fuels together for 20-30 years, Baan said. While developers want to secure SAF capacity, no one company is yet able to provide an end-to-end solution for this.
"Everyone has to buy in the tech, but we have all the technology between us. We have the balance sheet, we have the technology, we have the markets, Sasol supplies jet fuel. We're in a unique position."
Powering up
Topsoe sees its power-to-x sector as the company's most important focus. Hydrogen fails to be an efficient energy carrier, posing challenges in compression or liquefaction.
As such, other ways to move the feedstock must be found. "We see that in the production of green ammonia", the Topsoe executive said. Shipping or power generators can use ammonia directly, or it can be used as an energy carrier and then be cracked back into hydrogen at its destination.
Scale is the challenge. To achieve the 10 million tonnes per year of low carbon hydrogen that Europe is targeting for domestic production by 2030 would require around 120 GW of electrolysers. As of 2022, current capacity is 1.75 GW.
Costs for Topsoe's power-to-x plans were high in 2022, but the company expects to see returns on this investment this year. Another cost the company cited in its annual results last week was around inflation.
This is unavoidable, Baan acknowledged. "A tonne of steel is a tonne of steel." However, Topsoe has taken a number of steps to mitigate the impact.
The company avoids using rare earth materials, for instance, its battery technology does not use cobalt. The Topsoe electrolyser offers a 35% efficiency advantage over the alternatives, he continued. "Our technology delivers 35% more hydrogen for the same amount of power – that offsets inflation."
The task ahead for Topsoe is not easy. Growing the company's energy transition business is the focus for growth – and this faces challenges, not least from inflation.
However, demand is growing for cleaner energies, in a move with clear governmental support. If Topsoe can navigate the competition between the US and Europe, the company seems well positioned to play a major role in the future economy.
Recommended for you

UK must learn 'urgent lessons' to avoid losing global green race, says thinktank