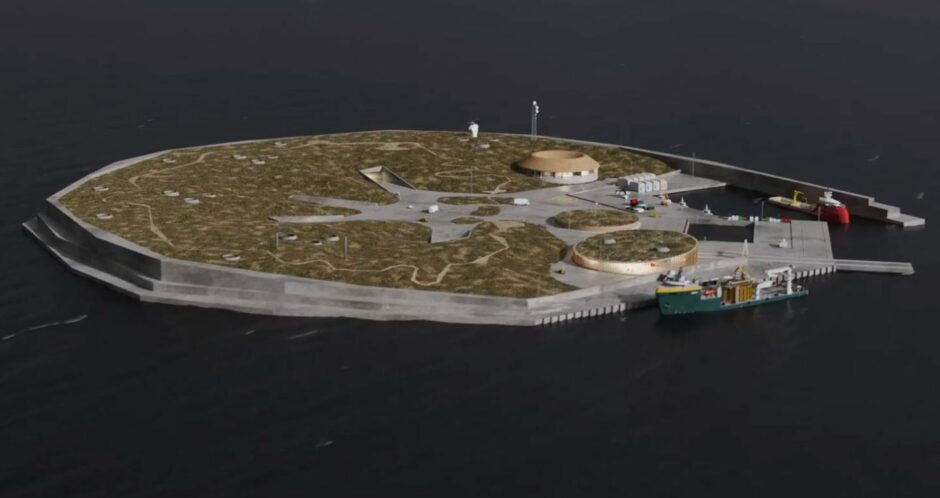 Copenhagen Infrastructure Partners (CIP) has unveiled plans to build an artificial island in the Danish North Sea, where it would cluster large-scale green hydrogen facilities powered by offshore wind.
Dubbed BrintØ – literally "hydrogen island" in English – CIP says the project could be the first of its kind and would produce large amounts of green hydrogen from offshore wind for export to nearby countries, such as Germany, the Netherlands, and Belgium.
Over time, the scheme could see up to 10GW of offshore wind capacity connected – enough to produce around 1 million tonnes of green hydrogen per year-  and could be expanded to include other adjacent energy islands.
Infrastructure fund manager CIP says this would create a "foundation" for the production of green fuels via Power-to-X for trucks, ships and aircraft,
It also hopes the project could become a "showcase" for Danish competencies within offshore wind, Power-to-X and green energy systems, and offer new export opportunities for local firms.
Cost estimations for the project were not included.
Notably, the fund says it would support the buildout targets set by the Danish government earlier this year, and the ambitions set out in a North Sea Summit this week.
The latter saw energy ministers from Denmark, Germany, Belgium and the Netherlands pledge to install at least 150GW of offshore wind by 2050, in a bid to support the EU's drive to reduce its use of Russian oil and gas.
In a joint declaration signed on Wednesday, the ministers said this would see the countries more than double their combined 2030 targets of some 65GW, creating the "Green Power Plant of Europe".
"The Danish, German, Dutch, and Belgian ambitions for the North Sea show the rest of the world how the green transition can be turbocharged if you dare to think big, internationally and in integrated systems," said CIP partner Thomas Dalsgaard.
"Green energy will be harvested on a large scale out at sea, tied together by energy islands, converted into green hydrogen, and transported across borders via offshore hydrogen infrastructure. The opportunities are significant, and the Danish BrintØ is the first step in that direction."
The island would be established on the Danish part of Dogger Bank, an 20,000 square km sandbank – the western portion also being the site of the eponymous wind project being developed by SSE Renewables, Equinor and Eni.
BrintØ offers Denmark "a unique opportunity to secure a strategic role" in a network of offshore infrastructure CIP added, which could include energy islands, power cables and hydrogen pipelines, across the North Sea's territorial boundaries.
"It is critical that the Danish flag is planted quickly and strategically in the new expansion of green energy infrastructure in the North Sea. This will help to ensure that both our and future Danish and European generations can continue to benefit from the sustainable and inexhaustible energy source that the North Sea offers," continued Mr Dalsgaard.
Recommended for you

Cerulean Winds signs exclusivity agreements for three INTOG floating wind sites