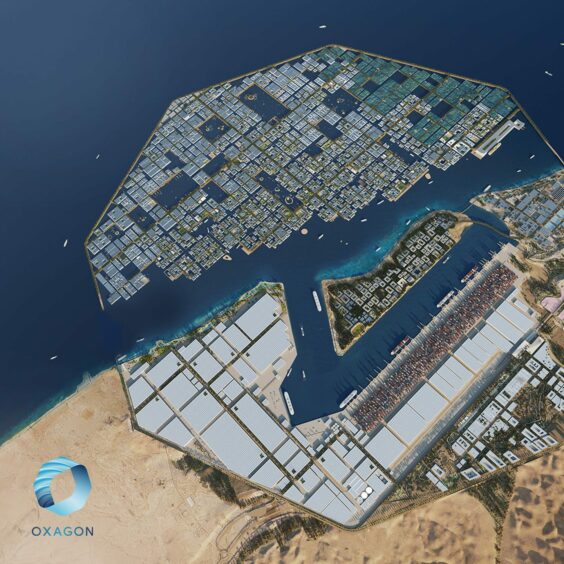 ACWA Power has struck a memorandum of understanding on studying a green hydrogen export corridor to Amsterdam.
The company signed the deal with Zenith Energy Terminals, GasLog and the Port of Amsterdam. The companies signed the deal during the Saudi-EU Investment Forum, in Riyadh. Saudi Arabia and the Netherlands agreed to work on green energy opportunities in May this year.
ACWA noted that it was involved in the Neom green hydrogen project, in Saudi, and was working on a second project in Uzbekistan.
"This collaboration is more than just a stepping stone – it is a leap towards a new horizon. As a first mover in green hydrogen, ACWA Power is not just unlocking the potential of green hydrogen, the fuel of the future, but we are also exporting our expertise and commitment to a global audience," said the company CEO Marco Arcelli.
"Our collaboration with GasLog, Zenith Energy Terminals, and Port of Amsterdam signifies our dedication to clean energy leadership on an international stage."
Under the MoU, the companies will carry out a feasibility study on liquid green hydrogen, travelling between ACWA's production sites and Amsterdam. Depending on the results of the study, the group may reach a joint development agreement (JDA). This would involve agreeing roles and responsibilities, in addition to talks with potential offtakers around Amsterdam.
Support
The Dutch government has said it would 9 billion euros for green hydrogen, up to 2030. Of this amount, it has reserved 300 million euros for imports.
Amsterdam chief investment officer Dorine Bosman said the government agreement had laid the foundation for this week's MoU.
"With this MoU, the partners seek to make a significant contribution to the global energy transition, by focusing on the development of liquid hydrogen corridors that can supply the demand in our port and will use the port of Amsterdam as a gateway to the European market."
Zenith operates storage and distribution facilities at the port. It can provide regasification for delivery into HyNetwork. GasLog is working on vessels capable of carrying liquid hydrogen.
Other companies are working on similar efforts, to supply hydrogen – or its derivatives – to the Netherlands. Rotterdam, for instance, has signed various agreements with Namibia and Brazil.
Most transportation plans for hydrogen do not involve liquefaction. The gas must be chilled to around -253 degrees Celsius to become liquid, which poses a number of challenges.
Neom reached financial close in May this year. The $8.4 billion project secured $6.1bn in non-recourse financing from a group of 23 banks. The facility should begin producing green ammonia in 2026. Air Products has signed up to take all the production for 30 years.
Recommended for you

Agreement to explore developing intra-European corridor for renewable hydrogen