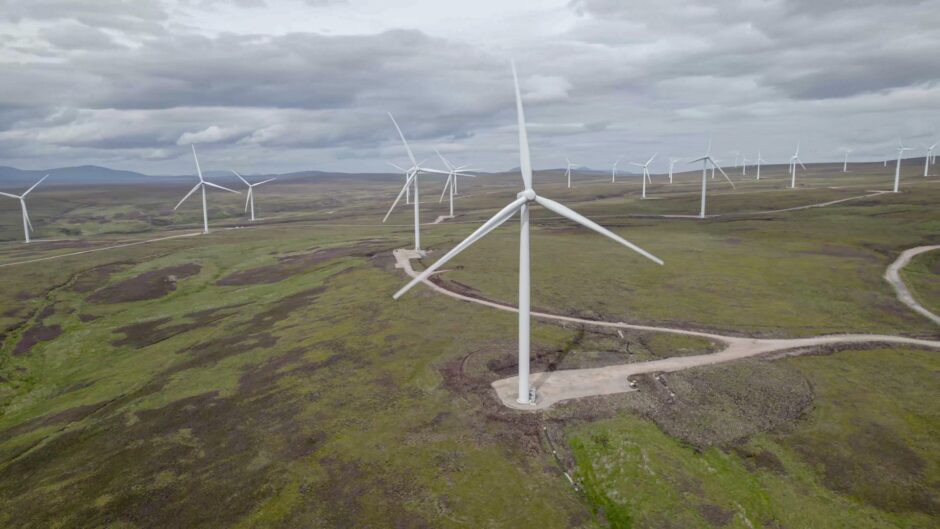 SSE Renewables and Siemens Gamesa have unveiled plans to produce and deliver green hydrogen in the Highlands.
Power will be supplied to the electrolyser by the 100 megawatt (MW)-plus Gordonbush onshore wind farm in Sutherland.
Under the plans, green hydrogen would be produced using Siemens Gamesa's Renewable Hydrogen Upgrade solution.
It could then be used as a clean alternative to petrol, diesel or natural gas to help decarbonise hard-to-abate sectors such as industry, transport and manufacturing.
The announcement follows last year's agreement between the two companies to explore opportunities to produce green hydrogen on co-located onshore wind farm sites.
Green hydrogen is made using zero carbon electricity from renewable sources, such as wind power, to separate water into oxygen and hydrogen through a process called electrolysis.
The fuel produced can then be stored and distributed to potential transport, heating and manufacturing customers.
The planned facility at Gordonbush, near Brora, would comprise electrolyser and ancillary technology and would be capable of producing up to 2,000 tonnes of green hydrogen a year
A battery energy storage system would also be incorporated that could stockpile any surplus energy produce by the wind farm's 46 turbines.
Deployed at scale, the technology can help balance the grid by smoothing out the natural variability of wind.
Annant Shah, director of strategy and route to market, SSE Renewables, said: "Green hydrogen produced from renewable sources such as wind energy has the potential to play a revolutionary role in decarbonising power production, heavy industry and transport, as part of our journey towards net zero emissions.
"Combining electrolyser and battery technology with wind farms could be a game changer in solving the renewables variability challenge and shows the potential for wind power to help enhance energy security by reducing our reliance on imported gas. As an integrated group, SSE has a view across the whole energy value chain and is uniquely positioned to deliver.
"With this development at Gordonbush, we'll be able to divert some of our abundant wind resource in the Highlands to begin production of a locally-sourced low carbon fuel for transport and heavy industry, develop a green hydrogen supply chain to support local job creation, and play our part in supporting Scotland's emerging green hydrogen revolution."
As part of the project SSE Renewables will also work to explore opportunities to unlock the full potential of the green hydrogen value chain in the Highlands.
This will include working with potential customers from high carbon sectors looking to decarbonise their energy and fuel supplies.
Paulina Hobbs, Siemens Gamesa's chief executive of the Service Northern Europe & Middle East region, said: "We're excited to work together with SSE on our journey to unlock the green hydrogen revolution and deliver the fuel for the future. We believe that green hydrogen is an outstanding technology for transferring the benefits of renewables beyond the electricity sector. Green hydrogen will be key in the decarbonization of hard-to-electrify, and thus hard-to-abate, sectors. Green electricity can be transformed into a transportation fuel, or used as feedstock in industrial processes, where currently no climate-neutral alternatives exist. It will play a crucial part in reaching our net-zero goal for 2045."
SSE Renewables recently submitted a screening request to the Highland Council to consider its plans for the development.
A local public consultation will also be held in April to gather community and stakeholder feedback on the proposal that will help inform final detailed project designs.
A final planning application for the proposed electrolyser development is expected to be submitted to the Highland Council in summer.
Meanwhile a separate application is expected to be made to the Scottish Government Energy Consents Unit later this year for the associated battery energy storage system.
Recommended for you

Green hydrogen: a driver for success across the Highlands