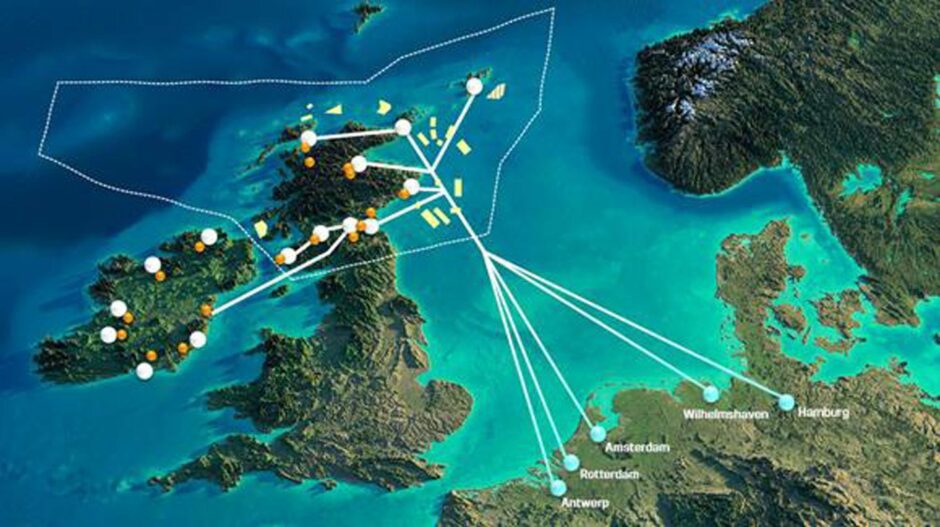 A £2.7 billion pipeline network connecting hydrogen hubs in Scotland to Germany could create hundreds of jobs and see the country become a major exporter to the EU.
Some 700 jobs could be created by the link, said Aberdeen's Net Zero Technology Centre (NZTC), with the "best option" creating an entirely new pipeline linking the Flotta oil terminal in Orkney to the city of Emden in Germany.
It would also include a "backbone" connecting sites at Sullom Voe, the Cromarty Firth, and the St Fergus Gas Terminal in Aberdeenshire to the pipeline.
The Hydrogen Backbone Link (HBL) project, which the report was carried out under, is funded by Scottish Government and industry. It's not clear how the pipeline itself will be funded, but a public-private partnership is likely if the government seeks to take a stake.
The work seeks to realise the Scottish Government ambition of becoming a major exporter of green hydrogen, and claims Scotland could supply "up to 10% of Europe's projected hydrogen import demand by the mid-2030s".
The 700 jobs envisaged would be part of a further 300,000 in the green economy.
To realise that, the report makes a series of recommendations for "rapid acceleration of investment" to deliver the project by the mid-2030s, including development of a National Energy Storage Strategy for 2030 and beyond.
It also recommends a cross-border policy alignment and financial support for technology and infrastructure.
Hydrogen in the EU from Scotland
Following energy security concerns over the invasion of Ukraine, the European Union has given hydrogen a significant role in its energy strategy.
By 2030, demand is expected to be 20 million tonnes, half of which will come via imports.
Estimates to 2050 increase that figure for overall demand to 60 million tonnes, 50% of which would come from imports.
At £2.7bn over a 30-year term, the pipeline capital expenditure is "significantly cheaper than all other transport options", like ship transport.
An initial rate of return of 6% based on a 10 gigawatt (GW) scenario is envisaged, with potential to increase.
Callum Milne, Hydrogen Backbone Link project manager at the NZTC, said: "Scotland is poised to utilise its abundant natural resources, skilled workforce and proximity to an energy hungry market in north-west Europe but to maximise this, will take accelerated and increased government and industry investment, rapid development of infrastructure and cross border collaboration over the next decade.
"The Hydrogen Backbone Link (HBL) project is a key early enabler for this, providing cost-effective transportation to market for Scottish hydrogen producers and supporting the transition to a low-carbon energy system."
Scotland's hydrogen assessment report, launched by the Scottish Government in 2020, aims for the country to become a net exporter of green hydrogen with up to 94 terawatt hours (twh) by 2045.
The Hydrogen Backbone Link project is supported by Shetland Islands Council, EnQuest, Kellas Midstream, Crown Estate Scotland and Shell, contributing members Xodus, DNV-GL, Wood, Wood Mackenzie and Worley, and strategic partners National Grid and SGN.
Scottish Government Energy Secretary, Neil Gray, said: "The Scottish Government recognises the importance of developing hydrogen pipelines to unlock Scotland's export potential. We want to work collaboratively with partners across Europe to advance infrastructure which ensures security of supply in Europe and positions the North Sea as a centre for low-cost hydrogen production.
"The Scottish Government supports the Hydrogen Backbone Link project because it gives valuable insight into the viability of repurposing or developing new pipelines. This can help us understand any barriers where government support is required to unlock investment and realise Scotland's export potential."
Recommended for you

Talent and timing: Can Aberdeen's oil and gas skills make the energy transition?