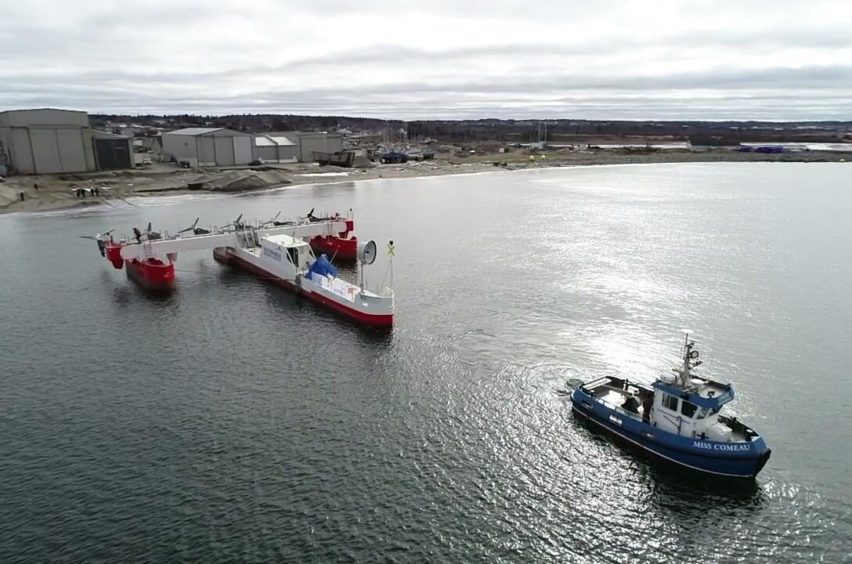 Scottish renewable energy firm Sustainable Marine is pushing on with plans to deliver the world's first floating tidal array after unveiling its next-generation platform.
Engineers recently completed work on the 420kW PLAT-I 6.40 floating tidal energy platform in Nova Scotia, Canada.
It was launched for a test run today in the Bay of Fundy, which experiences the highest tides on earth.
The project will undergo commissioning and testing in the Grand Passage river before it's moved to the Fundy Ocean Research Centre for Energy (FORCE) site.
There it will form part of the first phase of the ground-breaking Pempa'q In-stream Tidal Energy Project.
The total development will deliver up to 9 megawatts (MW) nine megawatts of electricity to the Nova Scotia grid, offsetting 17,000 tonnes of CO2 a year and powering around 3000 homes.
The project takes its name from the Mi'kmaq First Nation word Pempa'q, meaning 'rise of the tide', a nod to the Bay of Fundy's Indigenous communities.
The innovative tidal platform only requires two meters of water for launching and towing and is moored with a turret configuration, allowing it to align with the tide or the river flow.
It has been designed to be easily installed and is accessible for maintenance and servicing.
Jason Hayman, CEO of Sustainable Marine, said: "This tidal technology is the result of a tremendous international effort combining world-class scientific and engineering expertise from our German, Scottish and Canadian teams, and is the culmination of a decade of research and development.
"We are very fortunate to have such strong support from our major shareholders, SCHOTTEL and Scottish Enterprise, the Government of Canada, and a wide range of partners and collaborators.
"The PLAT-I 6.40 has been designed specifically for the Pempa'q Project – where we will deliver the world's first floating tidal array – in Nova Scotia, which has the best natural resources in the world to produce clean renewable tidal energy."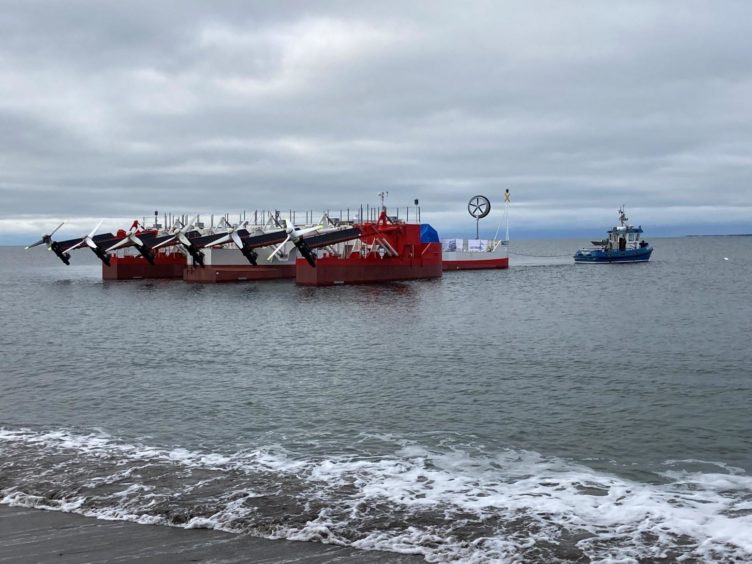 Headquartered in Edinburgh, Sustainable Marine targets renewable energy solutions for island and coastal communities with the goal of providing cleaner and more sustainable power.
The firm has offices in Spay, Germany, and Dartmouth, Nova Scotia, Canada.
The Pempa'q Instream Tidal Energy project is being supported by the Canadian Government with $28.5 million (£16.3m) in funding.
Sustainable Marine's new technology was originally developed in Scotland with support from Scottish Enterprise's WATERS funding, before arriving in Nova Scotia.
Andy McDonald, head of low carbon transition at Scottish Enterprise, said: "This project highlights the innovation taking place in Scotland around renewable technology.
"Scottish Enterprise has been proud to support Sustainable Marine as it set up in Edinburgh, developed and tested its tidal solution off the shores of Scotland and will now be deployed in Canada's first floating tidal energy system to power its communities and contribute to global net zero aspirations.
"Our investment arm was also very pleased to support the company on behalf of the Scottish Government via its Energy Investment Fund. It's fantastic news that technology developed in Scotland will deliver environmental benefits across the globe and as COP26 takes place in Glasgow later this year, this is yet another example of Scottish ingenuity and low carbon leadership."
Seamus O'Regan Jr., Canada's Minister of Natural Resources, added: "We are harnessing the power of our tides to power our homes, our businesses and our communities. This is how we build our clean energy future."
Recommended for you

Tidal Turbines: A rare Scottish success story