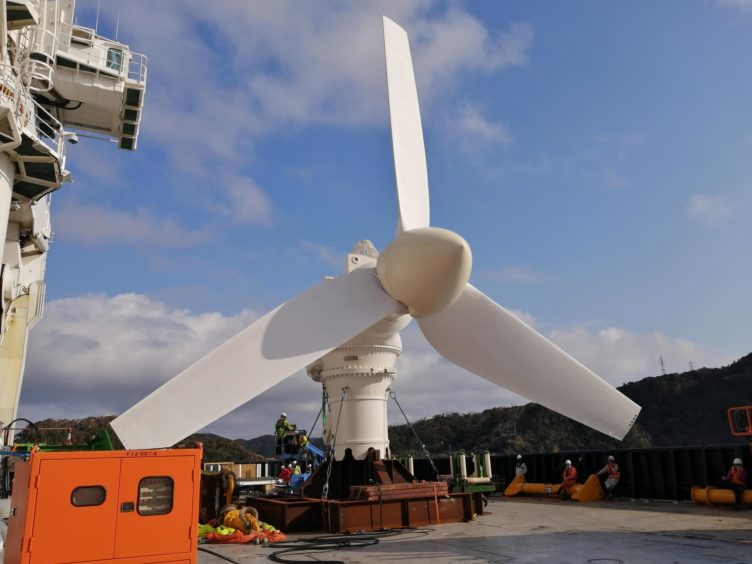 A Scottish built tidal turbine located in Japan has hit another milestone after it passed pre-use inspection tests.
It means the site in Naru Island, which features the AR500 tidal turbine, is now recognised as an official power generation facility by the Japanese Government.
Tests were carried out by the Ministry of Economy, Trade and Industry (METI), a key stakeholder in renewable energy projects in the East Asian country.
The turbine was designed and manufactured by Edinburgh-headquartered Simec Atlatis Energy (SAE), the firm behind the MeyGen tidal array in the Pentland Firth, at Nigg Energy Park in Cromarty Firth.
It set sail for Japan in December and was installed the following month, recording 10 megawatt hours (MWh) of generation within the first 10 days of operation.
To date, the turbine, the first large scale project of its kind in Japanese waters, has generated more than 90MWh of power.
SAE has been working closely with its client Kyuden Mirai Energy (KME) to demonstrate to METI that the power generation facility adheres to the national regulatory standards.
Some of the tests the system was put through include demonstrating it meets its stated performance during peak tidal flow conditions and proving it can be shut down safely.
The turbine tests follow an exhaustive process of inspection and verification of both the onshore facility and offshore equipment against national electrical standards.
Graham Reid, CEO at SAE: "I am extremely proud of the entire team who worked tremendously hard to get the project to where it is today. We are all delighted to have achieved this accreditation from METI as this confirms the capability and reliability of our technology and is a huge step forward in paving the way to the next phase of this exciting project and other future projects in Japan."
Stakes in SAE dropped sharply recently after it revealed processes are ongoing to take control of a large portion of its shares, held by the Sanjeev Gupta GFG Alliance.
Recommended for you

CfD results a 'turning point' for Scottish tidal power