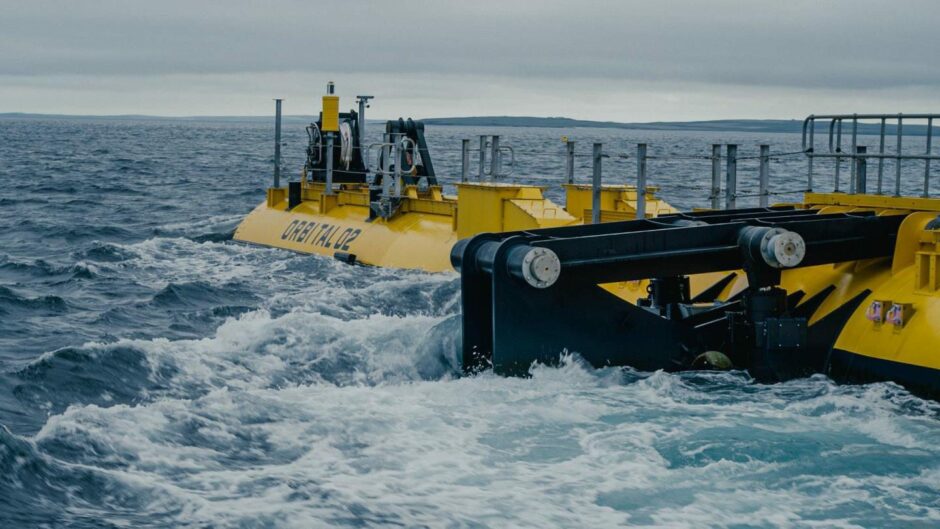 And so it came to pass …. I was writing here last month when the announcement on the latest Contract for Difference round was imminent and it appeared a distinct possibility that offshore developers would give it the cold shoulder. As indeed they did.
Understandably, this attracted the headlines as it suddenly dawned, not least on Ministers, that the UK Government's whole net zero strategy had just suffered a significant blow which had better not be repeated if any credibility is to be retained.
Less prominence was given to the winners in the CfD round, notably tidal stream, solar and onshore wind.
With offshore wind sitting it out, there was rather a large void to fill and these technologies were only too happy to step up to the plate, which was generously filled from the CfD pot.
Collusion among developers would, of course, be illegal but we can safely assume that they know what each other is up to.
So it did not take Einstein to work out that none of them bidding for offshore wind CfD was bound to reduce the competitive pressure on onshore wind developers to sharpen their pencils when submitting bids.
The fact that many of the same companies are active in both onshore and offshore wind generation adds an additional element of intrigue to the fact that offshore's loss turned out to be onshore's gain, with particular implications in Scotland where the latter is mainly concentrated.
Indeed, of 24 onshore wind projects which won CfD allocations, all but one are in Scotland.
David Cameron's virtual veto on onshore wind really has worked wonders and it will now be a lot easier to declare any change in policy as far as England is concerned than to deliver it.
One of the beneficiaries of the onshore wind bonanza was Scottish and Southern which banked half a gigawatt of new onshore generation at the guaranteed strike price.
The Viking project on Shetland is already well on the way to being built in the expectation of CfD; now Aberarder, Bhlaraidh Extension and Strathy South can also go ahead, these three adding another 382MW at top-dollar CfD.
Maybe someone in Whitehall is pondering the fiscal wisdom of having provoked an effective boycott by offshore wind developers while at the same time easing the downward pressure on onshore wind bids which were bound to benefit from what was left of the CfD auction within Pot 1. Or maybe not.
CfD serves as a win for tidal energy
Another bigger winner than expected was tidal stream and that really should be welcomed as good news. Out of adversity comes opportunity, and all that.
After years of pleading for wave and tidal to be treated as a separate renewables category, this CfD round creates real opportunities for tidal stream developers and the associated supply chain.
Eleven tidal stream projects secured CfD of which seven are Scottish-based, the others being in Wales. In terms of megawatts, it doesn't add up to a lot but as a springboard to commercialisation, this can be a real breakthrough.
Somewhat against the odds, the UK remains a leader in this sector not only in developing the technology but also creating a supply chain which is largely British, in sharp contrast to onshore wind and unless something dramatic happens, its offshore extension.
Orbital: home grown energy
Orbital Marine exemplifies why support for tidal technology represents an investment not only in energy generation potential but also in UK jobs.
It has a stunning 80% UK content – designed in Orkney and Edinburgh; built in Dundee with steel from Motherwell, blades from the Solent, anchors from North Wales and hydraulics from Sheffield; installed by Scottish vessels.
On a jobs per megawatt basis, it already outstrips offshore wind.
Indeed, it reminds us of what the wind industry could have done for British manufacturing if its obligations to the domestic supply chain had been subjected to a firmer hand of government when it was in the early stages of development.
That naturally takes me on to EMEC – the European Marine Energy Centre in Orkney – which, for the past 20 years, has been critical to sustaining hopes for marine renewables and facilitating the advances which have been achieved. With more projects now supported by CfD, it could not be better placed to flourish.
Unfortunately, it is not quite that simple. It rarely is when different parts of government are required to join up. However, this should be an easy hit for Ministers to put two and two together in order to recognise that EMEC requires a bit of urgent care and attention.
EMEC suffered collateral damage from Brexit. Before that, most of its funding came through EU-backed Interreg projects which supported collaborations with other research centres in the UK and Europe.
When EU funds were replaced by the post-Brexit deal, Interreg was one of the relatively small pots of money that disappeared through the cracks, without anyone thinking it worth the trouble of creating a replacement.
As the Interreg work tailed off, so too has EMEC's funding. Countless ministers have visited Orkney and expressed great admiration for the work being done there, not to mention sympathy for the minor Interreg difficulty … and then nothing.
Surely this is the time to resolve that, allowing EMEC to benefit from, and contribute to, the vital work which should flow from the very positive CfD outcome.
That little bit of joined-up government is not a lot to ask for – and the potential rewards far outweigh the sums of money involved. This time next year, offshore wind will probably be back at the CfD trough.
This is a window of opportunity for other claims to be staked.
Recommended for you

ORE finds declining supply chain confidence amid 'challenging' year for wind