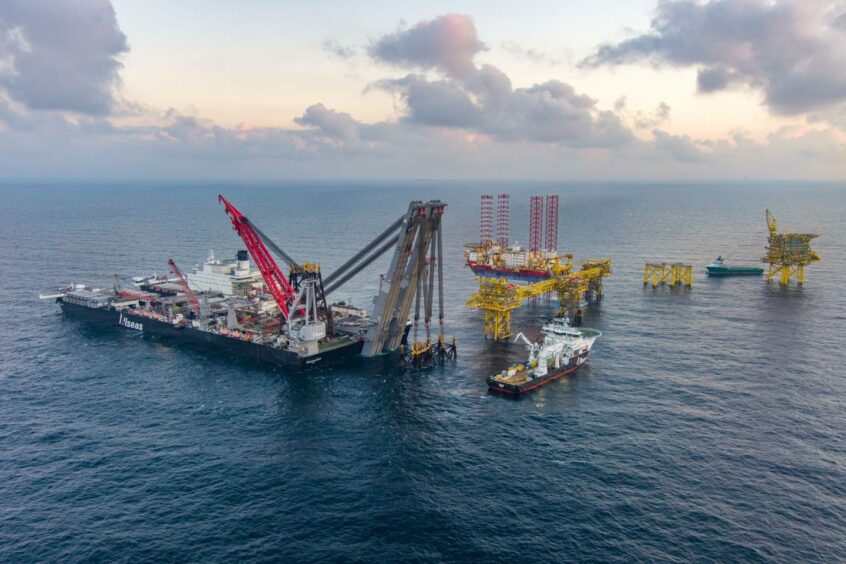 BP (LON:BP) has awarded a contract to Allseas to complete the subsea pipelay work on the Greater Tortue Ahmeyim (GTA) project, offshore Mauritania and Senegal.
McDermott had begun working on the project earlier this year but pulled out after being unable to perform. The company had deployed its Amazon pipelay vessel to carry out the work but ran into problems and is now in Las Palmas.
The wells on the GTA project are around 80 km from the FPSO. BP has charged Allseas with installing the remaining 75 km on the two 16-inch links, in depths of 1,500 to 2,800 metres. It will also provide four 10-inch CRA infield lines, in around 2,800 km of water.
Allseas will deploy its Pioneering Spirit, the world's largest construction vessel, to begin in early December 2023. Allseas will also use its Oceanic offshore support vessel.
"This agreement demonstrates both our willingness and ability to take on highly complex and pipelay projects with fast-track planning and execution scopes," says Pieter Heerema, CEO of Allseas.
"We are excited to work with BP on this project, this opportunity re-establishes the partnership between our two companies and creates a platform on which to grow and strengthen future collaboration between BP and Allseas."
In order to install the required 10 field termination assemblies (FTAs), Allseas said it would fit the Pioneering Spirit with a 1,000 tonne J-mode installation frame. It has designed this in-house and built at the company's yard in Heijningen, in the Netherlands.
McDermott announced a restructuring agreement in September, amending and extending debts and bringing in $250 million of new capital.
First gas impact
It was not clear quite when Allseas expected to complete the pipelay. In August, junior partner Kosmos Energy said the operator aimed to finish installing infield flowlines and subsea structures in the first quarter of 2024.
The GTA FPSO is currently offshore South Africa's east coast, while the Gimi floating LNG (FLNG) vessel is moored in Singapore, according to Marine Traffic.
Golar LNG is building the Gimi vessel to liquefy the gas. The company had said the vessel would leave Singapore in September.
Recommended for you

BP hints at Mauritania, Senegal LNG plan delays