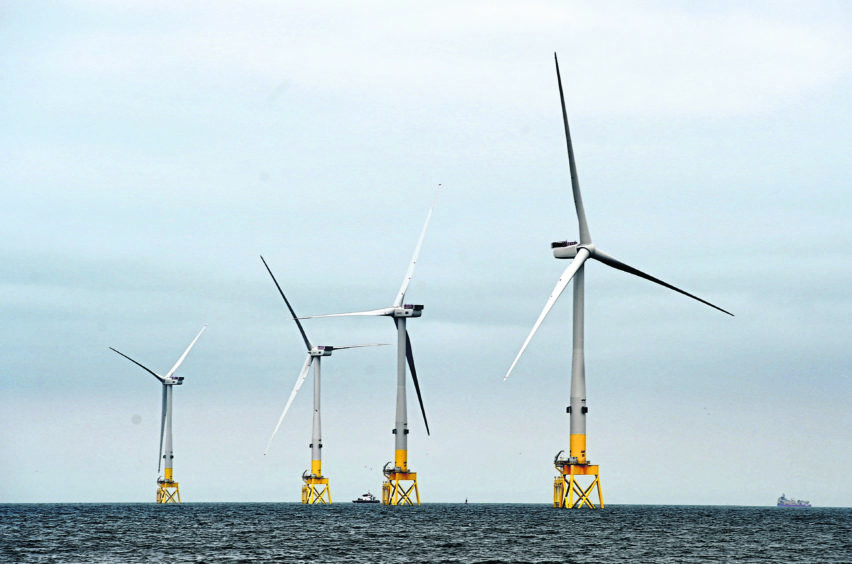 A new programme aimed at helping domestic supply chain firms benefit from Scotland's burgeoning offshore wind sector could deliver significant employment opportunities for the north-east.
The Offshore Renewable Energy (ORE) Catapult, the UK's leading innovation and research centre, has today launched its Fit 4 Offshore Renewables (F4OR) North East Scotland business improvement initiative.
The £200,000 programme aims to support the development of a competent, capable and competitive renewables supply chain by helping firms compete for offshore wind contracts.
The north-east has been highlighted by F4OR's developers as an area which is "well placed" to take advantage of the economic opportunities arising from the energy transition.
Expressions of interest for the programme, which has been jointly funded by ORE Catapult and local economic development body Opportunity North East (ONE), opened today.
Funding is in place for 15 companies to go through the process and developers are hopeful a decision will be made on the successful applications by the end of March.
The programme will then run for between a year and 18 months, virtually at first but with the aim of meeting face-to-face as Covid-19 restrictions are rolled back.
It follows a successful trial of the project that resulted in a number of firms, including Balmoral Renewables, 2H Offshore, Leask Marine and Apollo, achieving F4OR Granted Status.
Hugh Riddell, ORE Catapult's Regional Partnerships Manager, said the results of the pilot means he's already been contacted by several firms looking to take part in the actual programme.
He added: "I mentioned to supply chain companies that I went out and visited that we were hopeful of running another cohort.
"We do have a pipeline of companies already interested and I'm confident that we will receive quite a number of expressions of interest."
Supply Chain
Developed with input from the offshore renewables industry, F4OR is targeting businesses that are intent on transitioning to the offshore renewable energy sector.
It will focus on two key areas:
Business Excellence: assessing areas of the business, including strategy and leadership, health, safety and environmental management, quality management, design and project delivery, and process and operations
Sector Specific Competence: assessing sector knowledge, capacity and capability, cost reduction and competitiveness, and technical and commercial risk management.
The UK Government, as part of its 10-point plane for a green industrial revolution, has set a target of 40 gigawatt of offshore wind by 2030.
Meanwhile, the Committee on Climate Change has estimated that in order to achieve net zero carbon emissions by 2050, at least 100GW of offshore wind will be needed.
Industry bodies and unions have stressed the importance of domestic supply chain companies benefiting from the upsurge in renewable energy, amid fears workers could be left stranded as the oil and gas industry winds down.
The issue was thrown into sharp focus last year after work for the £3 billion Seagreen development off the Angus coast was awarded to yards in the UAE and China.
Asked about what success for the F4OR project would look like, Mr Riddell said: "Further down the line we hope to see companies that have come through the programme winning tenders in offshore wind.
"We would like to see that lead to an increase in employment in offshore wind in the north-east of Scotland and increased revenue for these companies.
"Ultimately, what we want to see is companies thriving, expanding their workforce and hitting the green energy targets that have been set out by industry and governments."
ScotWind
The launch of the programme follows hot on the heels of Crown Estate Scotland opening the ScotWind leasing round to applicants last week.
Potential developers have until the end of March to lodge submissions for seabed rights, which could generate more than £8 billion of investment in offshore wind projects.
Mr Riddell said F4OR would ensure that the north-east's renewables supply chain is ready to benefit from the development of projects in Scottish waters.
He added: "We're very hopeful that a lot of the operators that will be bidding in ScotWind will also be submitting supply chain programs and setting out their commitments to local companies.
"We've got a number of offshore wind developments in the pipeline in the north-east already, including Moray East and Moray West, as well as others down the East coast.
"There are several opportunities for supply chain companies to anchor themselves in the north-east of Scotland and increase their market share."
Floating Wind
The programme's developers are also confident it could help accelerate the deployment of floating offshore wind in Scotland.
Andy Rodden, ONE's Energy Transition Director – Offshore Wind, said: "From our side the objective of F4OR is to ensure that the transferrable skills currently deployed in oil and gas are used to make the region a frontrunner in offshore renewables.
"That's especially relevant as we move into ScotWind, which will have more of a focus on floating offshore wind. There's a real need to make that more commercial and utilising the subsea experience in the region could be key to that.
"We're really keen that the north-east capitalises on the opportunities and builds a manufacturing presence. That's something that Aberdeen has been very successful at doing in the oil and gas sector over the last 50 years so the question is how to do we harness that and transfer the skills into renewables."
Recommended for you

Offshore wind R&I programme to offer up to £300k per project