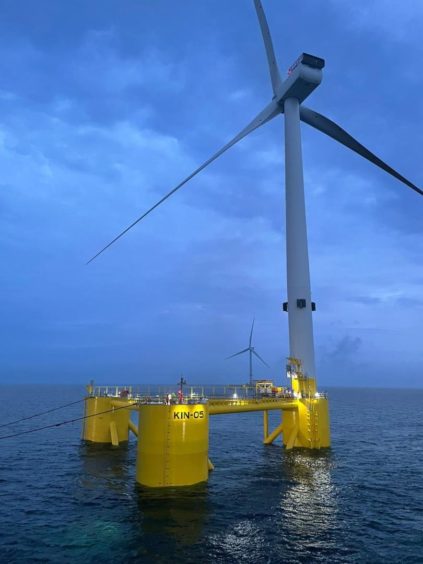 Ocean Winds has released more detail about its ScotWind bids, ahead of the leasing round closing this afternoon.
The Edinburgh-based offshore wind developer has made bids for five sites in Scottish waters with a view to turning them in to both floating and fixed developments.
Three bids have been made in conjunction with Aker Offshore Wind – the two firms recently confirmed they had formed a floating wind partnership.
Ocean Winds, a 50-50 joint venture by Spain's EDP Renewables (EDPR) and France's ENGIE, said more further information about the bids would be published in the coming weeks.
ScotWind, the first offshore leasing round in Scotland in more than a decade, closes to submissions at 5pm today.
More than a dozen companies have confirmed their involvement in the process, with Shell and ScottishPower adding their names to the list this morning.
Ocean Winds' Moray East offshore wind farm is currently under construction off the north-east coast.
The project, which is expected to deliver scores of local jobs, is entering its final stages and is due to become operational next year.
Dan Finch, managing director of Ocean Winds UK, said: "Our vision is for Scotland to become the undisputed global leader in floating offshore wind. We are dedicated to work with all stakeholders to achieve this, to create high-skilled jobs in Scotland, and to generate exportable technology innovation.
"We took Moray East from concept to concrete-and steel-reality. Now we need a new concept to access the deep-water sites of Scotland's 'net-zero' future. Aker's heritage combined with OW's experience will make floating offshore wind a commercial, low-cost, low-carbon reality."
Aker Offshore Wind, part of the Aker group of companies, has played a part in more than half of the world's semi-submersible floating offshore installations.
Along with Ocean Winds, it has a majority ownership in floating turbine foundation developer Principle Power – its foundations are in operation at the Kincardine wind farm, near Aberdeen.
Sian Lloyd-Rees, managing director of Aker Offshore Wind UK, said: "The ScotWind project is a great step towards Scotland delivering on its national climate change policies through £multi-billion investments in energy infrastructure and the local supply chain, as well as the creation of thousands of local jobs.
"Our bid provides a platform for genuine technological innovation to benefit the whole offshore wind sector and position Scotland as an engineering world leader. Aker have been instrumental in the design and deployment of more than half of all semisubmersible offshore installations globally and we strongly believe our experience and investment approach will deliver this future."