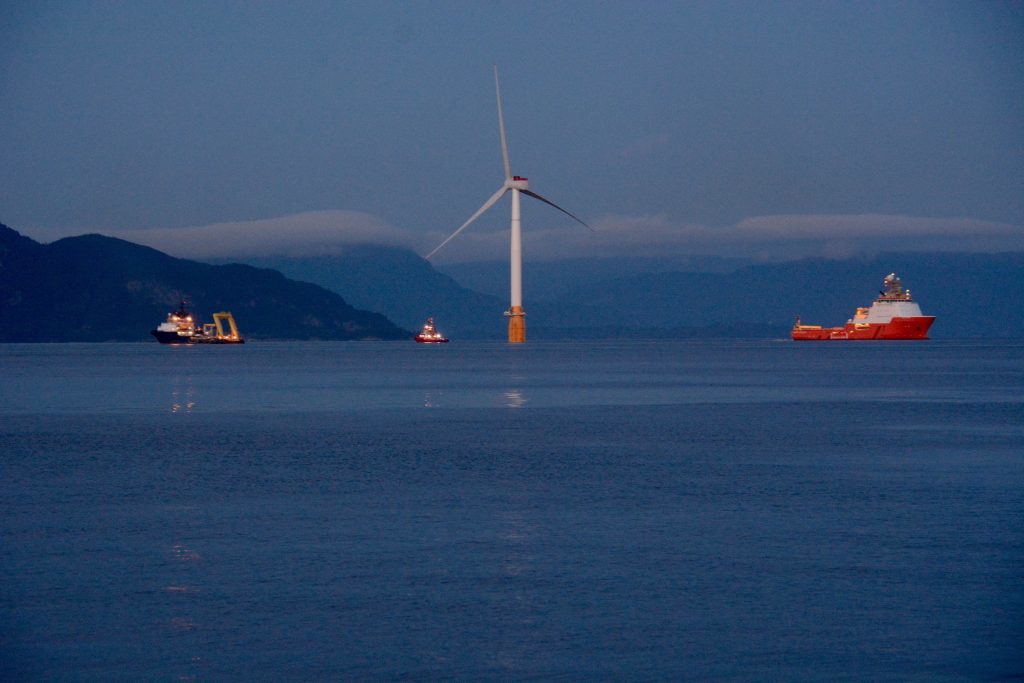 Evaluating the company's 2021 results, executives from the Norwegian energy giant spoke of their disappointment at not securing capacity in the recent ScotWind auction, but said it would not change their renewables strategy.
Speaking during an analyst briefing following the publishing of the company's full-year results, executives noted increasing competition in the renewables market, particularly when it came to areas such as offshore wind.
The results of January's ScotWind auction saw Big Oil well represented, with successful bids from consortia that included energy majors such as BP, Shell and TotalEnergies, though Equinor's 1GW scheme did not make it to the shortlist.
Responding to a question on the "competitive dynamics" of the auction, the company's executive vice president for renewables, Pål Eitrheim said: "I think the competition was confirming something that we've already seen in quite a few auctions recently, and I think more than 70 companies were actually competing for ScotWind.
"Obviously I don't like losing, so I was a bit disappointed that we didn't follow through."
He said the team had delivered "a really good bid", but that the result of the auction "doesn't really change the pathway that we're on."
In June, Equinor said its strategy would see it invest $23 billion in renewables from 2021-26, and increase the share of its group-wide capex for renewables and low-carbon solutions – including hydrogen and carbon capture elements – from around 4% in 2020 to more than 50% by 2030.
Based on what it called 'early low-cost access at scale', Equinor said it expects to reach an installed capacity of 12-16 GW by 2030 – a target it reiterated during the briefing.
Responding to the same question, CEO Anders Opedal said the company already has a "very good portfolio" in execution, and that the company was focused on delivering it in line with its strategy.
"Now we're focusing on also bringing some of these projects that are we've taken concept selection on, like Empire Wind, and bringing that up to final investment decision," he continued.
"We're also looking into accessing more acreage and this is our competitive area."
Added Mr Eitrheim: "We are saying today that we have access to around two-thirds of the pipeline that we need to deliver on the ambition. I think actually we have a pipeline now that gives us the privilege of being quite disciplined, and we can afford to be disciplined.
"But we are going to compete fiercely going forward."
He said the company had yet to receive a "formal debrief" from Scottish authorities on why its bid was unsuccessful, adding: "We would like to see that to understand why we were not successful in that round, and then use that with the aim to improve."
The company is already behind the HyWind floating wind demonstrator project off Peterhead, and a key partner in the 3.6GW Dogger bank wind farm – hailed as the world's largest such project – off the Yorkshire coast.
Accelerating transition
Wednesday saw Equinor post pre-tax profits of $31.5bn, reversing a $4.2bn loss in 2020, on the back of high commodity prices and uptime across its assets.
Given the company's positive results and sizable balance sheet, it also faced questions on whether it would accelerate renewables and low-carbon investments even further.
Mr Opedal said the company had "accelerated the investment in renewables already."
He noted that "Organically, we do not have any strategic gap in our portfolio," but said the company would be "opportunistic" in terms of its M&A activity.
"But at the same time, we will focus the same as we focus on value in our organic portfolio. We will also do that for any inorganic [opportunities] as well."