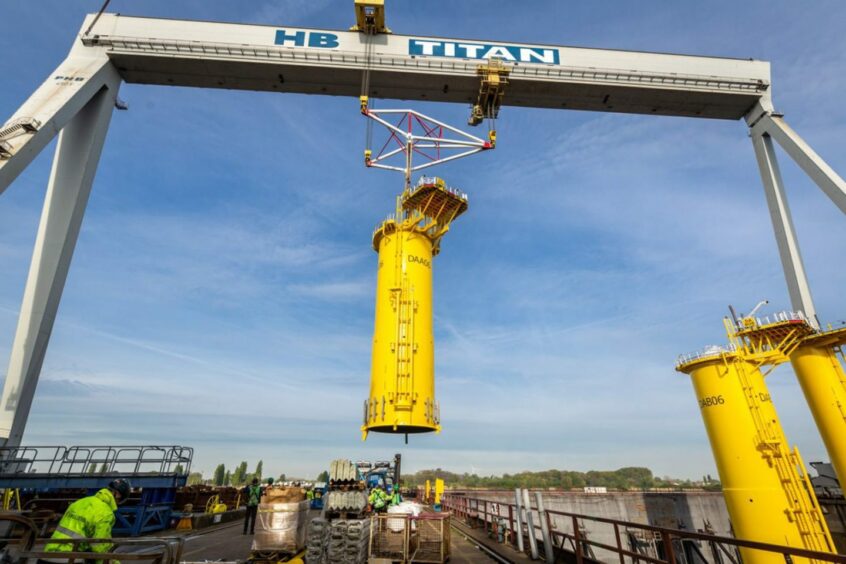 Steel fabricator Smulders has shipped the first transition pieces bound for the mammoth Dogger Bank wind farm, off the east coast of Yorkshire.
The group said the first four of 95 transition pieces (TPs) for the first phase of the wind farm were loaded out at its yard in Hoboken, Belgium, over 19-20 April.
The pieces were then shipped to Sif's Maasvlakte 2 terminal in Rotterdam, ahead of transport and installation at the project later this year.
With a diameter of 8 metres and weighing about 550 tonnes, Smulders said they are the widest and heaviest pieces ever manufactured at the yard.
Dogger Bank wind farm marine package manager, Alan Evans, said: "Successful load out of the first four of these impressive structures is an important milestone for everyone involved, and a testament to the strong partnership we share with our designers and manufacturers."
Billed as the world's largest offshore wind farm, the 3.6 GW Dogger Bank project is being developed across three equally sized stages, A, B and C.
The first two, Dogger Bank A and B, are joint ventures between SSE Renewables (40%), Equinor (40%), and Eni (20%). In November SSE Renewables and Equinor announced that Eni would also take a 20% stake in the final phase, Dogger Bank C.
Onshore infrastructure works for all phases of the project – Dogger Bank A, B, and C – are already underway, with completion scheduled for 2024, 2025, and 2026 respectively.
In total, 95 transition pieces will be installed on Dogger Bank A, with a further 182 required for phases B and C.
Sif-Smulders secured the contract for the manufacture of all 190 monopiles and transition pieces for Dogger Bank A & B in November 2020, clinching the award for the final phase in late 2021.
Both the monopiles and transition pieces were designed in the UK by Wood Thilsted, according to the project developers.
Steel manufactured by Tata Steel in Wales and processed in Corby and Hartlepool will be used in the supporting components of the transition pieces, while South Tyneside-based Metec and Rochdale-based Granada Material Handling have also won contracts with Smulders to support the development.
Offshore construction officially kicked off last month, with installation beginning on the first length of HVDC export cable off the Yorkshire coast for the Dogger Bank A site.
Recommended for you

Offshore construction kicks off on world's largest offshore wind farm