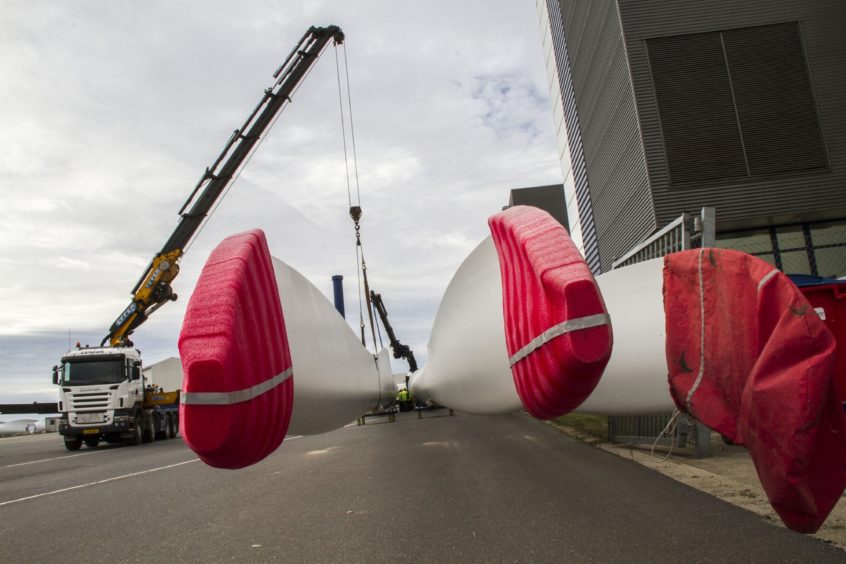 Vestas has unveiled a crucial new technology that could put an end to decommissioned wind turbine blades being sent for scrap.
The Danish manufacturing company says its solution "renders epoxy-based turbine blades as circular", without the need for design or composition changes.
By combining newly discovered chemical technology, and partnerships with Olin and Stena Recycling, the method can be applied to blades currently in operation.
Once matured, it will eliminate the need for blade redesign, or landfill disposal of epoxy-based blades when they are decommissioned.
Lisa Ekstrand, vice president and head of sustainability at Vestas, said: "Until now, the wind industry has believed that turbine blade material calls for a new approach to design and manufacture to be either recyclable, or beyond this, circular, at end of life. Going forward, we can now view old epoxy-based blades as a source of raw material.
"Once this new technology is implemented at scale, legacy blade material currently sitting in landfill, as well as blade material in active windfarms, can be disassembled, and re-used. This signals a new era for the wind industry, and accelerates our journey towards achieving circularity."
WindEurope expects around 25,000 tonnes of blades to reach the end of their operational life annually by 2025.
Recycling old wind turbine blades has previously proved a tough nut to crack for the industry.
The resilient chemical properties of epoxy resin meant it was was believed to be impossible to break down into re-usable components.
As a result, many companies have been attempting to replace or modify epoxy resin with alternatives that can be more easily treated.
But Vestas' solution is enabled by a novel chemical process that can chemically break down the substance into virgin-grade materials.
It was developed in collaboration with Aarhus University, Danish Technological Institute, and Olin.
Together the organisations form the CETEC project, a coalition of industry and academia established to investigate circular technology for turbine blades.
Mie Elholm Birkbak, specialist, innovation and concepts at Vestas, said: "The newly discovered chemical process shows that epoxy-based turbine blades, whether in operation or sitting in landfill, can be turned into a source of raw material to potentially build new turbine blades.
"As the chemical process relies on widely available chemicals, it is highly compatible for industrialisation, and can therefore be scaled up quickly.
"This innovation would not have been possible without the ground-breaking CETEC collaboration between industry and academia enabling our progress until this point."
Through a newly established value chain, Vestas will now focus on scaling up the chemical disassembly process into a commercial solution.
Once mature, it will signal the "beginning of a circular economy for all existing, and future epoxy-based turbine blades", the company claims.
Verghese Thomas, vice president, epoxy systems and growth platforms at Olin, said: "As the leading customer solution provider of innovative epoxy systems, Olin is proud to support the anticipated massive expansion in wind energy worldwide. By utilising unique technologies, together with our partners, we are ready to recover molecules and convert them into new epoxies that can be re-used in wind turbine blades. We are excited to bring our expertise and unique asset footprint to this partnership, and realize breakthrough sustainable material solutions for existing wind blades and those of the future."
Recommended for you

Planet-saving wind farms fall victim to global inflation fight