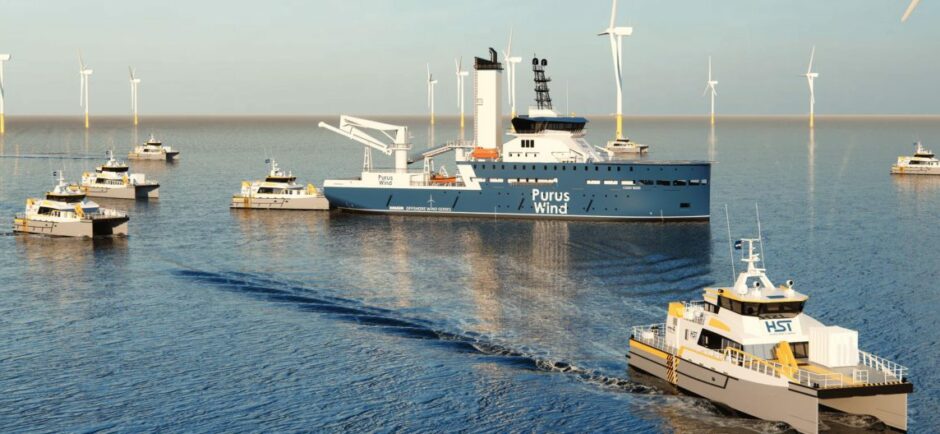 UK offshore wind services provider Purus Wind has handed a major contract to Damen Shipyards for the build and delivery of eight new vessels.
The huge order builds on units already placed with the Dutch specialist vessels shipbuilding and design group, plus Strategic Marine.
It's hard to put a value on the orders but, collectively, they add up to hundreds of millions of dollars, all placed by a company that itself is a newcomer to the energy service vessels market, also ferries, marine logistics and natural gas transportation and storage.
This adds to a series of orders made with Purus and Strategic Marine in recent months. 
The huge Damen order comprises four  Fast Crew Supplier (FCS) 2710 Hybrid class and three Damen FCS 3210 Hybrid class crew transfer vessels (CTVs) plus a 90m construction service operation vessel (CSOV).
Damen says that the FCS 3210s and the CSOV will not only be equipped for ultra-low emission operations, but they have also been designed to be upgraded to methanol-fuelled engines when the time comes.
The latest batch of Hybrid FCS 2710s are essentially the same as the three other boats of this class, but the Damen says they will be upgraded as appropriate, such as improved wheelhouse window arrangement and bridge console lay-out.
Damen's highly regarded Twin Axe hull-form should ensure excellent stability and fuel economy as well as providing extensive deck space and accommodation.
The larger FCS 3210s are a new design that use the same Twin Axe hull-form and share many of the same attributes as the FCS 2710s. As with the new FCS 2710s, a hybrid battery package for zero-emissions sailing is integrated into the design.
The greater length allows for additional space for crew and passengers, making it more comfortable during operations. Space is also reserved for possible conversion to methanol fuel.
An exhaust gas aftertreatment system is included to ensure that the vessels are IMO Tier III compliant.
The FCS 3210s are designed for longer distances serving wind parks further from shore and offer the possibility of staying longer at sea. High Speed Transfers has contributed its operational experience to the design and engineering of the FCS 3210 from the outset to ensure that it sets a new level of capability for its class.
Finally, to the CSOV flagship, which is designed as a versatile work platform capable of carrying up to 120 persons in comfort for missions of up to 30 days.
In addition to the diesel / electric propulsion system and battery array, innovative features include a hull design that is almost symmetrical fore and aft below the waterline, on which will be mounted Damen's DPX-Drive. This has four identical thruster units – two forward and two aft – for highly precise manoeuvring and station keeping.
A motion-compensated gangway and crane will be fitted to enable safe transfer of personnel and equipment. Like the CTVs, it has space reserved for additional battery capacity as and when it is required and will also be pre-prepared for both conversion to methanol engines and offshore charging.
The new vessels are scheduled to be delivered between 2024 and early 2027.
Damen, Purus and background of orders
It's a fast moving story for Damen.
In September, Purus said it had acquired HST Marine, a UK-based provider of CTVs to the offshore wind industry.  Its fleet includes one of the industry's first battery hybrid CTVs,
Late last year, Purus signed contracts with Damen for 3 x hybrid Fast Crew Supplier 2710 vessels via HST, which it had acquired in in September.
In January, and again through HST, Purus signed contract with Strategic Marine for four hybrid StratCat 27 crew transfer vessels
In February,  Strategic Marine signed an MoU with HST Marine to build three Brevity-class CTS boats and, this time the package is for eight vessels.
Purus (as Purus Marine)  is no age at all. It was launched on April 15 2021  by Entrust Global, a UK-based asset management firm as a "maritime holding company that owns environmentally-advanced vessels and infrastructure equipment, contracted long-term to high-quality end users".
It is UK registered and operates out of London, New York and Singapore.
One of its missions is that subsidiary Purus Wind becomes a "leading provider of low-carbon, offshore wind support vessels to meet the needs of the clean energy industry".
As for Entrust Global, Companies House notes that it was established in 1998 and was previously known as Burginhall 1040; Permal Investment Management Services, then Entrust Permal.
Recommended for you

Rovco completes survey work for Cenos floating offshore wind farm