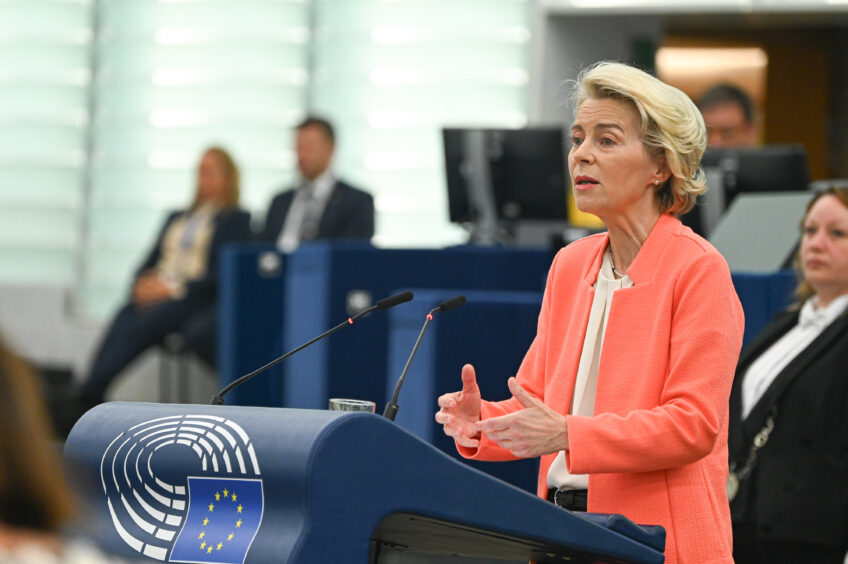 The European Commission announced plans to help the region's struggling wind sector, which is dealing with issues including a lack of access to financing and increased international competition.
The European Union's executive arm will also seek to fast-track permitting for wind projects while focusing on easing global supply-chain bottlenecks, according to Commission President Ursula von der Leyen.
The wind industry "is a European success story, but it is currently facing a unique mix of challenges," she said in her closely watched annual policy speech. Full details of the plan weren't immediately available.
The EU is accelerating its shift to a low-carbon economy and revamping its energy security against a backdrop of higher prices and sluggish economic growth. Renewable energy producers have faced financing hurdles and rising competition from countries including the US and China, which are also seeking to become hubs of green-energy manufacturing.
"This is broader than one sector," von der Leyen said. "From wind to steel, from batteries to electric vehicles, our ambition is crystal clear: The future of our clean tech industry has to be made in Europe."
Our wind industry is a European success story.

We will put forward a European Wind Power package working with industry and Member States to

• fast-track permitting even more
• improve the auction systems across the EU
• focus on skills
• access to finance & stable supply pic.twitter.com/aoXeMPCrB6

— Ursula von der Leyen (@vonderleyen) September 13, 2023
Despite the massive growth in renewable energy in the EU in recent years, wind companies are under pressure due to rising prices for raw materials for components, as well as higher financing costs for projects.
The biggest manufacturers of wind turbines in Europe are also struggling. Increased costs are weighing on Vestas Wind Systems, while Siemens Energy launched a strategic review of its wind power business amid problems with its turbines.
In addition, there are concerns that China will take over the European wind market the same way it become a top provider for solar panels.
"It is important for the European Commission to act on key bottlenecks for the industry so not to replicate the solar failure in what is the only clean tech industry we have some comparative advantage at the moment," said Simone Tagliapietra at the Bruegel think tank in Brussels.
European policymakers are seeking to prevent a situation where the bloc's Green Deal to support clean energy will inadvertently boost foreign producers and make Europe even more reliant on imports. The EU on Wednesday also announced an investigation into Chinese subsidies for electric vehicles.
Recommended for you

Wind power package for Europe to be presented in October