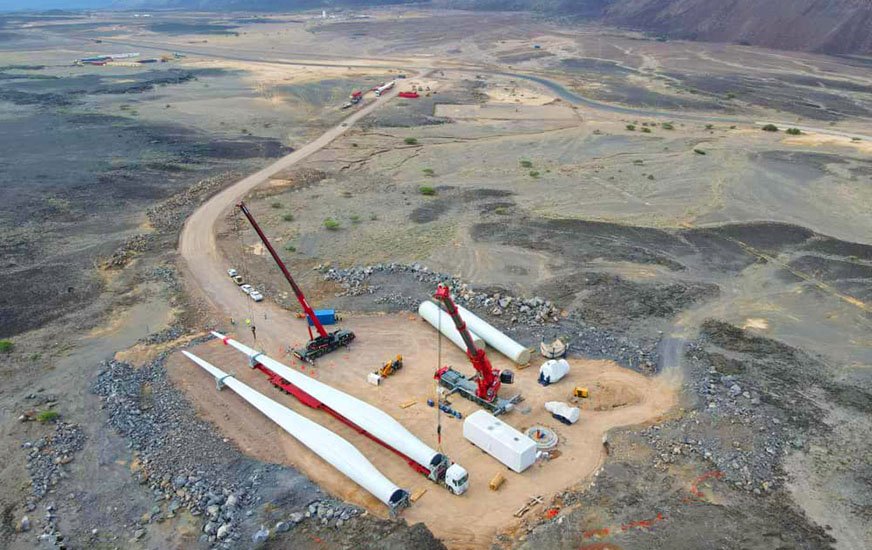 Siemens Gamesa Renewable Energy (SGRE) has contracted Mammoet to offload and assemble wind turbines at Djibouti's Goubet project.
Mammoet will offload and assemble 17 wind turbines, it said. This consists of 68 towers, 51 blades, 17 nacelles, drive trains and hubs. The project consists of 17 SG132 wind turbines, each of which has capacity of 3.4 MW.
"It is fantastic to have been given the opportunity to work on Djibouti's first wind farm project. Recognising our track record globally, the client was confident that the Mammoet team can deliver despite many challenges, such as border closures due to pandemic and specifically when it comes to remote locations such as these," Chase Minnaar, general manager Mammoet Djibouti said.
The Goubet wind farm is due to be commissioned in 2021.
"We are proud to contribute to the project that supports the transition to a more sustainable future of the Republic of Djibouti and the entire region," Minnaar said.
The 59 MW Goubet wind project is the first renewable energy project in Djibouti. The project should nearly double the country's installed capacity, reducing costs and cutting CO2 emissions. Only half of Djibouti's population has access to power.
SGRE is building the project on a 395 hectare area, near the Goubet cove on the Gulf of Tadjoura.
Tall times
Mammoet said it had provided several cranes, ranging from 60 tonnes to 1,200 tonnes.
The Liebherr LTR 11200 telescopic boom crawler crane, supported by the Tadano ATF 220G and Terex A600 hydraulic cranes will install and assemble.
It used the 400 tonne Liebherr LTM 1400 and ATF 110G cranes for the offloading and pre-assembly of tower sections 1 and 2.
SGRE had intended to bring the project into operations by mid-2021. It will provide maintenance for 10 years, with an option to renew. It will sell power to Electricité de Djibouti for 25 years.
Africa Finance Corp., the Dutch development bank FMO, Climate Investor One and a local company, Great Horn Investment Holdings, are backing the project. They have secured coverage from the World Bank's Multilateral Investment Guarantee Agency (MIGA).