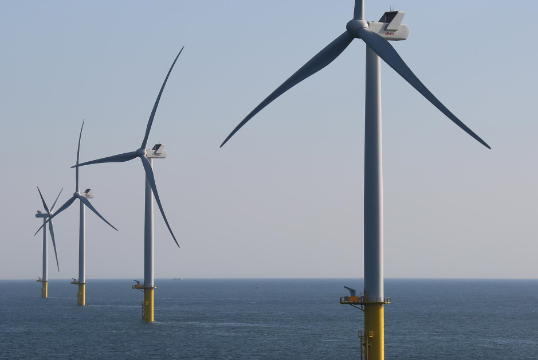 Two developers have secured provisional offshore wind lease areas off the US state of North Carolina, as the government accelerates its push to deploy 30 GW of offshore capacity by 2030.
The US Bureau of Ocean Energy Management (BOEM) of maritime confirmed the award of two lease areas on Wednesday as part of the Carolina Long Bay auction.
A local unit of the French energy major, TotalEnergies Renewables USA, secured rights to a 54,937-acre site with a bid of $160 million.
Located 20 nautical miles from the coast, the lease is expected to provide space for more than 1 gigawatt (GW) of generating capacity, enough to provide power to more than 300,000 homes. The project is expected to come online by 2030, TotalEnergies said.
US energy developer Duke Energy secured a similarly sized 55,154-acre plot with a bid of $155m, which says could support up to 1.6GW of potential offshore wind energy.
Duke said it could begin site assessment in 2023, which would enabled a targeted commissioning date within a 2030-2032 time frame.
In total the BOEM said sales generated $315 million total in winning bids and a $42m investment in domestic supply chain and workforce training.
The latter forms part of the auction's requirement for a 20% credit for bidders that committed to support workforce training programs for the offshore wind industry, development of the domestic supply chain, or both.
"This auction puts real dollars on the table to support economic growth from offshore wind energy development – including the jobs that come with it," said BOEM Director Amanda Lefton.
"The new bidding credit in the Carolina Long Bay auction will result in tangible investments for workforce training and businesses in the United States, to ultimately create jobs in the U.S. across the industries needed to support achieving our offshore wind goals."
TotalEnergies' success follows a 3 GW award off the coast of New York and New Jersey in February, as part of the New York Bight auction, in addition to a string of projects in the UK, France and South Korea worth more than 8GW.
"Being awarded this lease, our second offshore wind project in the U.S., demonstrates the strength of our commitment to the country and to our transformation in a multi energy Company. This project adds to our portfolio of more than 10 GW gross capacity of renewable projects in operation, in construction and in development in the US" said chairman and CEO Patrick Pouyanné.