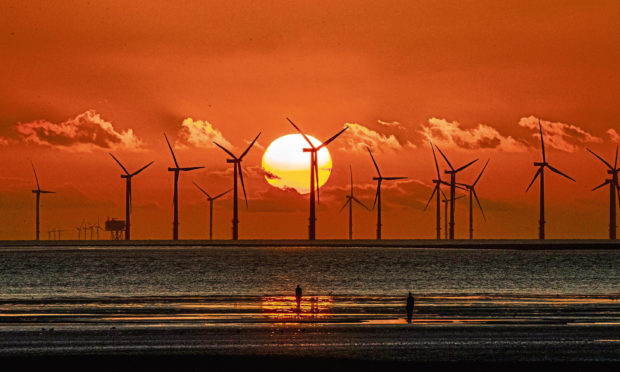 Scottish energy service firms are being encouraged to partner up with their counterparts in France in order to make inroads into its emerging offshore wind market.
Julien Rapenne, international trade specialist at Scottish Development International, says that, although the French offshore wind sector has taken some time to gather momentum, an array of opportunities will soon become available.
A report released by Rystad Energy earlier this year revealed that France's renewables energy policy means it's expected to be Europe's fourth-largest offshore wind producer by the end of the decade, with 7.4 gigawatts (GW) of capacity in operation.
It claims that's irrelevant of any "potential cost or supply chain issues" arising from the Covid-19 pandemic.
According to Mr Rapenna, France also has the second largest wind farm potential in Europe, behind the UK, with 150 GW prospective floating wind and 90 GW of fixed bottom.
There are already cases of renewables developers from France making inroads into Scotland's burgeoning market.
In 2018, EDF Renewables, a subsidiary of French energy giant EDF, acquired the Neart na Gaoithe offshore wind farm off the coast of Fife, which will have an installed capacity of around 450 megawatts upon completion in 2023.
Similarly, earlier this year North Sea oil and gas firm Total announced it had picked up a 51% stake in the Seagreen project, set to be Scotland's largest offshore wind farm upon completion, from developer SSE Renewables.
And although Rystad's report claims France has been "late to the party" with regards to domestic offshore wind developments, it also acknowledges it is picking up the pace.
Speaking during an Offshore Wind Scotland webinar, Mr Rapenne said: "The size of the French market is accelerating, there is huge potential and it's going in the right direction. It has three bottom fixed projects in development and I believe France should be of interest to Scottish firms.
"Scottish companies should position themselves as potential partners, able to work on a win-win basis with French companies to help them understand how project development works in the North Sea.
"For French firms, sometimes they see the UK as just England so it's up to us to show them that's not the case and to highlight that Scotland is a country which is very important for offshore wind development. There is already a recognition of Scotland's capabilities in subsea engineering due to decades of work in the oil and gas sector.
"There is a lack of offshore wind experience in France and we really believe that a partnership that helps to scale up developments will be key in helping Scottish firms access this market.
"A good example is the small 2 MW Floatgen demonstration project off the French coast which has at least four Scottish companies involved. What we're trying to do is encourage this type of collaboration and scale it up so Scottish firms become involved in the biggest projects."
Register for free to join Energy Voice's virtual Energy Transition Idea Exchange (ETIDEX) summit on November 19 at www.etidex.co.uk
Recommended for you

ORE finds declining supply chain confidence amid 'challenging' year for wind