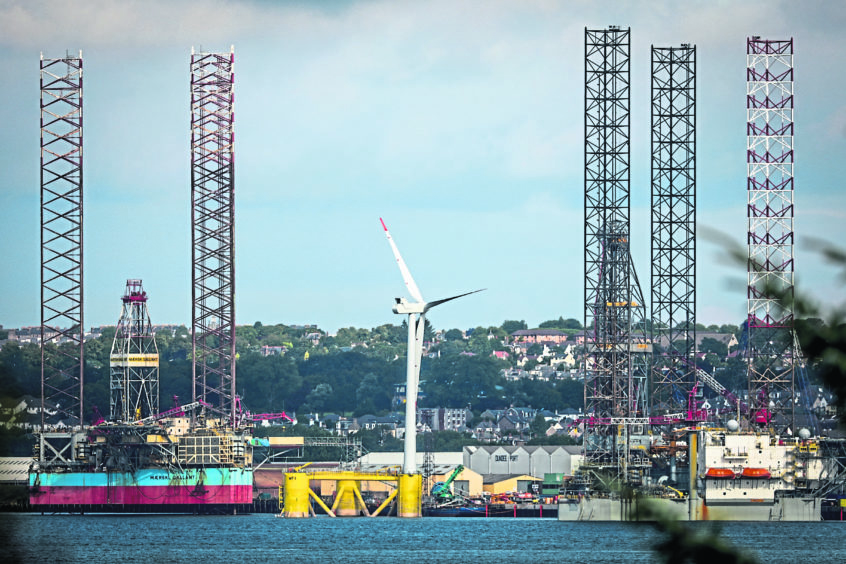 The first of five turbines for the "world's largest" floating wind development will be towed to location off the Aberdeenshire coast in the "next few weeks", according to the manufacturer.
Earlier this week in Rotterdam, MHI Vestas successfully attached the first turbine for the Kincardine Offshore Wind Farm to its floating foundation.
According to the Danish-firm, the V164 9.5 megawatt model will be the "largest and most powerful" in use at a floating wind project.
The five turbines for the project are being installed on Principle Power WindFloat platforms, which were transported from Ferrol in Spain for construction in Rotterdam by Netherlands-based Boskalis.
The marine services firm will also be responsible for transporting them to location across the North Sea and completing the fitting.
The six-turbine Kincardine venture, which currently has one floating turbine sitting nine miles off the coast of Stonehaven, aims to generate enough electricity to power 56,000 homes when operational.
Development work is being carried out by Cobra Wind International on behalf of Kincardine Offshore Wind Limited (KOWL).
Allan Birk Wisby, MHI Vestas project director: "We are proud to have the most powerful turbines installed on a floating offshore wind platform.
"The V164-9.5 MW turbines are an excellent fit for the Kincardine project, and it is a great achievement by the team to have completed first installation at the quayside. We look forward to completing the remaining 4 units."
Cobra Wind International said: "This is an exciting, world leading project developed by Cobra Group. The Kincardine floating windfarm will be the biggest ever built. The installation of the largest turbine ever to have been placed on a floating foundation represents a major milestone for the project and we are very much looking forward to seeing it generate power at site very soon."
Last month, Allan MacAskill, director of KOWL, revealed that plans for the project had been delayed by around six months due to the impacts of Covid-19.
It was originally due to be completed this month.
However, a spokesman for MHI Vestas said the project is "anticipated for full installation by early 2021".
Recommended for you

'Novel approach' needed to meet ScotWind floating supply chain ambitions