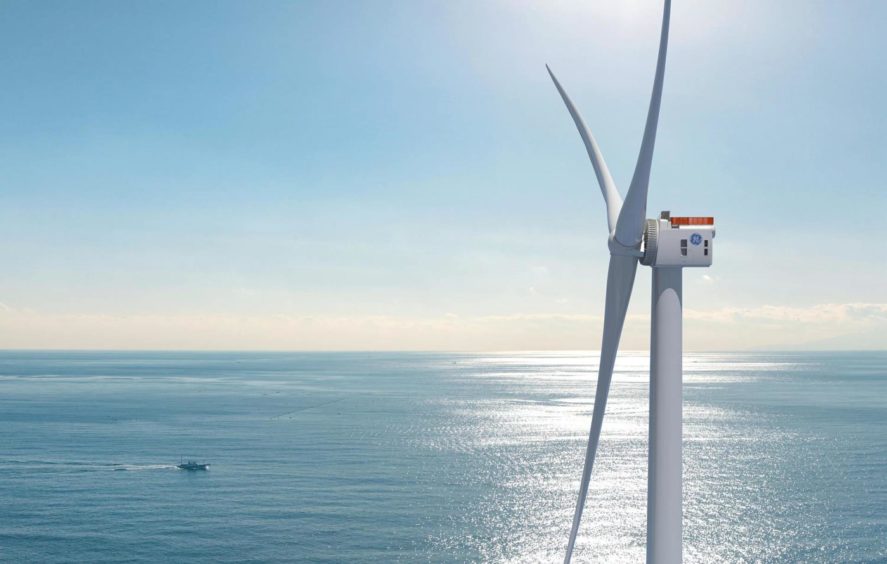 GE Renewable Energy has been selected as the preferred turbine supplier for the third phase of the huge Dogger Bank offshore wind farm.
As part of the deal, the Boston-headquartered company has announced plans to scale up its Haliade-X model for deployment at the project.
The 14 megawatt (MW) model will take over the mantel as the most powerful turbine in the world from the 13MW version, which has already been selected for Dogger Bank A and B.
Dogger Bank C will be the first outing for the upgraded model.
The Turbine Supply Agreement and Service and Warranty Agreements for the third phase of the project are expected to be robber stamped in the first quarter of next year.
They will be subject to Dogger Bank C, which is a joint venture between SSE Renewables and Equinor, reaching financial close in late 2021.
If the project is given the seal of approval, turbine installation is expected to begin in 2025, ahead of the wind farm becoming operational in 2026.
Due to its scale, Dogger Bank is being built in three sections, each of which will deliver 1.2 gigawatts (GW) of installed capacity.
Financial close for the first two phases was confirmed last month, with industry experts heralding the project as a benchmark for future developments.
Dogger Bank will be located around 80 miles of the north-east coast of England and is on course to become the largest wind farm in the world.
Developers have said it will be capable of generating enough renewable power to provide around 5% of the UK's electricity demand.
Steve Wilson, Dogger Bank wind farm's project director at SSE Renewables, said: "We're delighted to be working with GE Renewable Energy on all three phases of our development, as the first wind farm in the world to install their innovative and record-breaking Haliade-X turbine technology.
"Together with GE we are continuing to lead the way on innovation in the offshore wind industry and we're proud that Dogger Bank will now use a 14MW turbine at Dogger Bank C alongside the 13MW turbine already confirmed for phases A and B."
John Lavelle, president & chief executive of offshore wind at GE Renewable Energy, said: "Dogger Bank C will use a 14MW version of the Haliade-X, the most powerful offshore wind turbine in operation today.
"In doing so, this unique project will both continue to build on the UK's leadership in offshore wind and serve as a showcase for innovative technology that is helping to provide more clean, renewable energy."
Halfdan Brustad, vice president for Dogger Bank at Equinor, said: "Once again, GE has demonstrated competitiveness with its ground-breaking Haliade-X, and we are delighted we will be working with them across all three phases of Dogger Bank Wind Farm.
"Turbine innovation has played a huge role in bringing down the cost of offshore wind, and these world-leading turbines will help us deliver renewable electricity at the lowest cost possible for millions of people across the UK.
"With our partner SSE Renewables, we are pioneering new technology whilst delivering a project that will create hundreds of skilled jobs. As operator for the project, we look forward to working with the GE team for many years to come."
Recommended for you

'Milestone' for Saipem as first Dogger Bank installation campaign wraps up