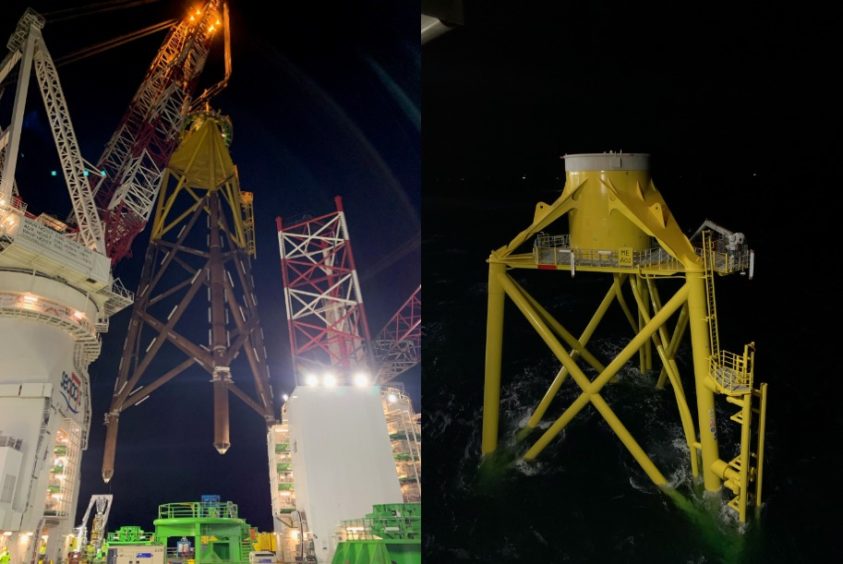 Developers behind a 100 turbine wind farm under construction in the Moray Firth are celebrating a major project milestone.
Partners said the 103rd and final jacket foundation had been installed at sea, paving the way for the arrival of the turbine generators next year.
The project is expected to be operation by 2022 and capable of powering around 950,000 homes.
It is being developed by Moray Offshore Windfarm East, which is owned by Ocean Winds (56.6%) Diamond Green (33.4%) and Chinese state-owned power company China Three Gorges (10%).
Ocean Winds, headquartered in Edinburgh, is a joint venture between Madrid-based EDP Renewables and French utility Engie.
Diamond Green is owned by Diamond Generating Europe, a subsidiary of Japanese corporation Mitsubishi, Kansai Electric Power Company and Mitsubishi UFJ Lease & Finance Company.
Belgian duo Deme Offshore and Smulders have supplied and installed all 100 jackets and piles for the turbines and a further three for the substation platforms.
The majority of the jackets were made by Smulders using facilities across Europe, with fabrication and final assembly carried out at Smulders' Wallsend facility in Newcastle.
They were then shipped to Global Energy Group's facility at Nigg, where they were prepared for installation by the Seajack installation vessel Scylla.
Read more: Moray East wind project announces £12m deal at Port of Nigg
Danish firm MHI Vestas has won the deal to supply the turbines.
Project director Marcel Sunier said: "Today's achievement is remarkable given the challenges of COVID-19, winter weather and knock on impacts to the global supply chain and travel.
"Despite that, the last jacket structures were assembled at Newcastle and barged to Nigg last week.
"With the focus and dedication of all involved the team were able to install the 103rd and final jacket safely.
"There are many people involved in delivering this milestone. I would like to thank all of those who have made this possible including the ca.500 staff at Smulders yard in Newcastle and the team at Global Energy's facility at Nigg.
"We now look forward to 2021, the wind turbine pre-assembly in the Cromarty Firth and their subsequent safe installation at sea and energisation of the entire infrastructure allowing the export of clean and affordable electricity, doing our part to contribute to a sustainable future."
Recommended for you

Images: Final jacket delivered for Scotland's largest offshore wind farm