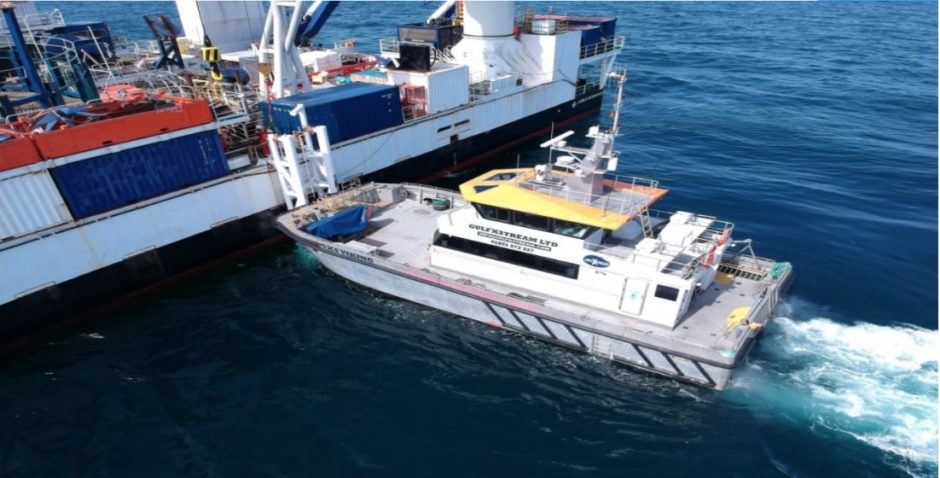 Companies from Aberdeen and Lewis have teamed up to reduce underwater inspection and survey costs.
Granite City-based Underwater Contracting (UCO) is installing one of its remotely-operated vehicles aboard the MV Viking vessel, owned by Lewis firm Gulfxstream.
The businesses said they were combining the ROV and vessel in a "cost effective package" and that they would be ready to work "at very short notice".
The vessel will be stationed at Peterhead, from where it will service the oil and gas, renewables, decommissioning and marine sectors.
UCO and Gulfxstream said the combination could be used for underwater inspection of marine and renewable structures, hydrographic surveying, environmental monitoring and ocean research, search and rescue, and hull inspections at sea or in port.
In addition, MV Viking could support "media and film production and even unique leisure experiences".
A rollout of the service to west Scotland and other ports around the UK is now being planned, a move which is expected to create additional jobs and further investment in the two companies.
Two additional Gulfxstream vessels are ready for deployment for the next phase of growth, the GXS Valtos which has can operate 150miles offshore and the GXS Venturer, a high speed commercial RIB.
Calum Buchanan, managing director of Gulfxstream, said: "This exciting collaboration with UCO comes at a time when there has been a marked increase in enquiries for our vessels for activities such as the servicing of offshore renewables sites, inspection of vessels stationed at sea, personnel transfer and similar tasks due to the effect Covid-19 is having on operations.
"The combination of the ROV and vessel in a cost effective package gives clients access to a single source solution for services, pre-mobilised and ready to work at very short notice. We believe this new way of working will bring efficiencies to marine operations for the future beyond Covid-19."
Mick Bower, general manager of UCO, said: "We are proud to work with Gulfxstream in bringing a solution to market that offers clients access to innovative technology and services from a highly adaptable platform.
"Giving them access to such a comprehensive range of services in one package will allow them to make optimum use of the time on hire to carry out other tasks."