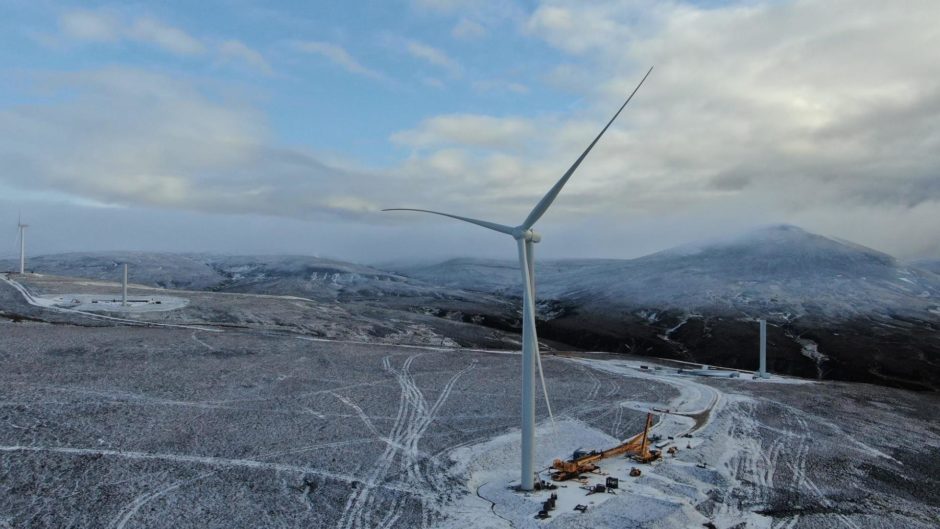 A handful of Highland wind farms are expected to contribute almost half a billion pounds to the UK's coffers across their lifespans.
Renewable energy developer SSE Renewables has released a report analysing the financial benefits of its Strathy North, Achany, Gordonbush and Gordonbush Extension wind farms.
It found that throughout their development, construction and operational life, the four sites could contribute £485 million to the UK economy.
Around two thirds (£327m) of that is expected to remain north of the border, with the Highlands benefitting from £131m during the lifetime of the four projects, which are all based in Sutherland.
Jim Smith, managing director of SSE Renewables, said: "With help from BiGGAR Economics, we have quantified some of our socio-economic impacts and can see the scale of the economic contribution from our onshore wind developments in Sutherland.
"Millions of pounds and hundreds of jobs have been supported and retained in the local, regional and national economies and – crucially – the benefits will continue throughout the projects' operational lives.
"Through our direct actions and that of our supply chain, we create local jobs and make a positive contribution to Scottish and UK GDP. SSE Renewables is part of these Highland communities for the long-term and this report lays out our ongoing commitment to them – to share in the value we've created."
The report, which was provided by leading consultancy BiGGAR Economics, also highlights the wider socio-economic impacts of the onshore wind farms' community benefit funds.
More than £23m of direct funding will be available to Sutherland communities over the development's lifetime, £6.9m of which has already spent.
Moreover, nearly 600 initiatives aimed at developing education, skills and tourism in the region have been supported since 2010.
That includes a project to build a new village hall in the small village of Armadale, which benefitted to the tune of £326,500 from the Strathy North Community Benefit Fund.
Caroline Jones, Armadale village hall committee member, said: "Crofting communities are scattered by nature and it can be hard to get to know your next-door neighbours when you're two fields apart. The new hall is in the centre of our village and will be a place to gather, bringing the community closer together and fostering community spirit."