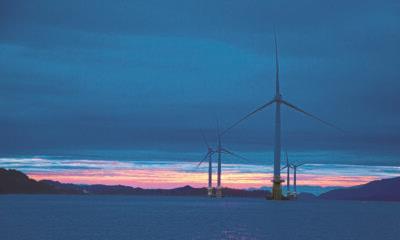 Equinor has launched a study to better understand how fishers can safely operate around and within floating offshore wind farms.
In collaboration with Marine Scotland, fishing gear will be tested at the Norwegian energy giant's Hywind Scotland development, off Aberdeenshire.
A survey is scheduled at the floating wind farm for next year when three different pieces of kit will be tried – creels, fishtraps and jigging lines.
Whilst not all of the fishing methods are used commercially around Hywind Scotland itself, the purpose is to demonstrate how methods used globally can interact with floating turbines.
Monica Fundingsland, sustainability advisor at Equinor, said: "Floating turbines are anchored to the seabed via dynamic mooring chains. Vessel data has shown that fishers are avoiding our floating offshore wind farm, so we are working closely with Marine Scotland to better understand how fishers can safely fish within a floating wind farm using a variety of techniques."
Using floating turbines allows developers to build wind farms in deeper water, either further out to sea where wind speeds are more consistent, or around coastal areas too deep for fixed bottom foundations.
Hywind Scotland is the world's first floating offshore wind farm and began producing electricity in 2017.
For the past three years it has reached the highest average capacity factor for any wind farm in the UK.
As the first of its kind, swathes of data is bein capture from Hywind Tampen that will then be shared in order to inform future developments globally.
Across the North Sea in Norway, Equinor is developing Hywind Tampen which is on course to become the world's largest floating wind farm.
It will be used to power offshore oil and gas operations as part of a wider industry effort to cut operational carbon emissions.
Jared Wilson, renewables and energy programme manager within Marine Scotland, said: "As home to the world's first floating offshore wind farm we are very keen to leverage this position to understand more about how fishers can continue to work safely alongside offshore wind. The results and lessons learned from this initial two day trial will help us inform the approach taken for the larger trial next year."
Ms Fundingsland assed: "We have seen rapid growth in fixed bottom offshore wind, and expect now to see a similar path for floating offshore wind as new markets are opening up. Safety is always our number one priority and as the leading developer in floating offshore wind, we are using our assets and expertise to understand how fishing can continue safely within the wind farm zones. We would like to build on these initial trials by trialling more fishing techniques in future."
Recommended for you

'Critical' years for rapid test and deployment of net zero technologies