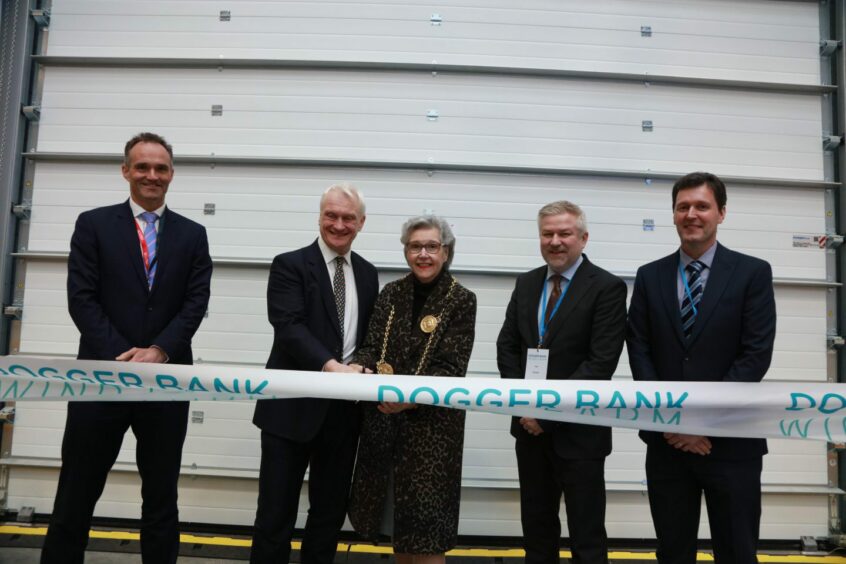 A ceremony was held in North East England yesterday to mark the official opening of the O&M base for what will be the world's largest offshore wind farm.
Community figures, 150 employees and guests, including energy minister Graham Stuart, were in attendance as Equinor (OSLO: EQNR) cut the ribbon on the facility for the Dogger Bank development.
The operations and maintenance base at Port of Tyne will be the key hub for the wind farm once it starts up production.
It will also house the control room that will monitor and manage 5% of the UK's electricity generating capacity produced by the offshore wind farm, located off the Yorkshire coast.
Mr Stuart said: "The UK already boasts the four largest offshore wind farms in the world and I am delighted that Dogger Bank will overtake all of them in three years' time.
"Having already delivered on green jobs and growth, Dogger Bank will be at the heart of boosting energy security for Britain and meeting the Energy Security Secretary's ambition to have among the cheapest wholesale electricity prices in Europe."
The Port of Tyne O&M base building was designed by Newcastle-based Ryder Architecture – it has been constructed and will be operated in line with the UK Green Building Council's (UKGBC) Net Zero Carbon Buildings Framework.
Bowmer + Kirkland built the base with a focus on local construction, with over £7.5 million spent with companies in the region.
Pal Eitrheim, EVP for renewables at Equinor, said: "We're proud to be delivering Dogger Bank Wind Farm with our partners SSE Renewables and Vargronn. We look forward to operating this major power generation asset for the next 35 years from the state-of-the art O&M base at the Port of Tyne.
"At Equinor, we always aim to bring economic value to the local community hosting our offshore wind project. This base is a shining example of the long-term, positive contribution that offshore wind will continue to bring to the North East of England."
Over 400 long-term roles have been created locally to support the O&M of the mammoth wind farm.
In total, over 2,000 UK jobs have been created or supported through the Dogger Bank project, which will generate 3.6 gigawatts (GW) of capacity, across three 1.2 GW phases.
Together, Dogger Bank A, B & C, and will be able to power the equivalent of 6 million UK homes on completion.
The wind farm is a joint venture between SSE Renewables (40%), Equinor (40%) and Vargrønn (20%).
SSE Renewables is lead operator for the development and construction of Dogger Bank, with Equinor due to take over operations once installation is completed – the project is expected to operate for around 35 years.
Dogger Bank project director at SSE Renewables, Oliver Cass, said: "Today is an important day for everyone involved in our ground-breaking project as we move closer to delivering first power in the summer. Building a wind farm on this scale requires huge talent and dedication. I'd like to pay tribute to everyone who's played their part in our journey so far, including the thousands of skilled UK employees who are truly world-class."
Recommended for you

Gigawaters S2 #1 – The Future of a Sustainable Scotland