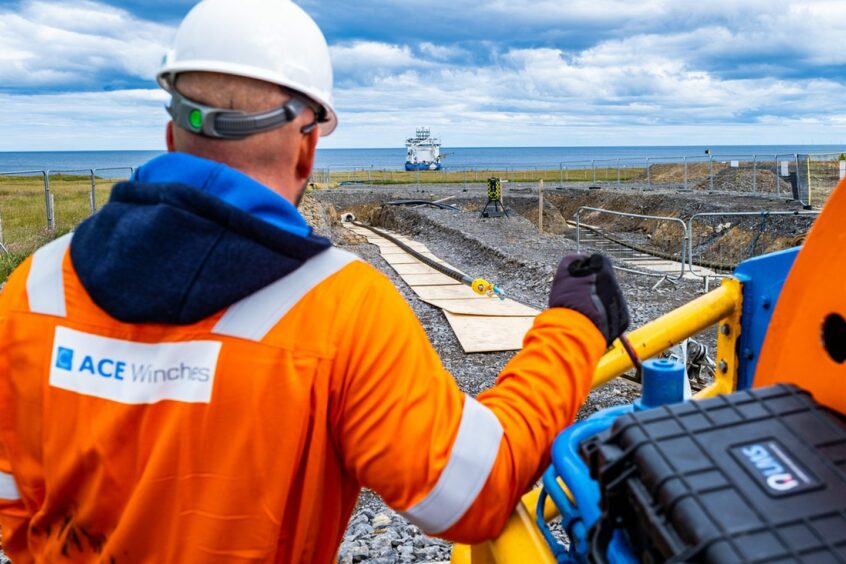 A report by the UK's appointed Offshore Wind Champion finds that grid access and a lengthy planning process are the major limiting factors in plans to expand offshore wind capacity.
Amid a series of recommendations to government published this week, Tim Pick – the UK's first Offshore Wind Champion – said there was an "urgent need" to build more grid capacity to enable more offshore wind connections and drive greater electrification in pursuit of net zero.
Years of under-investment in network infrastructure, coupled with a massive ramp up in renewables means grid constraints are now becoming "a significant brake on wider economic activity, not just on offshore wind farms," he said.
Meanwhile, agreeing connections for new offshore projects are "increasingly becoming the rate-limiting factor" for deployment going forward.
"If I had to sum up in one sentence where we stand today, I couldn't use words better than those of a European developer with investments across the UK: 'The UK is long on seabed leases, but short on timely grid connections,'" his report notes.
Since privatisation of the grid in the early-1990s, only around 50km of new transmission lines have been built each year on average, with the country now "reaching the technical limits of that approach" the report notes.
Meanwhile the queue of projects under construction now includes over 140 sites worth some 300GW of generation – three times the country's total generation capacity.
'NSTA for wind' not advised
Appointed last May by then Prime Minister Boris Johnson, Mr Pick was tasked with spearheading work to accelerate new offshore wind projects, via his chairmanship of the Offshore Wind Acceleration Taskforce (OWAT).
Alongside warnings on grid access, Mr Pick said planning and environmental reforms proposed by government, including those in the Energy Security Bill and Levelling Up and Regeneration Bill, should be implemented promptly.
It follows widespread warnings in the UK and Europe that thousands of renewables projects are stuck in protracted planning and consenting processes which means developments can take up to  decade to realise.
In his foreword to the report, Mr Pick said the canvassing process had caused him to look back at Sir Ian Wood's 2014 review of the oil and gas sector. Amongst its recommendations that report advocated for a designated sector regulator, giving rise to the Oil and Gas Authority (now the NSTA).
Mr Pick stopped short of recommending such a body for the offshore wind sector, whose powers would "rapidly conflict with the devolution settlements around seabed leasing and planning," overseen by the Crown Estate and Crown Estate Scotland and may in fact present a "distraction" from delivery.
However, he said the mandate of "stewardship" which permeates the Wood Review should be adopted by Ofgem, whose mandate requires overhaul to align with the requirements of the UK's 2050 net zero target.
A similar focus should also be maintained by the Department for Energy Security and Net Zero, he suggested.
He also criticised the lack of progress on skills alignment between various offshore bodies.
In addition, the UK and devolved governments should set out "clear ambitions" for offshore wind deployment beyond 2030, 2035, 2040 and 2050, to provide a clear long term policy framework for seabed leasing and consenting decisions "as well as investor confidence for developers, ports and the supply chain."
The report makes recommendations to support each of those stakeholders, with port infrastructure identified as a key enabler to furthering floating offshore wind, in which the UK has an opportunity to "lead the world".
In a separate letter confirming receipt, Secretary of State for Energy Security and Net Zero Grant Shapps welcomed the taskforce's conclusions, and said the recently launched Powering up Britain plan reaffirmed the government's commitment to offshore wind.
We're producing record amounts of wind, with the world's four largest offshore #WindFarms 🇬🇧

As we aim for greater energy security, the UK's offshore wind champion Tim Pick met with @grahamstuart to discuss how we can enhance our world-leading status.https://t.co/esWNTfM89h pic.twitter.com/3ouNu0ideI

— Department for Energy Security and Net Zero (@energygovuk) April 5, 2023
Mr Pick also met with DESNZ minister Graham Stuart on Wednesday to discuss his findings.
Recommended for you

Energy minister opens new Edinburgh office for ScotWind developer