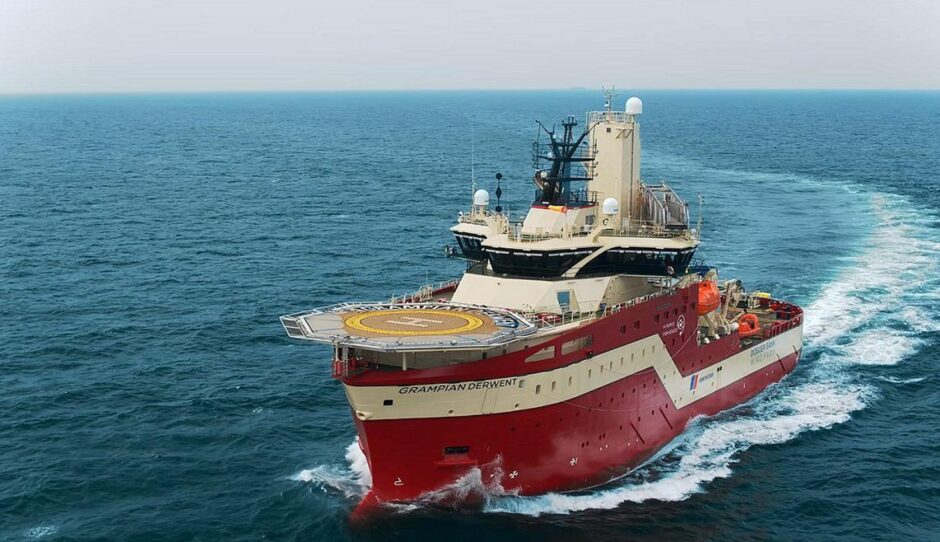 Shipping group North Star is wasting no time in fulfilling its vessel supply contract for the Dogger Bank offshore wind farm.
The second of four hybrid-propulsion service operation vessels (SOVs) for the project will be mobilised three months earlier than planned, the Aberdeen-headquartered firm announced on Friday.
It will support SSE Renewables in the construction and commissioning stage of the initial phase of the world's largest offshore wind farm.
This will allow the vessels to dovetail straight into their scheduled long-term charters, carrying out operations and maintenance (O&M) work.
Dogger Bank – a joint venture between SSE Renewables (40%), Equinor (40%) and Vargronn (20%) – is under construction about 80 miles off the Yorkshire coast.
Given its size – the wind farm will have a total installed capacity of 3.6 gigawatts (GW) – the project is being built in three phases.
A landmark contract for North Star
North Star was awarded a £270 million contract in 2021 to supply three "state-of-the-art" vessels for use at Dogger Bank.
The deal created 130 new jobs, meaning the 135-year-old business now employs some 1,300 people across its Aberdeen, Newcastle and Lowestoft site.
The firm secured a fourth vessel to serve Dogger Bank C – the project's third phase – later that year, taking its total contract value to a combined £360m.
The first of the firm's new offshore wind fleet, the Grampian Tyne, was blessed last month at an event held at the offshore wind's O&M base in Port of Tyne.
The Grampian Derwent, the second SOV that will assist SSE Renewables in the construction phase, was recently delivered to North Star in Vietnam.
It is a larger iteration of the three other VARD designed new-builds, and boasts an increased warehouse capacity, a 17m helideck and larger 5Te capacity 3D crane for offshore lifting.
Unlike the other vessels, which can only hold 40 people, the Grampian Dervent is able to  accommodate 50 client technicians.
Michael Gordon, North Star commercial director, said: "Winning this new scope of work at Dogger Bank – our first in construction and commissioning – is part of our focus to be a true value add service partner. We are extremely proud to be recognised as a dependable operator delivering these vessels to the project ahead of schedule during a market which is finding significant supply chain issues cascading throughout the SOV sector. Achieving this is testament to the hard work and dedication of our 130-strong shoreside team and carefully selected shipyard."
More ships on the way
North Star has also begun work on the construction of its first two commissioning SOVs, after awarding the contract to VARD in Norway in May.
The pair will work together on up to four of its uniquely designed ships, specifically tailored for the growth in the offshore wind market.
North Star also has a robust £127 million finance package in place to fund its Dogger Bank SOV fleet new-build programme.
The result will be four hybrid-electric ships being operational in field by 2026, each on a 10-year minimum term charter agreement
Mr Gordon said: "We believe we are leading the way in delivering ships without any delays to add further operational excellence and efficiencies to our clients. We have a tried and tested newbuild strategy in place through which we are delivering not only a leading vessel design, but a fully qualified complement of experienced crew to deliver the service we pride ourselves in."