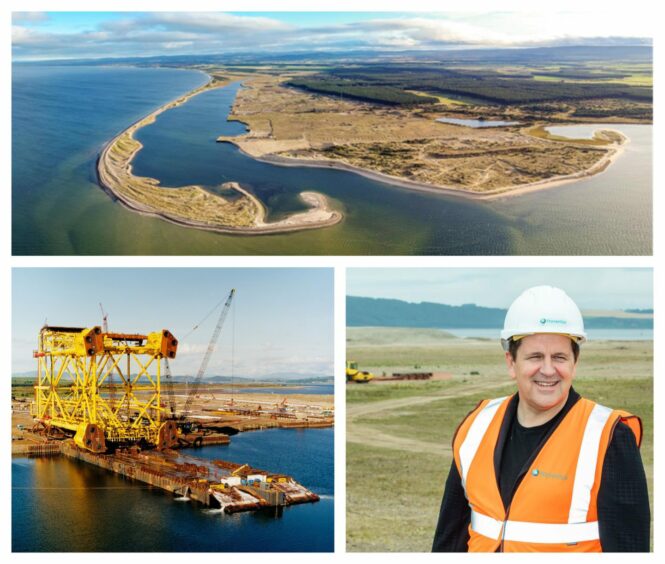 "A lot of people asked why are we not called Ardersier Port," recalls Haventus CEO Lewis Gillies, "and the reality is because ultimately we hope to become more than Ardersier Port".
Armed with £300m of US private equity capital invested earlier this year, Haventus is redeveloping the former McDermott fabrication yard, which built oil and gas platforms for decades, for "the next big thing" in Europe: offshore wind.
There's nowhere else like it in Scotland; Ardersier is a 450-acre "blank canvas" for manufacturing and laydown space – the rough equivalent to 300 football pitches – which will be needed as the country embarks on a daunting floating wind journey.
It's a multi-phase, multi-year investment programme, with the initial £300m just paying for the first stage of that through to opening, planned for November 2024.
But Haventus is already looking beyond that.
"At the moment we're talking to other ports in Scotland, in the UK and in Europe, and actually in Canada," says Gillies, noting the deployment of offshore wind globally."
"In order to make this energy transition, that whole country and the world is trying to make, you need many, many more of these, and we're hoping that this is template not just for us, but a template for other people and other companies and other countries."
Gillies brings up a specific example in Europe: "In Spain, there is a there is a real need there, looking to deploy offshore wind like we are here.
"There is nowhere for them to basically manufacture any of the facilities to do it, so we went looking for opportunities with one of the developers and we're actually in discussions around investment in a port there at the moment.
"So we are finding them rather than us finding us. I suspect over time that might change."
As for Ardersier itself, that originated through a "whole set of conversations" as Haventus, and its US private equity backer Quantum Energy Partners, went looking for ports.
Private Equity Splash
After 20 years with BP, Gillies spent the last 15 years leading a variety of private equity-backed investments in the UK and US.
From the Isle of Lewis, his career has brought him full-circle to the Highlands, where he's bringing PE connections with him.
It means new life being breathed into the yard, which closed in 2001, as the North Sea went with floating vessels, largely built out of Asia.
Quantum Energy Partners, based out of Houston, has raised a fund of £2bn for energy transition investment and Haventus / Ardersier is one of those portfolio companies.
As an aside, BlueFloat Energy – the ScotWind leasing round winner for acreage off Aberdeen– is also in Quantum's portfolio, so Haventus is working with them on opportunities here.
The huge offshore wind opportunity in the UK has attracted Quantum to Ardersier, and that means some big names in the world of private equity.
Michael McDougal – long-time partner of TPG Capital, one of the world's largest private equity firms – was brought on as a Quantum Partner in 2021.
He's also financed some of Gillies' former companies going back 15 years.
"I personally take a lot of pride in having the relationships to be able to bring an investor like that to Scotland," says Gillies.
"It's a fantastic story because the reality is most things in Scotland get built with the public purse, but that's not what we're doing here."
What about timelines?
Anyone familiar with the PE world in oil and gas will know that, one way or another, they eventually look for an exit on their investment.
Gillies says "the energy transition world of private equity has a much longer horizon" than traditional PE firms.
"Will we turn over our financial investors? Potentially over time, yes, absolutely. That's the way this world works, that's the way we will continue to access new capital for growth."
Haventus will build out the "energy transition facility" of Ardersier itself.
The first £300m is already accounted for phase one – build out of the huge 600 metre quay wall, which will allow access for very large vessels into the port, ahead of opening by November 1, 2024.
On the need for more capital, Gillies says: "I have no fear – there are there are many, many, many tens of billions available for financing the energy transition.
"What they're generally looking for is two things: a good idea and a good team, and we believe we have a good idea and a good team and therefore access to capital, particularly given our relationships into the world of private equity,  it will be – not easy, it's never easy – but that cash will be available to us."
Highland hub of investment
The UK has ambitions for 50GW of offshore wind by 2030, and the recently-awarded ScotWind leasing round has a total capacity of 27.6GW due to be deployed off Scotland's shores.
This won't be a "gold rush" but a "sustained prolonged period" of development says Gillies, "which is why facilities like Ardersier are really important to it".
The Highlands, with the Port of Cromarty Firth and Ardersier part of a Green Freeport status for investment, has a huge opportunity.
"If you take all of the facilities that are intending to make acreage available for this in Cromarty, Nigg and Ardersier, this area has the opportunity to be at the centre of the deployment of all of that capital.
"What that should do is generate a whole lot of wealth for this community as opposed to that wealth from deploying this technology accruing overseas.
"It's a fantastic opportunity for the Highlands and for Scotland which, frankly, is part of my motivation. Wind is the next big thing, and the Highlands is a great place to do it."
Attracting manufacturers
That's a sentiment which Gillies is expecting manufacturers for floating offshore wind to replicate.
He reports that Haventus has had "a lot of interest rom manufacturing companies from Asia, Europe and the US, who want to come and invest on the site".
"They will bring their own cash, and there may be an opportunity for us to co-invest with them."
One prominent turbine manufacturer, MingYang, has been seeking a site in Scotland – however Gillies would not comment on specifics due to confidentiality agreements.
The plan for the next phases of Ardersier will be largely dictated by the arrival of tenants.
"What we want to do is bring tenants on site and effectively build the balance of the quay to suit their activities."
One prominent firm which Ardersier already has an agreement with is BW Ideol, which has ambitions to produce huge floating foundations there on assembly line, as shown in a video produced by the firm this year.
"They're also an active developer in some of the projects that were licensed through ScotWind . So we are in deep discussions with them now of what exactly they need in terms of their footprint on the site and accessibility to the water."
Ardersier is also planned for use as an onshore decommissioning base, so Scottish platforms build at Ardersier could be recycled here.
"That's what we call the out with the old, but also what we want to do is not make it about the past.
"We want to really make this about the future, so the vast majority of this site will be used for essentially deploying new technologies."
Jobs boom and asset changes hands
Since Gillies came on board earlier this year, Haventus has hired about 60 people so far.
The company is currently assessing how manyy people it will need to bring in, however "it will definitely be in the hundreds, there will be hundreds of people on this site in the coming months".
There have been some changes since Haventus came in, back in April, with Gillies bringing in his own team.
He confirmed that former owners Tony O'Sullivan and Steve Regan are no longer linked to the project.
"Since I arrived here, we've brought in an entire new management team. We've brought in some very skilled, very experienced operators, and most of them have come from the world of alternative energy. Many of them with big energy backgrounds.
"So, I've got some former colleagues from BP here as an example."
Part of that changing of the guard has meant some other changes too; a mooted steel mill from O'Sullivan is no longer on the cards.
"So the steel mill will not be built. That, I believe, is an uneconomic investment on this site. I also don't believe that it can be done in a way that fits with our environmental intent.
"What we will do, is seek to attract manufacturing to the site that is in service of the energy transition.
"In terms of the number of ultimate jobs, it's very much going to depend on the type of manufacturer we bring to the site.
"If you're building steel floaters or concrete floaters, they're extremely manpower-intensive activities.
"Marshalling and assembly of these things is not done by robots, it's done by people.
"These are big superstructures that require big cranes and lots of people. So ultimately there will be many, many, many jobs on this site come back in a year and I can probably give you a better estimate of how many."
Local boost
On that "environmental intent", Haventus is working with the RSPB, Nature Scotland and others to ensure "we're actually going to take a more proactive position and actually aim to make a positive impact to the local environment".
That means areas being marked off for special scientific interest, and development schedules being tweaked so not to interfere with the reproductive cycles of local marine life like dolphins.
Beyond that, there's a potential boon here to the village of Ardersier, and nearby towns like Nairn.
Aside from direct jobs at the site itself, it's hoped indirect employment will be felt in these regions.
"There is going to be a large service industry that will have to grow up in support of this facility, and in support of the manufacturing and that in itself will create more jobs.
"Ultimately when we're at full kind of construction peak we're going to have a lot of people here who are going to be looking to eat and sleep every night. So that will be great for the local communities."
Recommended for you

'Novel approach' needed to meet ScotWind floating supply chain ambitions