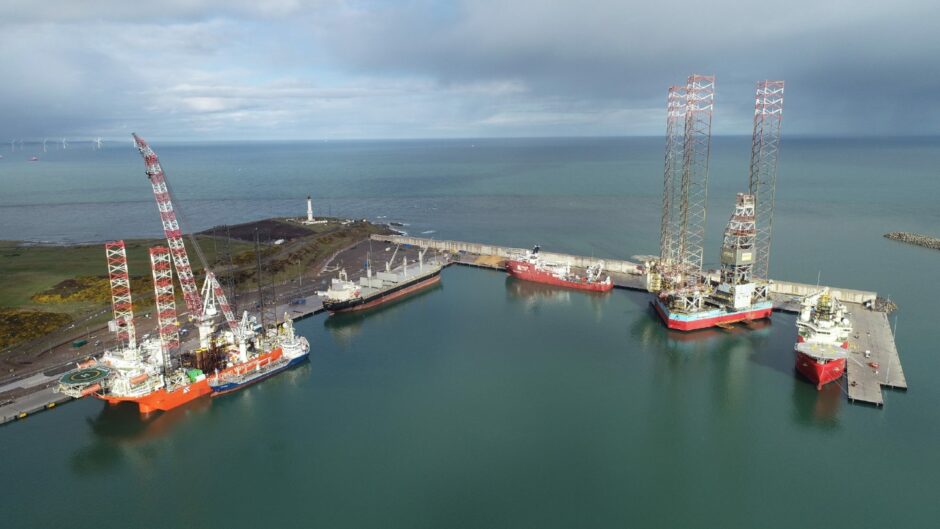 The head of Port of Aberdeen says he supports a "multi-harbour solution" to support the deployment of floating offshore wind in the UK.
"There is no single port or industrial site capable of delivering one of the bigger projects," Bob Sanguinetti told a Rystad webinar on Friday.
To overcome those constraints developers and facilities "need to be looking at collaboration where we can", he added.
A multi-port solution would involve several harbours carrying out different services during the lifespan of a floating offshore wind farm.
In Scotland alone, the floating wind pipeline currently sits at around 25 gigawatts (GW), not to mention the dozens of other fixed-bottom projects.
Developers have repeatedly warned that limited port capacity poses a real threat to hitting the government's deployment target of 5GW by 2030.
Only one way forward
"The bigger projects will entail several dozen if not hundreds of wind turbines alone, so collaboration is the only way ahead," said Mr Sanguinetti.
"It's an easy thing to say; in practice, given commercial sensitivities and different interests, it's harder to achieve. Nonetheless, I think we need to see more of this.
"There are some great initiatives already underway, like the strategic investment model that the Scottish Government has launched to bring ports and developers can together to see how we can pool our resources to deliver the needs of the industry.
"In a nutshell, whilst there will be specific projects for specific ports, in general we need to be looking at collaboration where we can thank you."
Finishing touches on expansion
Work on the Aberdeen South Harbour expansion project is now in its final stages, and port bosses expect it to be "fully operational in the next couple of weeks".
The £400 million development has opened up almost a mile of deep-water births and 125,000 square meters of lay down area, "specifically designed to support energy transition and offshore wind".
It also means Aberdeen is able to accommodate cruise ships and jack-up vessels, with the city welcoming the Noble Innovator drilling rig earlier this year.
More needed to make facility 'bespoke'
Any further expansions to the facility could be tough though with capital less easy to come by, on account of the UK's current economic hardship.
Mr Sanguinetti said: "We've obviously invested a huge amount in our new harbour; we did it in an era when the UK was part of the European Union, and we were able to tap into the European Investment Bank for further support.
"I would say that we've got now is a generic new harbour; looking ahead if we want to make it specific or bespoke for, in this particular case, floating offshore wind, securing further investment will be a challenge. It will be difficult for us to raise that capital, and we would need more certainty."
To give increased confidence Mr Sanguinetti says government should set out solid targets for domestic offshore wind work.
He said: "I always get the impression that when we talk about local content, it's a fairly loose conversation that's had. Do we need to have a better defined conversation so that there is certainty that so much work is going to come to the ports and the supply chain in the UK? We need that carrot and stick approach going forward if we're to make further investments and make ourselves more ready for the projects that are likely to come our way."
Recommended for you

Cable failure top cause of offshore wind insurance claims, warns Allianz